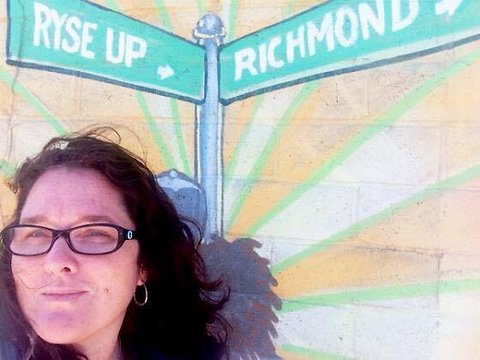 08 Jul

City Leaders Offer Ways Forward in Tough Times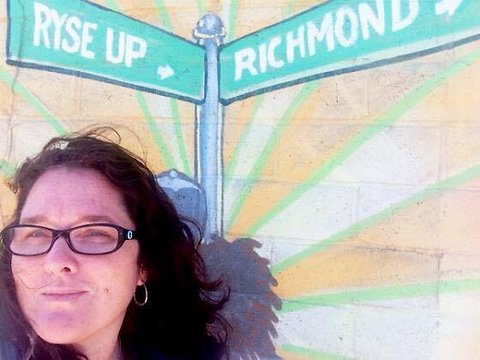 Kimberly Aceves-Iñiguez said that young people who are "committed to equity, justice and a world that will not tolerate white supremacy and racism" give her hope. (Richmond Pulse file photo)
Commentary, Various Authors
Editor's Note: The coronavirus outbreak, widespread unemployment, racism, and climate change are just some of the biggest problems we face today. Understandably, things feel rather bleak to a lot of people. So Richmond Pulse turned to city leaders in search of some optimism. We asked four people from the government, business, and community organizations to tell us their visions for a better future.
Their answers to each question have been arranged alphabetically by last name and edited for length and clarity.
What gives you hope for the future?
Kimberly Aceves-Iñiguez, Executive Director, RYSE Center: In this moment, what gives me hope is the visionary and bold leadership of young people across this country, and in Richmond, committed to equity, justice and a world that will not tolerate white supremacy and racism.
Jim Becker, President and CEO, Richmond Community Foundation: What gives me hope in this moment is that we the people are stepping forward every day to demand change. We are making commitments to stand together in our shared humanity to push back on systems that have for too long led to inequities based on race and class. I am hopeful when I engage in discussions of racism and white supremacy with others, because this can no longer be swept under the rug. We, as human beings, are seeing and understanding that we are more connected in ways that are very different from in the past, especially due to COVID-19, allowing deep issues to be named and discussed today. I become most hopeful when I watch the generation coming up behind me using its voice and the power to vote to demand the changes we need at this moment.
James Lee, President, Richmond Chamber of Commerce: I'm hoping that, through it all, there is goodness in us. I'm really loving seeing, particularly, young people that are coming out to organized protests. That gives me hope that they're not just sitting back and saying, "See, look what the previous generation has got us into." Even with all these uncertainties, particularly with the economic situation as well as the virus that's bringing death, my hope is that young people are stepping up to see changes for their generation.
What is encouraging is that it didn't just happen one time. There is an ongoing, peaceful protest to bring about change. I hope it's a continuous reminder of how important it is to bring peace and community and [get] away from [the] racial prejudice and violence that has been going on for many, many centuries. So I'm hoping that this is just the beginning of our ongoing conversation that the young people can have with us that will hopefully translate into a change of policies.
Melvin Willis, Richmond City Council member: I guess just greater investment in people and community. I mean, when we're thinking about police violence or even COVID-19 or different policies that get passed, they tend to get passed without people in mind.
Community members want to see more in terms of public safety that isn't just people showing up with guns. With COVID-19, a lot of places were ill-equipped to deal with it to where medical supplies are running out. And I have to think about decisions that were made a few years ago. The decision to allow the only public hospital to close in West County. And [to] approve a jail expansion when community members were saying, "We don't need a jail. We need a hospital."
I feel there hasn't been enough investment and actually listening to the community's needs of how do these policies and decisions get made where members of the public have access and inclusion in these conversations. 
Do you have a vision for a better future? A better Richmond? A better America? What does it look like?
Aceves-Iñiguez: I have a vision where the budget and priorities of the city reflect a commitment to youth and their families. Where schools are places of healing, learning, joy, and liberation. I believe a better Richmond is a city that speaks openly about the historical impact of racism and works to affirm the experiences of Black, Indigenous, People of Color, and actively works to heal and repair those structural harms.
A better America is an America that breaks the vicious cycle of white supremacy [so] our Black kin can live free and thrive.
Becker: About 15 years ago, when I first came to RCF, I asked a very similar question of residents in the Iron Triangle, Santa Fe, and Coronado neighborhoods. Together, we came up with a vision that I still embrace today, and I think it still holds for Richmond as well as America: healthy, sustainable communities, which are safe, diverse and thriving, where children walk to quality schools, people of all ages enjoy parks and community facilities, residents have the economic resources to thrive, and quality housing meets the needs of all individuals and families. Equity is at the core of this vision.
Lee: My vision is one where we're blinded to each other's race and that we see each other as one, and an equal opportunity for everyone. For me, that doesn't only translate as racial equality but age equality. I think, right now, our country is probably the most divided since I've been here in America.
I don't know how we can bring the polarized government into one to bring us into one nation. That I think it's going to take a lot of work and that means putting the right people in leadership. Difficult times bring out their true character. And we've seen some of the true character of leadership in government and leadership in our community. What I like to see is change of those leadership positions so that we can have people who can bring this community together more than ever. This hardship is a test of our character. And maybe the answer is young people.
Willis: Working with those who have been directly impacted or working with community members that have expertise around some of the complicated questions that we have, as opposed to having it be a separated silo conversation that we tend to have in government and in the community. You have a city council that makes decisions or the county or the state that make decisions based on staff expertise or other special interest groups' expertise. And then you have that information disseminated. And then you just have community members that see it for the first time and, in less than five days, need to figure out how they feel about it.
For us to really build a better future, for what Richmond, the county or the state is, we need to be better about giving folks access to many of these complicated questions and not ignoring concerns around controversial issues. Now, that in itself is a tedious task because everybody has an opinion about everything. But there is always a way to find a happy medium.
What will it take to make your vision a reality?
Aceves-Iñiguez: For starters, we need to stop fighting to dismantle Kids First, an initiative designed to ensure resources go to Black, Indigenous, youth of color and their families. An initiative that was led and won by young People of Color. An initiative that will eventually be 3% of the city budget, a stark contrast to the 40% that goes to policing.
Becker: Anyone can advocate for social justice, but to be anti-racist ensures race equity. I believe, as a white man, I need to start with the people around me, my family, my friends and colleagues, my faith community. I need to discuss, champion and embed inclusion within every aspect of my life. To listen first and speak last, and to ensure that RCF elevates the voices and leadership of Black leaders and other leaders of color as we invest in their organizations. In the conversations I am already having, it is clear that embedding anti-racism into everything I do is challenging, but it can be done. It just takes practice, learning and partnership.
Lee: For me, it's always about passing the baton. You know, it's time for us to pass the baton to the next generation who are engulfed at the center of the crisis that we're facing because of a lack of leadership. And so I'm hoping in the next few years, leaders in the community, city leadership, and state and national leaders will start to think about how they are going to pass that to younger generations who understand the crises that we're facing, to bring us together as one nation.
Willis: It starts out with just listening and taking people's thoughts and opinions seriously. And not excluding folks from the conversation by listening and having God-honest conversations about how we address the complicated issues that we face every day. Even just going through our budget process, we've gotten tons of public comment from folks saying, "If we're making cuts, we should be cutting from the top. We should be cutting from the highest budget in our city, which is police, and investing in other things."
And folks feel like they're not being heard or are being ignored. These are folks that are living in our communities that have been dealing with disparities every single day, literally experts on the disparities, [who] have ideas on how we need to address those. But sometimes being on the outside seems like a one-sided conversation, or you're just talking to a wall, not feeling like your concerns are being reciprocated.
So, it starts with identifying the issues and problems and working together to come up with solutions. It's not going to be an easy task. But it's a good start to get us on the right track [so] folks feel involved in how their government works and how things get done in the city, county, and state.