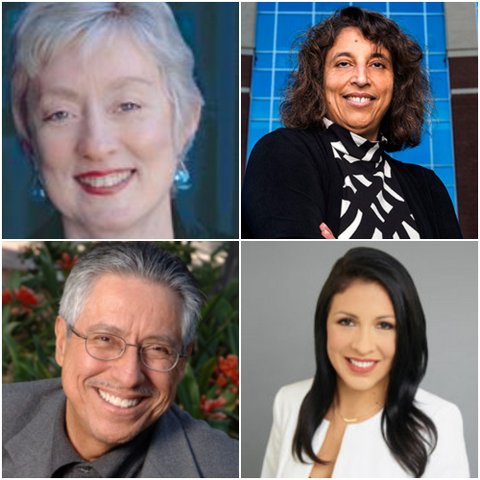 15 Jun

Older People Face Higher Physical and Mental COVID-19 Risks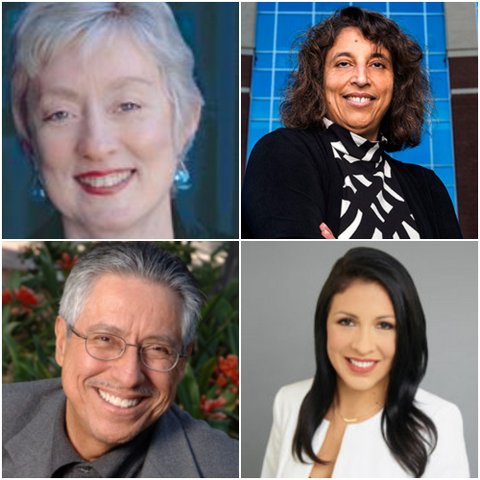 Clockwise from top left: Dr. Charlene Harrington, gerontologist and professor of sociology and nursing at the University of California San Francisco; Dr. Farida Sohrabji, Associate Department Chair, Department of Neuroscience and Experimental Therapeutics, Texas A&M College of Medicine; Erika Hartman, Chief Program Officer for the Downtown Women's Center in Los Angeles; and Dr. Fernando Torres-Gil, Director, Center for Policy Research on Aging, UCLA Luskin School of Public Affairs.
By Michael Fitzgerald
COVID-19 provides a nearly perfect storm of risks to older people, experts outlined Friday in a national media teleconference.
In addition to the medical risks of the virus, older people often face more challenges than younger people because of existing medical conditions, a greater need for assistance, social isolation and psychological challenges posed by the shelter in place orders.
People in nursing homes are in the most dangerous situation, gerontologist Charlene Harrington said during the Ethnic Media Services sponsored talk.
While nursing home residents represent only a tiny percentage of the U.S. population, they represent about 40% of the deaths related to the coronavirus in the nation, she said.
"For the last 20 years, there have been serious quality-of-care issues in nursing homes," she said.
Harrington blames the majority of those issues on the for-profit business model of the majority of nursing homes.
"They are trying to make money by cutting the staffing levels, by keeping the wages and benefits low and not providing health insurance," she continued.
Even before COVID-19 hit, about three-fourths of nursing homes did not have enough registered nurses on staff, she said.
California nursing homes that did not meet recommended minimums for RN staffing "had a two times greater probability of having COVID-19 resident infections," said Harrington, referring to the findings of a study by her and her colleagues that is embargoed until its August publication.
Harrington also said she strongly opposes a move by California Gov. Gavin Newsom to relieve nursing homes from liability for COVID-19 deaths.
"Twenty states have already granted nursing homes immunity," Harrington said.
The owners of the nursing homes say they were just in the wrong place at the wrong time and are not to blame for the infection spreading.
"And yet we know that's not true," she said. "There's definitely been negligence involved."
Farida Schrabji of Texas A&M College of Medicine outlined the risks associated with social isolation, now exacerbated by shelter in place orders in many communities across the country.
The isolation increases the level of some hormones, such as the so-called stress hormone cortisol, she said.
"It weakens your immune system," she added. "People who are socially isolated tend to have a higher risk of infections. Part of it is because their immune system doesn't cope as well as with any passing bug."
Schrabji said medical authorities initially believed COVID-19 was a SARS-like infection that mostly attacked the lungs. They have since learned it is a much more complicated disease.
"What we are noticing now is there are a whole array of mental issues that are occurring including depression, cognitive changes, memory changes. People essentially feeling overwhelmed," she said.
The mental effects are believed to be linked to how many people contract the virus.
"How does a respiratory virus — one that affects your lungs — affect your brain and your mood? The route by which the virus enters your body is through your nose. And the nose is actually somewhat exposed to the brain."
The teleconference also included a briefing by the director of the Center for Policy on Aging at UCLA Luskin School of Public Affairs.
Fernando Torres-Gill said he has seen a "resurgence of ageism and able-ism – discrimination based on age and disability."
Torres-Gill said that when state COVID-19 care standards were first being discussed, health officials considered rationing services such as access to ventilators. A preference was proposed for health care to go first to the young, to more healthy people and to those without preexisting medical conditions.
"That would have targeted directly those who are older, those who have various types of disabilities and would have put them at the back of the line," he said. "The good news is that after advocacy they completely turned it around. The new care standard is to ensure there is no discrimination based on age and ability."
The conference also included a COVID-19 update provided by Dr. Tung Nguyen of UCSF.
Ngyuen noted that there were 200,000 new cases reported nationally in just the last week, part of an increase in infections across 21 states.
"Fourteen states had their highest 7-day average last week," he said. "In Arizona, the report is that 76% of ICU beds are occupied."
Ngyuen said the national evidence of more infections and an increasing number of hospitalizations "suggests a rising problem with the pandemic and possibly with the capacity of the state to handle the increasing number."