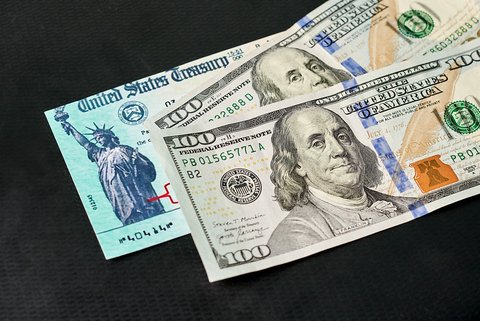 17 May

Unhoused Richmond Residents Struggle to Get Newest Economic Impact Payment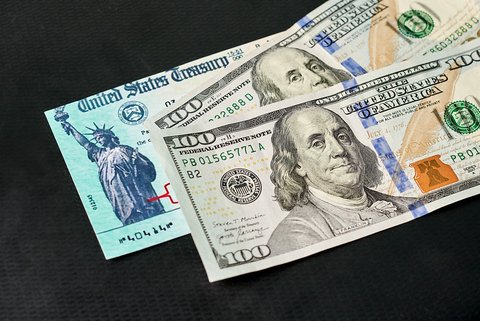 Without reliable access to information, a permanent address or a bank account, it can be especially hard for unhoused people to get economic relief they are eligible for. (Photo by Marco Verch under CC BY 2.0 license)
By Isabella Bloom
Jessi Taran used to distribute food to people in need. Then, during the pandemic, she lost her home.
Now, she lives with her two pit bulls in an RV encampment on Rydin Road in Richmond, overlooking San Francisco Bay.
"I've got a view of the wetlands with cranes. I mean, it's lovely," Taran said. "I have a more beautiful view than anyone else in the Bay Area. If I was a millionaire, I couldn't get a view like this."
But Taran's view is from the bus in which she lives, a half block from a dog park.
"I've been living technically homeless, I suppose, since November," Taran said. "I don't really consider myself homeless because I have a beautiful bus home."
Early in 2020, Taran was moving from the house she lived in at the time onto land owned by the pastor of her church. But in April, her pastor died of COVID-19, and Taran's plans were thrown into disarray. And her bus needed repairs. One of her dogs needed medical attention.
But then Taran got her first stimulus payment of $1,200 from the March 2020 CARES Act.
"It allowed me to pay some veterinary bills," Taran said. "That just came up suddenly, and I didn't know what I was going to do, how I was going to pay for my dog's veterinary care. And then — Oh! I have some money from the stimulus now. I can pay her doctor."
Taran also used stimulus money to fix her bus. But she calls the stimulus money a "Band-Aid measure."
"It wasn't enough to cover a place to put the bus," she said. "The thing that we need is an area where we can live without being hassled by the police or the government."
A third round of economic impact payments was signed into law March 11 under the American Rescue Plan Act of 2021. Individuals who have a Social Security number and earn up to $75,000 a year but aren't someone else's dependent are eligible for $1,400 from the stimulus. People experiencing homelessness, like Taran, can qualify but have had trouble collecting the payments.
Individuals need a bank account to get the money through direct deposit or a reliable address to receive a stimulus check.
"I didn't have a permanent address, which was a problem," Taran said. "Some volunteers came and they allowed me to use one of their addresses. But I haven't heard anything since then."
Taran said she didn't know about the third round of economic impact payments until volunteers from a community aid group called NeighborAid told her about it.
"You watch the news and you hear about it, but it seems very abstract," Taran said. "If you don't file taxes, you don't think about a tax refund as applying to you."
This uncertainty is why community organizations like NeighborAid have stepped up to inform people experiencing homelessness about their eligibility for economic impact payments.
Ryan Manka-White, who runs NeighborAid, said the organization came out of a mutual aid medic group that supported Black Lives Matter protests during the summer of 2020. As the protests wound down, NeighborAid looked for other ways to support its East Bay community. In talking with community members, the volunteer group realized many unemployed and unhoused people never received their COVID-19 economic impact payments.
The first challenge Manka-White and NeighborAid face in getting unhoused people their stimulus payments is just getting the word out. So in East Oakland, Manka-White and other volunteers set up tables, turn on music, hand out drinks and grill food.
Then, they help file taxes.
"They come to the scene and get lunch and then they stay for some money, for some tax filing," Manka-White said. "And then once you start doing that, the word passes through a community very quickly and people start coming over."
Barbecue events like the one in Oakland have been instrumental in gathering people and stirring conversation throughout encampments around the East Bay.
Manka-White said NeighborAid has helped nearly 80 unhoused people in Oakland and Richmond file for the stimulus payments.
Even though the tax deadline was extended to May 17 this year, Manka-White said NeighborAid would continue helping unhoused people file their taxes into the summer and fall. This is because people legally have three years from the date their tax return is due to collect tax refunds. The IRS also has three years for audits and 10 years for debt collection.
>>>Read: Tax Day 2021: What You Need to Know
The next hurdle for people who don't have permanent addresses is either setting up direct deposit to those who do have bank accounts or else finding a reliable address to which the IRS can send their payment.
"A lot of people have some address, whether it's a friend or relative," Manka-White said. "There are some organizations, everything from churches to, every now and then, shelters. But sometimes even a market, some place down the street, a grocery store that they know the owners. One time, I used my own address."
NeighborAid started helping unhoused people apply for stimulus money in October. Once people were in the system to receive their March 2020 stimulus check, they were automatically eligible for the October payment as well.
But the April 2021 stimulus is different.
In the first two rounds, people did not necessarily need to file taxes to get their stimulus checks. Now, individuals have to file a 2020 tax return to receive the third economic impact payment. If they are eligible but did not receive any of the payments, they can get the money by claiming the Recovery Rebate Credit. However, if they owe any money to the government, the IRS can use those stimulus funds to pay off the debts.
For unhoused people who have internet access, NeighborAid will help them file their taxes online using TurboTax. For everyone else, they fill out paper forms.
"We have the papers that we bring, like all the forms properly filled out already as much as needed, walk them through everything in detail so they understand," Manka-White said. "We bring envelopes, the stamps, and then we give them the option to mail it as soon as we're done. Or at the end of every session, we stop by a post office and mail it immediately if they want us to mail it for them."
Taran has a smartphone and can use it to file her taxes online. She makes her phone available to other people experiencing homelessness who need to file their taxes.
"My phone is unreliable as my electricity is unreliable," Taran said. "I don't have a way of charging up my phone. I have to go back and forth to my car to charge my phone. So that's a drag."
Even though Taran has applied for the stimulus payments, she said there are other people experiencing homelessness reluctant to engage with government agencies like the IRS. Part of this may be because of the loopholes in the Recovery Rebate claim, where the stimulus money can be taken by the IRS to pay off any back taxes or debts that individuals owe.
"There's always that feeling that there'll be some sort of punitive fallout for any sort of interaction with them," Taran said. "They wind up stealing money from you… or they'll say, oh, well actually, you owe this much in back taxes. People just don't trust the government very much."
To learn more about the economic impact payments, how to file taxes for free and other tax-related information, visit IRS.gov.