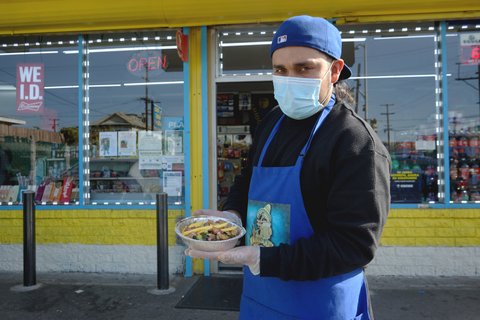 31 May

Vender ceviche despierta sueños culinarios, continúa un legado de perseverancia sinaloense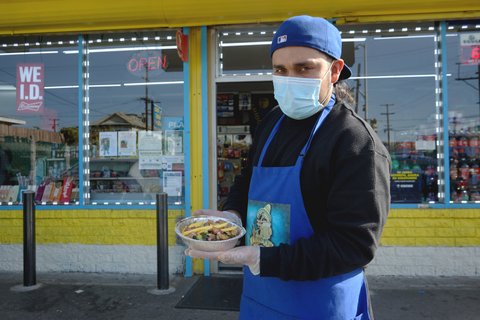 Hilario Martínez León, 28, afuera de Family Market and Deli en Richmond donde maneja Mariscos El Layo.
Historia y fotos por Denis Pérez-Bravo
Richmond es lo que haces de el.
Estas palabras pasan por la mente de Hilario Martínez León, de 28 años, propietario de Mariscos El Layo, mientras comienza sus días recogiendo productos frescos, incluidas las limas.
León luego prepara ceviche, un plato de mariscos crudos, con camarones curados en jugo de limón. Agrega tomate en cubos, cebolla, aguacate, cilantro, su propio condimento especial y pepino. Lo vende en una cocina que alquila en Family Market and Deli en la calle 7 y la avenida Pennsylvania en Richmond.
"Estos son escalones aquí mismo", dijo Leon.
Comenzó a vender ceviche en 2018. Recuerda caminar hasta Foods Co. y llevar ingredientes a casa, a veces bajo la lluvia.
Más tarde compró una bicicleta y vendió ceviche con ella. Sabía que tenía que ahorrar. Finalmente compró un auto gracias a "vender ceviche", dijo.
En ese tiempo, se construyó un nombre en las redes sociales. Respaldado por un ceviche de gran sabor, comenzó un entusiasmo sobre su comida en Richmond.
Después de pagar tarifas, obtener permisos y pasar por el proceso de convertirse en un negocio legítimo, León comenzó a buscar cocinas para operar y encontró Family Market and Deli a principios de abril.
En su menú, puedes encontrar tazas de ceviche de 16 oz. – camarones o vegano – y aguachile por $13. También ofrece tacos de camarones y platos de quesadilla por $10, así como fetuchini Alfredo de camarones.
Mientras León tomaba un descanso afuera mientras se preparaba para cerrar un día, miró un lote vacío al otro lado de la calle. Describió lo que estaba imaginando: un restaurante de dos pisos. Un nivel para comida y el otro para banda en vivo y pista de baile.
"Mi visión es tener un lugar como Culichitown", dijo León.
Culichitown es una franquicia de restaurantes que se especializa en sushi y mariscos Sinaloense que comenzó en un garaje en Fontana, California. Después de nueve años, los propietarios ahora operan 17 restaurantes, la mayoría en California, y más en camino.
"Se trata de consistencia", dijo León.
Y ha decidido ser consistente con su negocio y con su hijo después de tener una epifanía mientras estaba sentado en la cárcel del condado.
En 2018, Leon fue arrestado y enviado a la cárcel durante siete días después de que la policía encontró un arma cargada con un cargador extendido en su automóvil. Lo habían detenido por etiquetas vencidas y conducía sin seguro ni licencia.
Mientras estaba sentado en una celda, pensó en su futuro y en su hijo pequeño. Fue puesto en libertad a los siete días porque era su primer delito y no tenía antecedentes penales.
"Fue entonces cuando realmente nació Mariscos El Layo", dijo León. "Dentro de una celda".
Cuando era más joven, León pasaba la mayor parte de su tiempo fuera de casa con amigos que se influenciaban mutuamente hacia una vida delictiva.
"Richmond, o cualquier ciudad, es la mentalidad de sus residentes que quieren tener éxito", dijo la madre de León, Evelia León.
Ahora que se ha fijado una meta para sí mismo, está creando un camino a seguir para él e incluso para otros, dijo.
Antes, vio a León queriendo ser alguien importante para Richmond, pero dijo que era susceptible al estilo de vida callejero que muchos vecindarios de Richmond ofrecen como un escape a la pobreza.
"Ha cambiado mucho", dijo. "Nunca fue uno de malos pensamientos; simplemente tenía malas influencias. Ahora, todo se trata de su negocio".
A los 16 años, Evelia tuvo a León, su primogénito, en Ajoya, Sinaloa, México. Se separó del padre de León y emigró ilegalmente a los Estados Unidos cuando León tenía un año y medio para reunirse con su propia madre.
Llegó a Richmond como una madre soltera adolescente indocumentada a finales de los 90, lista para vivir la rutina estadounidense en la que las comunidades de bajos ingresos a menudo se quedan atrapadas.
Las largas horas de trabajo la mantuvieron alejada de su hijo, abriendo la puerta para que las influencias negativas se filtraran en su mentalidad. Y durante mucho tiempo, parecía que León seguiría caminando sin una visión de qué tipo de futuro quería para él o su familia, dijo Evelia.
Pero dentro de León había un amor culinario latente por sus raíces sinaloenses y una admiración por el esfuerzo de su abuela por criar a sus hijos: la madre de León y sus tías y tíos.
"Corre por mi sangre. Esta cosa de la comida", dijo León.
La abuela y la tía de León ahora trabajan con él en Family Market and Deli. Son sus primeras empleadas. Se siente honrado de tener a su abuela en la misma cocina que él y recuerda con entusiasmo su historia de perseverancia.
El abuelo de León fue asesinado en Sinaloa, México, cuando su abuela tenía 27 años y seis hijos. No tuvo más remedio que enviar a los niños a trabajar mientras ella vendía tacos a los ranchos y aldeas de Ajoya.
"Ella vino a los Estados Unidos al ganar dinero de eso", dijo.
Y ahora él planea hacer lo mismo, vender comida sinaloense para tener una vida mejor.
"Si tienes un objetivo, no te detengas. Y si lo estás haciendo a través de Instagram, no lo hagas por los me gusta. Simplemente sigue publicando tu contenido", dijo León.
Mariscos El Layo está abierto de martes a viernes de 11 a.m. a 6 p.m.