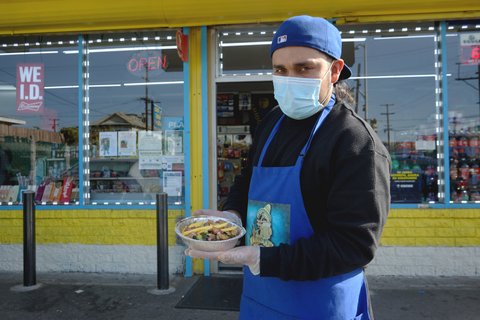 10 May

Selling Ceviche Awakens Culinary Dreams, Continues a Sinaloense Legacy of Perseverance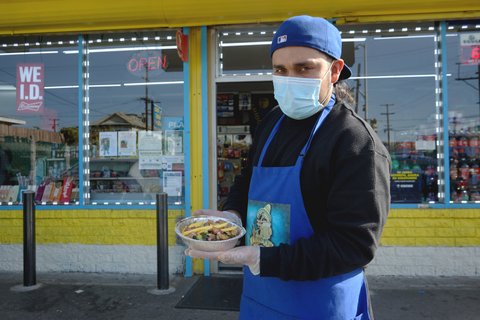 Hilario Martinez Leon, 28, outside Family Market and Deli in Richmond where he operates Mariscos El Layo.
Story, photos and video by Denis Perez-Bravo
Richmond is what you make of it.
These words run through the mind of Hilario Martinez Leon, 28, owner of Mariscos El Layo, as he starts his days picking up fresh produce, including limes.
Leon then prepares ceviche, a raw seafood dish, with shrimp cured in lime juice. He adds cubed tomato, onion, avocado, cilantro, his own special seasoning and cucumber. He sells it out of a kitchen he rents at Family Market and Deli on 7th Street and Pennsylvania Avenue in Richmond.
"These are stepping stones right here," Leon said.
He began selling ceviche in 2018. He remembers walking to Foods Co. and carrying ingredients home, sometimes in the rain.
He later purchased a bike and sold ceviche from it. He knew he had to save up. He eventually purchased a car thanks to "selling ceviche," he said.
In that time, he built a name for himself on social media. Backed by great tasting ceviche, a buzz about his food stirred in Richmond.
>>>Read: Pandemic, Social Media Give Home Food Businesses a Boost
Around last Christmas, Leon was shut down by the Contra Costa Health Department after an anonymous person tipped the agency.
After paying fees, getting permits and going through the process of becoming a legitimate business, Leon began looking for kitchens to operate from and found Family Market and Deli at the beginning of April.
On his menu, you can find 16 oz. cups of ceviche — shrimp or vegan — and aguachile for $13. He also offers shrimp tacos and quesadilla plates for $10, as well as shrimp fettuccine Alfredo.
As Leon took a break outside as he got ready to close up one day, he looked at an empty lot across the street. He described what he was imagining: a two-story restaurant. One level for food and the other for a live band and dance floor.
"My vision is to have a place like Culichitown," Leon said.
Culichitown is a restaurant franchise specializing in sushi and Sinaloense seafood that started in a garage in Fontana, Calif. After nine years, the owners now operate 17 restaurants, mostly in California, with more on the way.
"It is about consistency," Leon said.
And he has resolved to be consistent toward his business and his son after having an epiphany as he sat in county jail.
In 2018, Leon was arrested and sent to jail for seven days after police found a loaded gun with an extended magazine clip in his car. He had been pulled over for expired tags, and he was driving without insurance or a license.
As he sat in a cell, he thought about his future and his young son. He was released after seven days because it was his first offense and he had no criminal background.
"So that is when Mariscos El Layo was really born," Leon said. "Inside of a cell."
When he was younger, Leon spent most of his time away from home with friends who influenced each other toward a life of crime.
"Richmond, or any city, is the mentality of its residents who want to succeed," Leon's mother, Evelia Leon, said.
Now that he has set a goal for himself, he is creating a path for himself and even others to follow, she said.
Before, she saw Leon wanting to be someone important to Richmond but said he was susceptible to the street lifestyle many Richmond neighborhoods offer as an escape to poverty.
"He has changed a lot," she said. "He never was one of bad thoughts; he just had bad influences. Now, he is all about his business."
At the age of 16, Evelia had Leon, her first born, in Ajoya, Sinaloa, Mexico. She separated from Leon's father and immigrated to the United States illegally when Leon was 1½ to reunite with her own mom.
She arrived in Richmond as an undocumented teenage single mother in the late '90s, ready to live out the American grind low-income communities often get stuck in.
Long working hours kept her away from her son, opening the door for negative influences to seep into his mentality. And for a long time, it seemed like Leon would continue walking without a vision of what kind of future he wanted for him or his family, Evelia said.
But inside Leon was a dormant culinary love for his Sinaloense roots and an admiration for his grandmother's effort in raising her children: Leon's mother and his aunts and uncles.
"It runs in my blood. This food thing," Leon said.
>>>Read: From Cooking at Home to Cooking for the Homeless: Tempero Goiano Celebrates 10 Years
Leon's grandmother and aunt now work with him at Family Market and Deli. They are his first employees. He is honored to have his grandmother in the same kitchen as him and excitedly recalls her story of perseverance.
Leon's grandfather was killed in Sinaloa, Mexico, when his grandmother was 27 and had six kids. She had no choice but to send the kids to work while she would go sell tacos to Ajoya's ranches and villages.
"She came to the United States from making money from that," he said.
And now he plans on doing the same thing, selling Sinaloense food to reach a better life.
"If you have a goal don't stop. And if you are doing it through Instagram, don't do it for the likes. Just keep pushing your content out," Leon said.
Mariscos El Layo is open from Tuesday to Friday, 11 a.m. to 6 p.m.
Selling Ceviche Awakens Culinary Dreams, Continues a Sinaloense Legacy of Perseverance from Alive & Free on Vimeo.