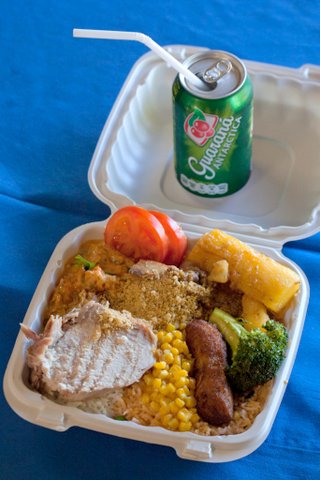 27 Apr

From Cooking at Home to Cooking for the Homeless: Tempero Goiano Celebrates 10 Years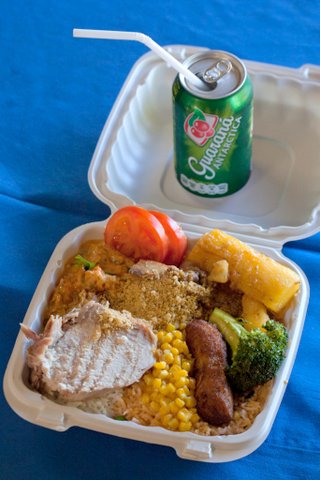 A plate of food and traditional Brazilian soda from Tempero Goiano in 2012. The family-run restaurant opened May 7, 2011. (Monica Quesada / Richmond Pulse file)
By Maria Bernal
Tempero Goiano restaurant on San Pablo Avenue will celebrate its 10th anniversary this May.
The family-run restaurant serves traditional Brazilian food such as a spongy and sweet bread called mané pelado, meaning "naked man" in Portuguese. Plates are served with rice, beans, farofa — a corn flour mixture — and a salad, which changes daily.
Estela Lima started making food in her home over 10 years ago. So many Brazilian and other families showed up that neighbors complained about the overflow of parked cars, drawing the authorities to her home.
>>>Read: Pandemic, Social Media Give Home Food Businesses a Boost
City officials twice threatened to close the unauthorized home business and advised Lima to rent space and open an actual restaurant, as Richmond Confidential reported in 2015. She took that advice and officially opened for business May 7, 2011. Lima and her daughter Angelica Lima are the main cooks, but other family members help, too.
The pandemic hurt Tempero Goiano, like countless other restaurants. Angelica Lima said it has been "tough" to keep the business alive as she spends more on food even while selling less of it.
"All the sales dropped big time," Lima said. The "price of the food pretty much went three times more than it used to be."
In response to rising food prices, they changed the size of the menu.
"Yes, a lot, a lot. Like in the salad bar. We used to have six salads, every day. Now we only have one option of salads or maybe two," Lima said.
They reached out to the city for help but did not get the assistance the restaurant needs.
"I applied for some, but no. Everybody talks about, 'Oh, go ahead and apply,' but once you do it, you know, you don't get nothing," said Lima.
Despite its difficulties, the restaurant still gives back to the community.
For the last five years, Tempero Goiano has prepared 90 to 120 meals for unhoused people every Monday and Tuesday.
Workers and volunteers split into teams and go to different locations to reach more unhoused people across the city.
Lima says she is passionate about feeding unhoused folks. She became emotional while discussing a recent incident that highlighted the importance of getting food to people without stable homes.
She said a man came into the restaurant when she was closing up and asked for food.
"He asked me so nice and polite where was the trash for him to get the food," Lima said with tears in her eyes. "That made me feel so bad, and I had so much food in the back. And I just refused to serve food, where a person was starving for days. So I went back and fixed the food and I apologized."
She says that unhoused people who ask for food have, at times, not eaten for days.
Since opening the restaurant, Lima said she learned to be grateful for the things she has. And although she is unsure of where the restaurant will be in another 10 years, she is sure they will continue to serve the unhoused people of the city.
The restaurant has accumulated loyal customers who travel from out of town, those who order every Thanksgiving and Christmas, and ones who refuse to eat Brazilian food anywhere else.
Lima said the community is welcome to volunteer to hand out food. They can call her and she'll give them the schedule. Ordering food is the best way customers can help the restaurant stay open.
Tempero Goiano is located at 12221 San Pablo Ave. in Richmond, and is open seven days a week, from 6 a.m. to 3 p.m.