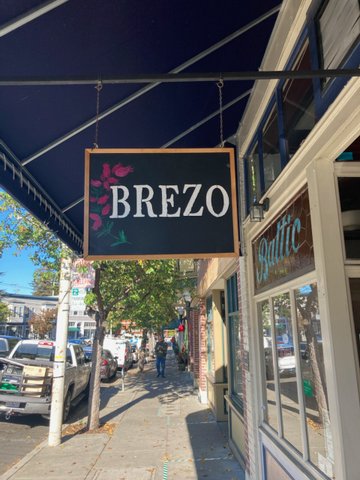 30 Nov

Closings Worry Point Richmond Business Owners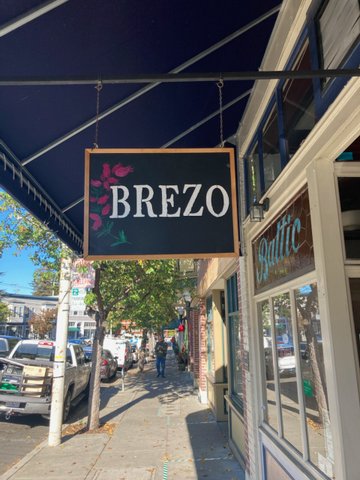 Brezo Restaurant, the day after it shut down because of business losses caused by the coronavirus. (Malcolm Marshall / Richmond Pulse)
By Michael J. Fitzgerald
Sunday was the last day of business for Point Richmond's Brezo, a popular restaurant owned and operated by Heather Mervine and her husband, Hector Hernandez.
Next door, Starbucks Coffee shut down the same day too.
Both are victims of the pandemic-related business downturn that had already pushed Lara Choe to suspend operations of the restaurant in the landmark Hotel Mac more than a month ago.
The pandemic and its restrictions had pushed Brezo's business down to 25% of its norm.
"Business has not been sustainable for us," Mervine said. "Restaurants are very expensive to run, and our spot is really big. We were lucky to have our patio, so when the weather was nice, we had some service."
Brezo opened in early 2017 after an extensive remodeling of the former Baltic pub.
But even as they closed down, Mervine and her husband continue to ponder whether to reopen at some future date.
"At this point we have not decided," Mervine said. "We are seeing how things go."
Though Starbucks is an international chain that dominates the market, its departure from Point Richmond could be bad news for the area's core small businesses.
"I think people miss the point that Point Richmond businesses cannot be sustained by Point Richmond residents," Mervine said.
"Having a Starbucks brings people from all over that wouldn't normally go to the Point. Once they see the cute town — and other businesses — they come back to support them."
Several other business owners in the Point agreed, calling Starbucks a "feeder" for other commercial operations in the downtown area.
After a San Francisco news outlet reported that the Starbucks might close, some residents started a brief lobbying effort to keep the coffee shop open.
"One of the individuals who fought the hardest to keep Starbucks out is now fighting to keep them here," Richmond Mayor Tom Butt told KPIX-TV.
While the closing of two businesses side by side is of concern, some Point business owners remain optimistic about the commercial future of Point Richmond's small business triangle formed by Park Place, Washington Avenue and West Richmond Avenue.
Kaleidoscope Coffee owner Cassie Lamb is considering plans to expand her scaled back hours in January, provided pandemic regulations allow it.
"It sad to see businesses go. But there are still a lot of great reasons for people to come to the Point," she said.
"There are many other anchor businesses here. Plus, we have the park and the fairy houses just up the street for people to check out."
Like many other businesses, Kaleidoscope has struggled to adjust to the pandemic, making accommodations to protect patrons during greatly reduced hours.
Lamb credits Kaleidoscope's survival to her grit and flexibility, the kindness of her landlord and money from the federal paycheck protection program.
"We made it work. And we're making it work," she said. "And we are hiring more staff right now."
With the closing of Starbucks on Sunday and a Catahoula Coffee around the corner earlier this year, Kaleidoscope is the last coffee shop standing in Point Richmond.
With Starbucks gone, Lamb immediately increased her daily order of popular pastries and other supplies for her shop.
"And I'll definitely get more milk this week," she said. "Definitely."
What's Still Open?
Restaurants still operating in Point Richmond include: