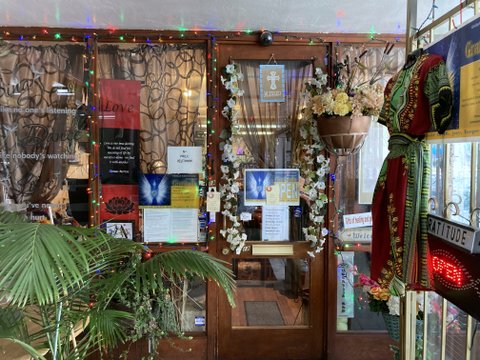 11 Jul

'Hit Hard': Small Businesses Navigate Reopening, Fear Reclosing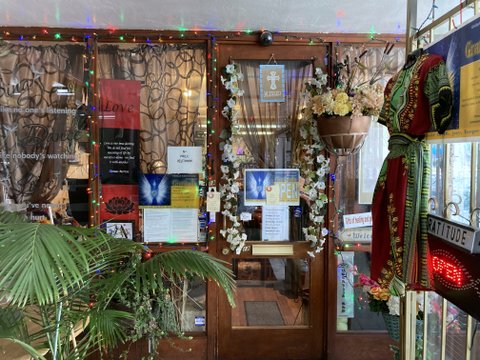 The entrance to Gratitude Gift Shop at 322 Harbour Way #1a in Richmond. (Richmond Pulse file photo)
RP Staff Report
Ghaliyah Roberts-Palmer opened Gratitude Gift Shop in downtown Richmond in February 2016. While operating any small business comes with challenges, the COVID-19 pandemic and subsequent shelter-in-place orders, things went to a new level.
"It hit hard being a small business, still growing, and still building my clientele up," Roberts-Palmer said. "So it's been really hard these last three months with no income."
For local business owners such as Roberts-Palmer and others in Richmond, the pandemic and shutdown has meant a balancing act between preserving public health and keeping a business afloat.
Of all the things Roberts-Palmer had to worry about, she says not being able to pay her rent and taxes is foremost in her mind.
"I've been applying for grants and loans but nothing has been approved, nothing has come through," she said.
In testimony to Congress earlier this month, James Rivera, associate administrator of the Small Business Administration's Office of Disaster Assistance, said the Economic Injury Disaster Loan program has denied 49% of applicants nationwide.
On June 1, in conjunction with a relaxed Contra Costa County order, Roberts-Palmer reopened Gratitude, also offering curbside pickup service and delivery. As part of the reopening, she made some changes to protect her customers and her staff.
"As soon as you walk in the door there's a sanitation station with hand sanitizer," she said. "I have sanitizer throughout the store. I have pre-packed as many items that people buy frequently."
Along with signs about social distancing, Roberts-Palmer also monitors how many people are in the store at once and offers appointments for those who want to shop alone. A loyal customer base and the uniqueness of some her products have allowed her to go on,, for now.
"I am doing shipping, so that is helping," she said. "I've got people who are ordering and asking for their merchandise to be shipped or coming by and picking it up. A lot of the customers that I'm shipping to are regulars and they've been in the store at some point."
One pleasant surprise has been a surge of interest in supporting Black-owned businesses amid the protest movement over the police killings of George Floyd and others.
"I am actually getting new customers that are looking for Black businesses to support," she said. "They are not necessarily seeing me on social media. These are people that are just coming into the neighborhood, or they drive by and see the Pan-African flag in the window."
Last week, Gov. Gavin Newsom ordered restaurants, wineries, movie theaters, zoos, museums, and card rooms to close all indoor operations in 19 counties throughout the state. Newsom expects the order to be in place for at least three weeks. In Contra Costa County, there has been rise in hospitalizations that correlated with reopening on June 1.
That has business owners like Roberts-Palmer worried about having to shut down again.
"Like so many people, I don't know what's gonna happen," she said. "The landlord can only not receive his money for so long, and I don't want to be accumulating debt that I still have to pay down the road, so I'm watching that."
Roberts-Palmer says she is staying focused and prayerful as to what the future will bring. Part of being in business, she says, is knowing when enough is enough and being willing to pivot and try something else.
"Instead of a brick-and-mortar, maybe it will be something else, even though it wouldn't be ideal for me," she said. "I'm walking on faith that it's turning around, but it's going to a slow process, and I'm not sure when."
To help support local businesses that are open, the city of Richmond has launched an interactive online map of open businesses. It's a collaboration between the city, the Richmond Chamber of Commerce, and Richmond Main Street. More than 60 small businesses are currently listed on the map. The city has also put together a survey that businesses can fill out to be added to the city's open business inventory.
The businesses that are now literally on the map include Mom & Pop Art Shop in Point Richmond, which husband and wife Jacinto Castillo and Kelly Nicolaisen opened in May 2016. Castillo calls the shop a "modern day general art store." Each year, they host a big anniversary event to mark their success, but that's been canceled this year, as the coronavirus has slowed the flow of customers and sales.
"We tried the SBA, which helped and gave us a little flexibility," Castillo said. "That was able to keep us afloat for the first two months."
After that, they started aggressively focusing on their online business, which he says has been working out pretty well.
"We focused all our energy on the online shop and, in a way, it was kind of eye-opening that we could have done more sales if we paid more attention to the online business," he said.
Castillo says online sales were secondary because he and Nicolaisen were so focused on building a community following in Point Richmond. Online sales don't match what the store was able to do, but it is keeping the business going for now.
"I'd say we're getting a third of what we were doing before, so not great, but just enough to get by. As a business owner, it sounds silly to say, but I'm OK with just getting by right now just because how everything is going."
After the shutdown, they started reopening in May with appointment-only shopping. Then in June, when they were allowed to fully open, they only allowed four people at a time and installed hand sanitizer near the entrance, requiring everyone to use it and wear a mask.
"We want everyone to enjoy the shop, but it's hot to be private in a way," Castillo said.
Prior to Newsom's latest announcement, Castillo and Nicolaisen had been discussing the possibility of reclosing for a couple of weeks or going back to appointment-only shopping, taking into consideration health guidelines, as well as what others in Point Richmond's business community are doing.
"We're being extremely cautious," he said. "We want to be part of the solution, not part of the problem."