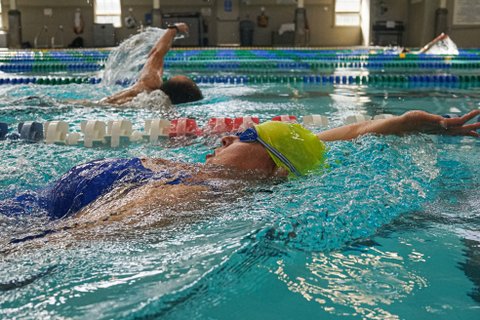 01 Jun

Abren carriles en albercas de Richmond, buscan contratar salvavidas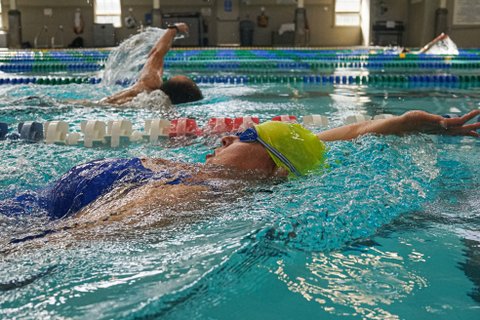 Historia y fotos por Denis Pérez-Bravo
The Plunge en Point Richmond y el Richmond Swim Center en Kennedy High School están buscando contratar salvavidas certificados.
Ambos centros acuáticos ya están abiertos. Las personas mayores de 16 años pueden registrarse en línea o por teléfono para reservar una hora de natación.
Pero debido a la falta de salvavidas, los tiempos son limitados.
The Plunge y el Richmond Swim Center están abiertos de lunes a domingo, pero los horarios son inconsistentes.
Cada centro ofrece carriles profundos y poco profundos. Ambos también pueden reservarse para caminar dentro del agua.
Las personas pueden registrarse en línea dos semanas antes o al menos 48 horas antes del día en que nadarán. Una hora cuesta $7 para los residentes de Richmond y $8 para quienes residen fuera de Richmond.
El calendario completo de ambos centros está disponible en línea.
"La única razón por la que no estamos abiertos los viernes por la mañana (en The Plunge) es porque no tenemos suficiente personal", dijo la coordinadora de deportes acuáticos del Departamento de Servicios Comunitarios de Richmond (DSC), Paula Cooper-Tipton.
En el último año, por diversas razones, perdió el 50% de su personal de salvavidas. Con las restricciones de COVID-19 aún vigentes, el DSC no proporciona clases ni certificación de salvavidas.
"No hemos podido tener nuestras propias clases de salvavidas. Así es como reclutamos", dijo Cooper-Tipton. Por ahora, espera contratar salvavidas certificados por medio turno.
Dos salvavidas con experiencia en las albercas de Richmond, José Albarrán, de 21 años, y Daniela Arteaga, de 21, obtuvieron sus certificaciones a través del programa de capacitación del DSC. Ambos estaban en la escuela secundaria y tenían interés en la recreación acuática después de haber sido nadadores durante mucho tiempo para el Richmond Sailfish, un grupo de entrenamiento de natación.
Arteaga ahora es estudiante de UC Berkeley y Albarrán es técnico médico de emergencia (TEM).
"No tenía experiencia médica", dijo Albarrán.
Poco después de ser certificado, comenzó a realizar rescates. Recuerda la primera vez que realizó un tratamiento de primeros auxilios, a un hombre que se cortó la pierna.
"Este es el trabajo que me sacó de mi zona de confort. En el buen sentido", dijo.
La conexión interpersonal que un salvavidas experimenta con los nadadores le ha ayudado a desarrollar sus habilidades de comunicación y la forma en que él se siente al "brindar atención".
Albarrán tomó el curso de instructor de salvavidas con el DSC y se convirtió en un salvavidas experimentado para esa institución. A medida que desarrolló una pasión por la práctica médica con cada rescate que realizó, su mente se centró en convertirse en un TEM.
En noviembre, fue certificado a través de la Academia de Entrenamiento del Área de la Bahía. Ahora trabaja con Falcon Critical Care Transport, que brinda servicios de ambulancia que no son de emergencia.
"Todas las personas que trabajan como salvavidas con nosotros son muy inteligentes", dijo Cooper-Tipton.
Muchos salvavidas comienzan en la escuela secundaria y trabajan con DSC hasta que van a la universidad. Otros continúan trabajando después de la secundaria. Algunos lo usan como un trampolín hacia el campo de la medicina, dijo.
El pago de los salvavidas comienza en $16.64 la hora y puede subir hasta $20 la hora después de que completen una cierta cantidad de horas y capacitación después de ser contratados, dijo. Para postularse, comuníquese con Cooper-Tipton en paula_cooper-tipton@ci.richmond.ca.us
La capacitación y la certificación están disponibles a través de la Cruz Roja Americana. El programa siguiente es una clase híbrida en línea y en persona de dos días en Mill Valley. Se llevará a cabo el 5 y 6 de junio y la inscripción cuesta $335. El curso cubre resucitación cardiopulmonar, primeros auxilios básicos y capacitación en seguridad en el agua.