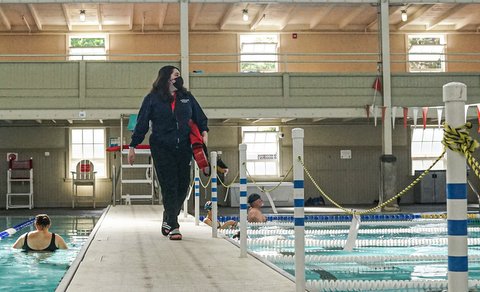 19 May

Pool Lanes Open Up in Richmond, Lifeguards Needed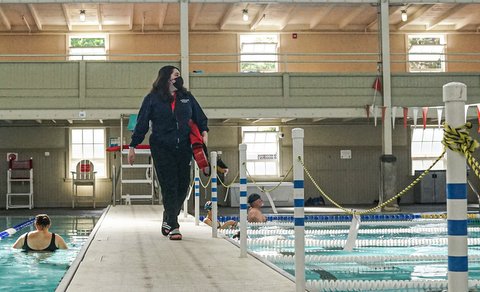 Daniela Arteaga, 21, is a senior lifeguard at the Richmond Plunge. Neither the Plunge nor the Richmond Swim Center have enough lifeguards to be open consistent hours.
Story and photos by Denis Perez-Bravo
The Plunge in Point Richmond and the Richmond Swim Center at Kennedy High School are looking for certified lifeguards to hire.
Both aquatic centers are now open. People 16 and older may register online or through the phone for an hour of swimming time.
But because of a shortage of lifeguards, times are limited.
The Plunge and the Richmond Swim Center are open Monday through Sunday, but the hours are inconsistent.
Each center offers deep and shallow lanes. Both may also be reserved for water walking.
Patrons can register online up to two weeks ahead or at least 48 hours before the day they will swim. An hour costs $7 for Richmond residents and $8 for non-Richmond residents.
The full schedule for both centers is available online.
"The only reason we aren't open Friday mornings (at the Plunge) is because we do not have enough staff," Richmond Community Service Department aquatics coordinator Paula Cooper-Tipton said.
In the last year, for one reason or another, it lost 50% of its lifeguard staff. With COVID-19 restrictions still in place, the CSD is not providing lifeguard classes or certification.
"We have not been able to run our own lifeguard classes. That is how we recruit," Cooper-Tipton said. For now, she hopes to hire part-time lifeguards who are already certified.
Two senior lifeguards at the Richmond pools, Jose Albarran, 21, and Daniela Arteaga, 21, got their certifications through the CSD's training program. Both were in high school and had interest in aquatic recreation after being long-time swimmers for the Richmond Sailfish, a coached swim workout group.
>>>Read: Richmond Swims Gets Youth in the Water
Arteaga is now a UC Berkeley student, and Albarran is an emergency medical technician.
"I had no medical experience," Albarran said.
Soon after being certified, he began performing rescues. He remembers the first time he performed first aid treatment, on a man who cut his leg.
"This is the job that got me out of my comfort zone. In a good way," he said.
The interpersonal connection that a lifeguard experiences with swimmers has helped him develop his communication skills and the way he feels about "providing care."
Albarran took the lifeguard instructor course and became a senior lifeguard for the CSD. As he developed a passion for medical practice with every rescue he performed, his mind became set on becoming an EMT.
In November, he was certified through the Bay Area Training Academy. He now works with Falcon Critical Care Transport, which provides non-emergency ambulance services.
Jose Albarran, with Daniela Arteaga, had no medical experience before becoming a lifeguard at the Plunge. Now, he's an emergency medical technician.
"Our lifeguards are all very smart," Cooper-Tipton said.
Many lifeguards get started in high school and work with CSD till they go to college. Others continue to work after high school. Some use it as a stepping stone into the medical field, she said.
The pay for lifeguards starts at $16.64 an hour and can go up to $20 an hour after lifeguards complete a certain amount of hours and training after being hired, she said. To apply, contact Cooper-Tipton at paula_cooper-tipton@ci.richmond.ca.us.
Training and certification are available through the American Red Cross. The next and closest program is a two day in-person and online hybrid class in Mill Valley. It will be held June 5 and 6 and costs $335 to register. The course covers CPR, first aid basics and water safety training.