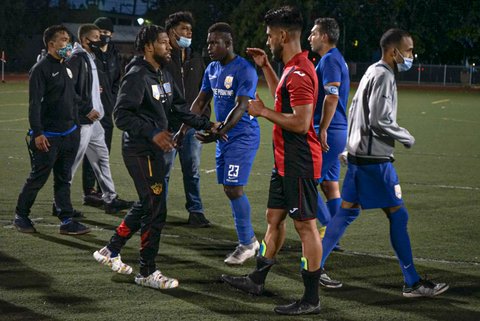 02 Jun

Richmond and San Pablo Start New Soccer Rivalry With a Tie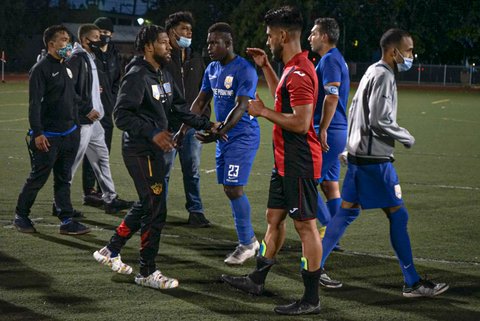 San Pablo FC's Jesus Ocegueda, in red, greets Jordan Fletcher of Richmond Sol FC after the teams' first meeting ended in a tie.
Story and photo by Denis Perez-Bravo
Geographic rivals San Pablo FC and Richmond Sol FC tied 2-2 in their first head-to-head match at Martin Luther King Turf Field in Richmond as part of the National Soccer League Pacific Conference play May 29.
Richmond and San Pablo fans packed the available seats at the Richmond soccer field to watch their local soccer players fight for three points and bragging rights.
"Every time you face a close rival, there is an extra factor added," Richmond Sol head coach Manuel Martinez said.
Both teams showed talent in a very competitive atmosphere.
"It was a very good game," Martinez said.
San Pablo took an early lead as forward Refugio Garcia scored off a pass from midfielder Luis Lopez on the right wing. With a defender on his left, and Richmond Sol goalie Joseph Ventura approaching in the front, Garcia chipped the ball over the goalie and scored the first goal in the eighth minute.
Around the 20th minute, Ventura was injured when he collided with an SPFC player. He was taken out and Sol's third goalie, Ivan Garcia, came in for the rest of the game.
San Pablo kept the slim 1-0 lead until Richmond midfielder Jordan Flechero passed it to himself after he flipped the ball over multiple defenders inside the goal box and then scored on a header.
"It came out beauty," he said.
Richmond had strong plays, but they weren't able to finish. The first goal they scored set the tone for what came next, Flechero said.
In the 47th minute, during stoppage time, forward Carlos Gabriel Pecanha crossed a ball from the left side of the San Pablo goal box to the center of the box where Richmond forward Eduardo De Loa Jr. scored on a header, taking a 2-1 lead just before the half.
Despite the heightened momentum of two straight goals, Richmond was unable to put another ball into the net. And San Pablo kept pressure until they were able to tie.
"We don't wake up till we are down," San Pablo FC defender Juan Alejandre Jr. said.
And with San Pablo still down by one, Alejandre was granted a freekick opportunity. He scored from outside the box to tie the game, 2-2.
"The second goal was to get back and keep playing. Us, we are not happy with a tie," he said.
San Pablo's Lopez had the last goal opportunity in a one-on-one against Garcia but missed the shot as the referee blew the final whistle.
San Pablo FC is sixth out of 12 teams in the standings with eight points, despite only playing four games so far this season. With 11 points in five games, Richmond Sol sits fourth in the standings. Neither San Pablo or Richmond Sol have lost a game. Sitting at the top of the standings are the Oakland Stompers who have played six games and have 15 points.