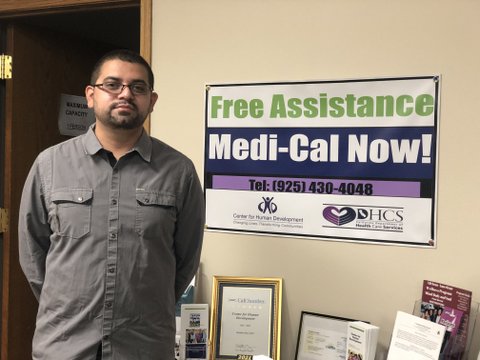 19 Jul

'Am I Really That Sick?' Healthcare Costs Weigh on Undocumented People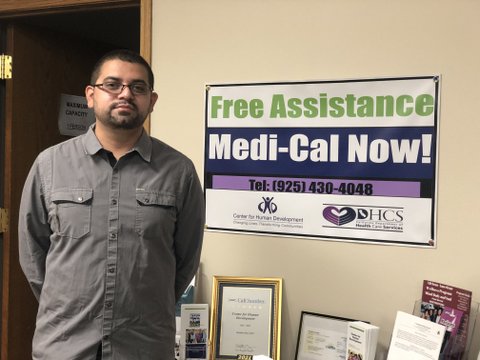 Ricardo Perez helps low-income undocumented Californians enroll in Medi-Cal as part of his work at the Center for Human Development in Concord.
By Maria Bernal
Kevin Eduardo Angel Rosales remembers when his dad came home with a black nail bed after getting injured while moving heavy boxes at work. That's when Rosales understood the severity of their situation.
Rosales said his dad couldn't move his thumb at all but did not go to the doctor. Instead, he used a bandage from a first aid kit. Rosales was afraid his father's thumb would never fully heal, but after a month, it did get better.
Rosales and his family are undocumented, and they do not have health insurance. He said he never had the opportunity to go to the doctor's office to get checkups.
"Making a visit to the doctor's office is kind of like putting a price tag on that visit," Rosales said. "Do I really need to go to the doctor's office? Am I really that sick? Can I do something at home to make myself feel better and not have to make that trip?"
Undocumented immigrants have fewer health coverage options, and only 60% of noncitizens had a routine checkup in the past year, compared with 70% of citizens, according to the Public Policy Institute of California.
Rosales, a DACA recipient, takes preventative measures to ensure he stays in good health, like exercising, but he does not play sports because he might get injured. If he gets "a broken bone, what am I going to do?" he asked.
Medi-Cal, the public insurance program for low-income California residents, recently expanded to provide full-scope coverage to undocumented young adults ages 19-26. The expansion was enacted in 2020 and is funded by the state.
Last month, Gov. Gavin Newsom and state lawmakers announced a budget plan that would also open Medi-Cal coverage to all residents over 50 years old who meet income guidelines, regardless of immigration status. That coverage is expected to go into effect next year.
The program provides access to free or low-cost health services, including preventative measures like annual checkups, dental and vision care and prescription medications.
Rosales applied for Medi-Cal but was denied and doesn't know why. He did qualify for emergency Medi-Cal, but his coverage is for just that — in case of emergency.
"In case I have an accident and then go to the emergency, I got coverage for that," he said. "There's no follow up to that. So if I need medicine or prescription, or if I need to get a cast, or if I need follow-up visits to the doctors, I don't have coverage for that."
Ricardo Perez helps people enroll in Medi-Cal at the Center for Human Development in Concord. He said income is a major factor in why some applications are rejected.
"A lot of individuals that are undocumented don't have [an official] form of income, like a paycheck," Perez said. In that case, the applicant has "to sign a letter under the penalty of perjury that states" their income.
The applicant has to report where they work and whether they are paid by check or cash "that is not being documented as a regular paycheck" or payroll. Perez said the center writes the statement and turns it in along with the application.
"We help with contacting Medi-Cal and finding out what reason why they're being denied," Perez said. He added that the center could help someone address "those problems that they're having before they're denied, and try to help them get accepted as soon as possible."
Perez says that "once in a while" they will get clients who are asked to turn in proof of PRUCOL when it's not needed. Undocumented people under the age of 26 do not need to have PRUCOL status to get full coverage Medi-Cal.
[Editor's note: PRUCOL, which means an immigrant is "permanently residing under color of law," is sometimes used to determine eligibility for public benefits. When a person has PRUCOL status, the government knows they are not in the country legally but does not plan to prosecute or deport them.]
Many immigrants wait until they have life-threatening symptoms to seek care because the out-of-pocket costs are too expensive. Immigrant families like Daniela Zopiyatle's who do have Medi-Cal don't have to stress about the costs anymore.
Zopiyatle is a 25-year-old DACA recipient working at San Jose State University. She is now covered by the university's health plan, but she used to be on Medi-Cal, and her family still is.
"If we didn't have Medi-Cal, honestly, I would say that it would have been scary," she said, "because obviously, all of our families are like, 'If something happens, don't call an ambulance. You drive us over' because it's hella expensive."
Being undocumented "affects all aspects of your health," physical and mental alike. Zopiyatle said it plays a role in "why depression can kick in or why you're anxious."
"I know that being undocumented, or at least having DACA, it's still having that sense of what's gonna happen if you get sick, especially with this pandemic, like I think that was very, very hard," Zopiyatle said.
Working immigrants are 11 times more likely to have died of COVID-19, according to a study in the June 2021 Annals of Epidemiology.
Some people do not want Medi-Cal, however, because they do not want to be discriminated against for receiving social services. But the consequences of not seeing a doctor can be costly.
"I feel like there's a negative stigma of having Medi-Cal. If you have Medi-Cal, folks think that that makes them less, puts them at a lower level in society, or whatever it is," Zopiyatle said. "But it's not like that. People shy away from getting Medi-Cal because they don't want to say they have Medi-Cal, but it's not a bad thing. I think having no insurance is the rough part."
She first felt shame over having Medi-Cal in high school and then again in college. Whenever she mentioned she was on Medi-Cal, she would hear peers make smug remarks like, "You must be low-income."
In college, she eventually learned to not be ashamed of having Medi-Cal or of being undocumented. Zopiyatle said people who assume that undocumented people take away resources are ignorant.
Not all undocumented immigrants who apply to Medi-Cal get approved, so she wants others to know it's hard for undocumented people to get this resource.
Perez said people shouldn't be afraid to apply and that it will not affect their ability to get citizenship in the future. He wants people to take advantage of the resources and the political climate.
"Seek medical coverage as soon as possible, dental coverage, because your health is so important," he said. "Seek help as soon as possible before it becomes a long-term problem where you're going to the ER with major health issues."