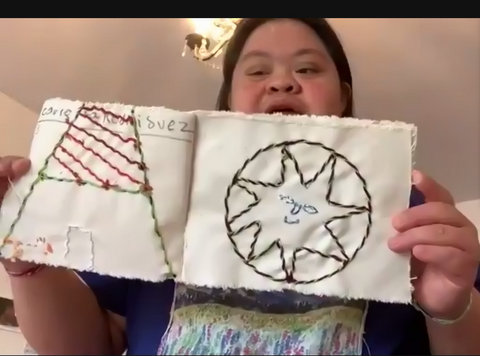 21 Jul

Art Helps Disabled Richmond Residents Through the Pandemic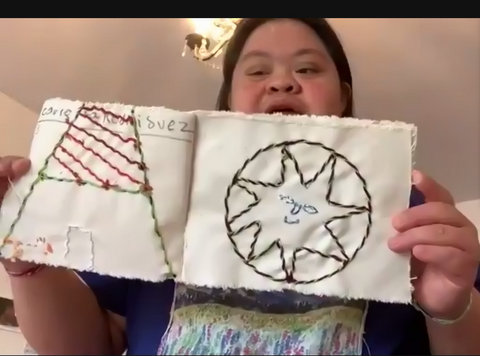 Carlota Rodriguez shows off some of the embroidery she's made at home during the pandemic. Usually, she makes her art at a Richmond studio for artists with disabilities. (Screenshot captured by Danielle Parenteau-Decker / Richmond Pulse)
By Danielle Parenteau-Decker
Rebecca Jantzen is a self-described social butterfly, but health issues have kept her from her friends.
She had surgery right before the pandemic. She spent time in the hospital and a rehab center and wasn't allowed visitors. Then, she contracted the coronavirus in December.
Now, Jantzen says she has a harder time getting around because she gets "in a lot of pain" and is in a wheelchair. Plus, she said, "For a while there, you weren't able to take paratransit."
When's she visited her doctor during the pandemic, she hasn't necessarily been allowed to bring her husband in with her — a challenge because she has a hard time remembering what the doctor tells her.
But creating art and poetry have helped her cope.
"Artwork helps me manage things and not feel stressed," Jantzen said. "Staying busy with art … That's been keeping me physically and emotionally stable."
She draws and makes embroidery and bags decorated with animals. She also put together an A-Z book of animals on which she did all the research. During the pandemic, she started writing poetry about how she's feeling.
Jantzen is part of Nurturing Independence through Artistic Development, a Richmond art studio that gives people with disabilities a way to express themselves and build connections — especially needed in the isolation of the pandemic.
Several artists with the studio and a few of their family members and NIAD staffers spoke with Richmond Pulse over Zoom for this story. Community programs director Arden Fredman facilitated and sat in on most of the interviews.
Before the pandemic, NIAD relied on physical togetherness. As the coronavirus pushed people out of public spaces, the organization adapted.
The studio paused in-person services March 13, 2020. Then, it asked artists how it could help. NIAD decided to offer online services, supply drop-offs, virtual town halls and one-on-one calls.
"Our virtual programming really followed what the community said they needed — a place to meet," Eicher said.
Some artists started producing less, while others found their voices and became more engaged, according to Eicher and Fredman. Many, like Jantzen, adapted over time.
Jantzen said she didn't like being on Zoom at first but now thinks it's better because of her health.
She also adjusted to wearing a mask, but she said she found it "hard to breathe in these things" and that vision problems made it "hard to recognize people."
Jantzen expressed frustration over not really being able to go anywhere or do anything or give people hugs.
"I can't wait for this pandemic to be done with," she said.
Artist Ann Meade's two sisters have helped her through the pandemic. They spend time together outside every week, seeing each other more than normal.
"It's been a stressful year because I can't go anywhere except the doctor or dentist, but I do get to see my sister," she said.
Her sister Mary Caroline Meade said they talk every day, but being online has been challenging for Ann. Mary Caroline said Ann would have tech issues "at least a few times a week" with no one around to help, but "she's learned all kinds of tech."
During one video call, Ann "showed me an infection in her finger — severe enough that I drove up," said Mary Caroline, who lives in San Jose.
While the pandemic has helped Ann get closer to her sisters, it has kept her from another relative.
She said she feels "frustration because I have an aunt who lives on the other side of the [San Rafael] bridge, and she's 102."
Ann has kept making art but said it feels different. She misses being in person and making ceramics, getting her hands in the clay. She mostly does her art in the garage because she doesn't have enough room elsewhere.
But she has kept putting her art out. Earlier this year, she did an online show with "a quilt, ceramic teapot, a print that I did of the bridge with birds under it and birds in the sky. I made a cat pin."
Like Ann Meade, artist Dorian Reid too has been isolated from an older relative.
She couldn't visit her 99-year-old mother after her mother had a stroke, though they live in walking distance. She hasn't been able to see her siblings either.
"We're isolated from the world," Reid said. "I feel like it's a prison sometimes."
The pandemic has also kept her from her routine and other things that matter to her.
Reid was represented by a gallery but couldn't go to the opening.
"That kind of hurt," she said. "I wanted to represent myself outside of the community, and I couldn't."
Plus, she wanted to sell afghans she had made but said COVID made it too hard. Normally, Reid sells artwork and crocheting. She wants to retire and get a horse and said, "every little bit would help." (Find the artists' work for sale by clicking the links on their names or visiting the NIAD Art Store online.)
Reid can't even go to the lake near her home to care for the 30 cats she said were dumped there. She and others used to take turns feeding them.
"I have to speak up for animals," said Reid, who described her own cats like family.
"I think of Marilyn and Romeo as my kids," she said. Reid had a memorial for Romeo after he died during the pandemic. Marilyn turned 15 on the Fourth of July.
Reid pointed out that she was born during Black History Month and said she has been making political art including a canvas with Martin Luther King Jr. and a quilt with the Black Panthers logo.
Terri Moore, a community programs manager at NIAD, said the artists have spoken out "really boldly" about how issues like COVID and police brutality have affected them. She said having a place to speak out matters because some of the artists' families "don't take their opinions seriously, don't listen to them."
"Emotions were really high around the time" of the presidential election, Moore added.
Carlota Rodriguez makes use of a lot of colors and shapes in her work. (Screenshot captured by Danielle Parenteau-Decker / Richmond Pulse)
Some artists, like Carlota Rodriguez, have been part of NIAD's increasing involvement with public art projects, which Eicher said had "been ramping up" during the pandemic.
According to NIAD's Arden Fredman, Rodriguez's work was chosen as the inspiration for a mural at the LifeLong William Jenkins Health Center.
"This seems to be a year where Carlota's work is really speaking to people," Eicher said.
At first, because of shelter-in-place, external artists were going to make the mural with Rodriguez's input and approval. Instead, NIAD opted to keep her more involved, working with studio staffers and putting on the finishing touches.
Rodriguez sees good and bad in making art from home. She said she likes the privacy, but she finds it harder to focus and misses her friends.
"We're a happy family at NIAD," Rodriguez said.
Her brother, Everth Fuentes, said her "creativity has been stymied" by the pandemic, in part because her work is typically made with a lot of materials that she doesn't have access to outside the studio.
It's "only a little piece of her she's putting on the paper during the pandemic," he added.
Deatra Colbert, who said she's "been a legend for 30 years at NIAD," was part of another public art project this year. She was one of eight NIAD artists whose work was featured in the 2021 Art in Windows exhibition organized by Richmond Main Street.
Art and family have helped Colbert keep a positive outlook.
"I think this year is going to be a good year for me," she said in March. She also said "shelter-in-place has been a good year for me" because she was seeing her family more.
Colbert said her drawings tell stories about wrestling, flowers and her "favorite TV show, 'Starsky and Hutch.' "
She was also looking forward to a fashion show NIAD had planned.
"All of us are going to be dressed up with our fashion, posing," she said with her hands on her hips, turning side to side like a runway model. "Oh, yes, it's going to be nice fashion."
Eicher, the executive director, said the show held April 16 over Zoom gave the artists a chance to "move and embody glamour within their homes." She also said it was inspired by a previous fashion show held in studio with lights, makeup and wardrobe.
Artist Rachel Huber called the pandemic "really depressing." She said she hadn't seen her boyfriend, whom she met in 2002, "since this stupid COVID thing started." He lost his job and moved back in with his parents. She's spent time during the pandemic making art and playing with and housebreaking her dog, Daisy, whom she got in 2019.
Artist Christian Vassell said he misses working in the studio and going to the library and church. He's been attending virtual services but wants to be there in person. Before the pandemic, he was in a community group that would visit museums, and he would swim three times a week at the Richmond Plunge. Lately, cooking with his dad, dancing and drawing help him keep busy. He also swims in the bay and attends art lab on Zoom every day.
After Rebecca Jantzen mentioned having had COVID-19, Arden Fredman, the NIAD staffer on the call, asked if she was sure she was OK with that being shared. Jantzen said yes, because she wanted to give people a message of hope, to know it was possible to recover.