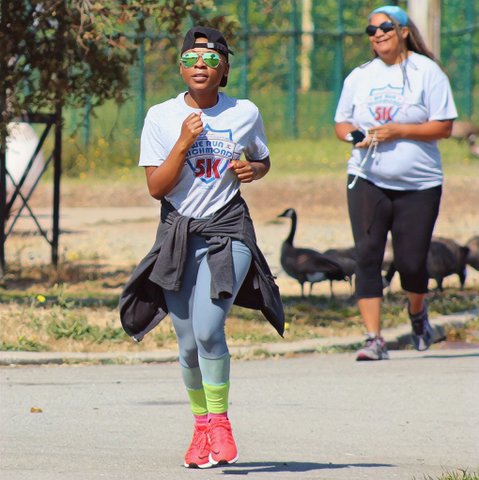 11 Aug

We Run Richmond 5K to Raise Money for Low-Income Students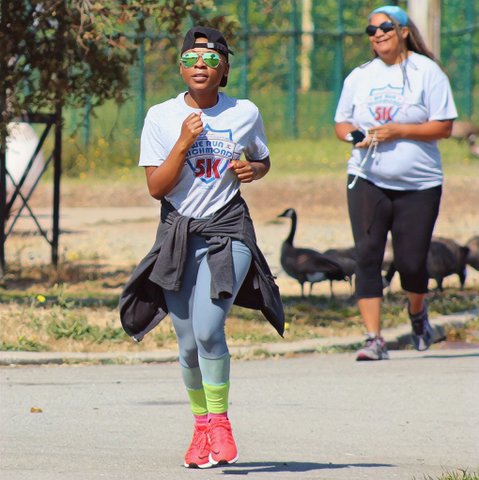 Tymeesa Rutledge, front, and Doria Robinson participate in the second annual We Run Richmond 5K in 2018. Moving Forward's annual runs raise money for scholarships and school supplies. (Bryan Pierre)
By Denis Perez-Bravo
When Anselmo Ramirez worked at Nystrom Elementary, he remembers seeing kids come to class with plastic bags instead of backpacks, which reminded him of his own childhood struggles as a low-income student.
Ramirez would carry that memory of kids using plastic bags with him. Later, after navigating different nonprofits, he came to work at a small law firm in Marin County. There, the lawyers talked about their children being enrolled in preschools that cost $30,000 a year.
"It was a different conversation than over here on this side of the bridge," Ramirez said.
The reality in Richmond was that kids in public schools struggled to get even the most basic school supplies needed to succeed in the classroom.
So in 2017, he and his friend Victor Garcia started a community organization that hosted a 5k run to raise money for backpacks for local youth. That year, 25 people signed up and Moving Forward's 5k run originated.
Since then, the organization has given out hundreds of backpacks and raised close to $20,000 that has been awarded to youth in scholarships, he said.
This Saturday, Moving Forward will host its fifth annual We Run Richmond 5K at Lucretia Edwards Shoreline Park at the Richmond Marina starting at 10 a.m.
Registration is closed, but community members are welcome to come cheer on runners, donate school supplies and participate in a community celebration at the park after the run at 11 a.m.
There are 175 runners signed up for the event, event host Evan Francis said.
Many runners are from all over the Bay Area, but some have signed up to run virtually from as far away as Virginia and Florida.
Last year, when COVID-19 demanded a stay-at-home order, the We Run Richmond 5K was hosted virtually. Runners were asked to sign up and run at their convenience on their own set course. This year and for the years to come, organizers will continue to allow that option, Francis said.
Those running in person will go from Lucretia Edwards Shoreline Park to Barbara Jay Vincent Park. After, runners and community members are invited back to Lucretia Edwards park to enjoy artists like rock band 2Morrows June, musician Flaco Alejandro, DJ Da Boi G and others.
"This event started off so small, and to see the number of people that are going to participate in it, means the world," Francis said.
This year, the event's goal is to raise $20,000 for scholarships, backpacks and school supplies. Scholarship recipients have not been chosen, but the application deadline has been reached.
The scholarship winners will be chosen by a committee of community members and invited to a private event Aug. 28. That same day, Moving Forward will partner with the Richmond Museum to host a free admission day at the museum where low-income youth will be given backpacks starting at 3 p.m., Ramirez said.
"We print out tickets for the families, and they have priority. They just have to show up at the Richmond Museum," Ramirez said.
To reserve tickets for the Aug. 28 backpack giveaway, families can contact Ramirez by email at forourfuture5k@gmail.com.
"I just want the kids to know there are people in the community that have their back," Ramirez said.
For the record: An earlier version of this story mistakenly attributed the photograph to Richmond Pulse photojournalist Denis Perez-Bravo. The picture was taken by Bryan Pierre.