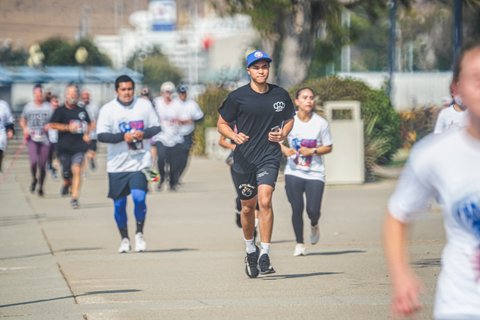 16 Aug

Bay Area Residents Run for a Good Cause at Marina Bay Park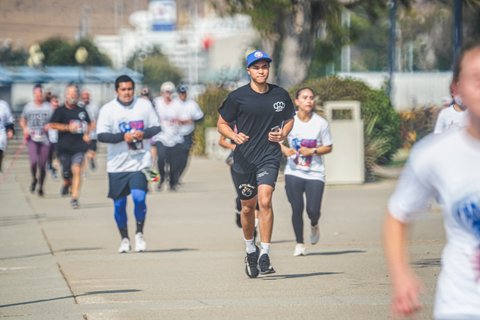 Bay Area residents take part in the fifth annual We Run Richmond 5K run at Marina Bay Park on Saturday.
Story and photos by Denis Perez-Bravo
Hundreds of people crossed the finish line at the fifth annual We Run Richmond 5K in Marina Bay Park's portion of the San Francisco Bay Trail on Saturday.
Participants ran to support Richmond youth. The run was started by the organization Moving Forward to raise money for backpacks, school supplies and scholarships.
The runners included Alamo residents Amalia Vargas, 29, and Arthur Cruz, 15, who smiled as they finished the three-mile course.
"We had our whole family on our team," Vargas said.
She and her boyfriend created a team for the run, which they named Fight Fire Get Dirty. They invited friends and relatives to join. The day of the run, they came together and ran in friendly competition and joyful camaraderie.
"I came in first in our group," Vargas said proudly. She crossed the finish line a second time as she ran with Arthur for the last 100 feet or so of the run.
For Vargas and Arthur, the morning was a family gathering with friendly competition that started off their Saturday morning on the right foot.
"Feels like I have accomplished a lot," Arthur said.
Their team of 15 was among the 175 registered runners. Unregistered runners also participated.
Balloons, tables, chairs, sound system equipment and people began to fill Lucretia Edwards Shoreline Park in the morning. By 10 a.m., event host Evan Francis counted down and started off the run as scheduled.
Runners wearing white T-shirts or tutus and even one in a unicorn costume took off toward Barbara Jay Vincent Park where they turned around and ran back to Lucretia Edwards park.
A woman in a unicorn costume was among the creatively dressed participants in the 2021 We Run Richmond 5K.
"I don't consider myself athletic, but I am trying to be," said Richmond resident George Ponce. "So this event was really good for me."
Ponce has walked and jogged around Marina Bay park before, but the 5K showed him a more intense way to use the space.
"The hardest part was on the last curve back," he said.
When he got back to the Marina Bay Yacht Harbor launching pad at Hall Avenue, Ponce was feeling gassed, but that being the last length of the run, he pressed on.
"It did make me realize I need more conditioning," he said.
The hard work was well received though, and the first-time participant hopes to run next year.
After the run, Ponce socialized with friends who also ran the 5K including Richmond resident Arnoldo Guerra, 49. They sat on a stone ledge as Francis read out numbers to the tickets picked in the raffle. Then, performers took center stage and sang medleys.
"I feel happy. This was good for everyone," Ponce said.