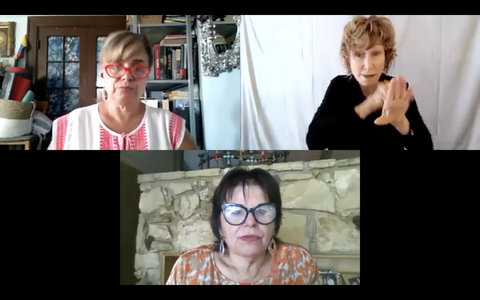 18 Aug

Face-To-Face Outreach Helps Vaccinate Latino Communities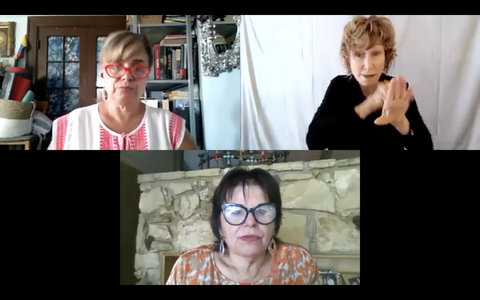 Clockwise from top left: Moderator Pilar Marrero of Ethnic Media Services, a sign language interpreter and Irma Muñoz, who works to get primarily Spanish-speaking people around L.A. vaccinated, during an Aug. 11 press briefing. (Screenshot captured by Mathew Miranda / Richmond Pulse)
By Mathew Miranda
Community organizers in California have found some success in convincing Latinos to get vaccinated with a focus on building trust and one-on-one approaches.
That was the message delivered Aug. 11 at a Zoom briefing hosted by the California Department of Aging and Ethnic Media Services. The briefing focused on the techniques developed to reach unvaccinated Latino neighborhoods in Los Angeles, Stockton and rural San Joaquin communities. The face-to-face outreach is particularly helpful as Latinos continue to be disproportionately affected by the COVID-19 pandemic.
Latinos make up 39.4% of the population in California, according to U.S. Census Bureau data, and as of Monday accounted for 54.7% of the confirmed cases. Latinos also account for 46.3% of the confirmed COVID-19 deaths, far higher than any other ethnic or racial group in California.
But that only tells part of the story as less than half of the eligible Latinos have been vaccinated. This has led state organizers to look for ways to close the racial gap despite racist situations, adverse weather conditions and anti-vaxxers.
George Pingarrón, a door-to-door canvasser for Todos Unidos in Stockton, shared his experiences with an organization that has completed more than 7,500 hours of fieldwork. He said the difficulty to convince people mainly stems from ongoing misinformation or political views.
>>>Read: I Faced Down Fear and Misinformation to Get Vaccinated
"We are knocking on 80,000 houses or doors, and 30% of those are conversations we can have and only 1% of that is actual vaccine signups," Pingarrón said. "We come across the issue with people making a political statement instead of acknowledging that [vaccines are] a need for humanity."
In Pingarrón's experience, the "personal touch" of making conversation has led to the most success in targeting unvaccinated communities. He said canvassers must effectively listen, draw from their personal knowledge and break through the distrust and fear with education.
Irma Muñoz, executive director of Mujeres de la Tierra in Los Angeles, echoed Pingarrón's comments and highlighted the importance of using outreach workers familiar with the community. Muñoz noted that the organization tries to hire employees living in the neighborhood. To date, Mujeres de La Tierra has made nearly 2,300 vaccination appointments from about 63,700 one-on-one conversations. Roughly 95% of the conversations are in Spanish.
"When you hire people from the area of which you're doing work, they know a lot of folks, they know the terrain, they can guide you and it's not learning something for the first time," Muñoz said.
Muñoz also cited several reasons why people remain reluctant to get immunized. She said some undocumented Latinos are misinformed about being reported to immigration authorities and working-class people may not be available for appointments Monday through Saturday. Other people have an eternal distrust of the government or face opposition from religious anti-vaxxers.
>>>Read: With Line Moving, Some Question Getting COVID-19 Vaccine
Muñoz said that older Latinos are the key to vaccinating an entire household. She said elders typically will have a trickle-down effect on the rest of the family. Additionally, in Latino households, sometimes two or three families can live together, and all decide to get vaccinated. Muñoz encouraged vaccine canvassers to ask for the "papa, mama or abuelito" and spend a considerable amount of time talking with them.
"If the decision-maker in the family says yes, then it's OK for everyone else," Muñoz said.
Community organizers also emphasized deploying a "cross-pollination of age groups" during canvassing outings.
"We have from young people to senior moms that are able to relate directly with the residents, and that's a success in being able to reach our demographic," said Esperanza Vielma, executive director of the Environmental Justice Coalition for Water in the San Joaquin Valley.
Along with door-to-door knocking, Vielma said her organization employs crowd canvassing at community centers such as Mexican markets, flea markets or anywhere with large concentrations of people. Large in-person outreach is especially effective in rural areas lacking internet and social media resources. Vielma also said rural areas are challenging because residential areas are scattered.
"You have to go back to that old fashioned flyer type to get to the rural areas… but the message is the same," Vielma said.
To find out more about the COVID-19 vaccine and where to get vaccinated, county residents can visit Contra Costa Health Services online.