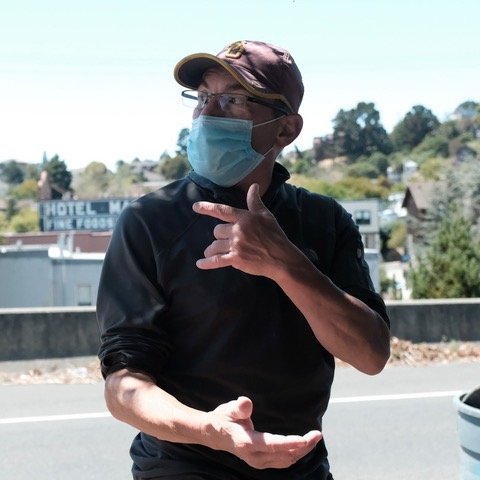 07 Sep

Q&A: 'We Need to Now Build New Approaches to Homelessness'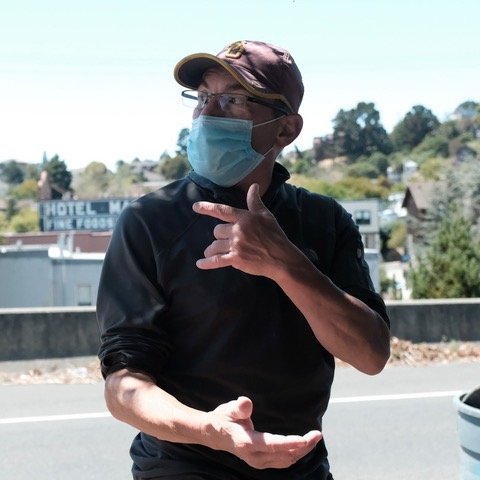 Daniel Barth, the 57-year-old director of SOS Richmond, has worked on homelessness issues since he was 23. (Photo by Ellen Gailing)
Interview, Malcolm Marshall 
EDITOR'S NOTE: Daniel Barth is the director of Safe Organized Spaces Richmond, now a program of the national organization Rebuilding Together East Bay North. Barth has worked with unhoused people for more than 30 years. He recently spoke with Richmond Pulse about homelessness in Richmond, the need for neighborhood-based support and how the pandemic has increasingly pushed people "to the margins of our communities." This conversation has been condensed and edited for clarity. 
Richmond Pulse: Tell us about Safe Organized Spaces Richmond and the work that you do.
Daniel Barth: Safe Organized Spaces Richmond is an organization that started two years ago to address the conditions of homelessness in encampments.
Mostly what happens is people are offered services to try to get them elsewhere, and the services are scarce. But there are reasons why people are in encampments. There's reasons why folks are harder to reach. Reasons why there's a lack of services. So we started by asking ourselves, what is it that we can do first — cleaning our neighborhoods and addressing quality of life, trash and illegal dumping.
More important, we need to provide opportunities for folks who most often lack those opportunities. No. 1 is access to a job that is practical and something they can do immediately. So we started to train interns, who became staff employees, and now we have a team of some 20 employees who are ready to work. Now, we're finally able to scale it up and also provide showers and drinking water.
We're starting to work on bringing toilets in because FEMA stopped its access to portable toilets. We as a community have stepped up and said we want to support the police who otherwise do not have time to deal with quality of life issues, especially related to homelessness. And so can we as a community, as a cadre of homeless employees, provide problem solving and community liaison work with our unsheltered residents of Richmond and in collaboration, hopefully, with public agencies, and neighbors who sometimes complain of problems related to homeless situations? That's what we're in the process of beginning to do.
The next step is getting folks from curbsides and RVs into scattered sites that are secure, that are safer than being on the curbside and have access to more support. No better place to start on church ground — you could say on holy ground — where 1 to 4 households can receive the support of the SOS streets team as it drives around and supports neighborhoods with their sanitation, water and hygiene services.
>>>Read: Richmond Conflicted on Reallocating Police Funds
RP: How and why did you get involved with advocating and working for the homeless population?
DB: I got involved with homelessness when I was 23; I'm 57 now. I started working at a homeless shelter called the Oakland Homeless Project in the late '80s and started to run programs and then build shelters and transitional houses. So I understand how we as a community, need to have a safety net, and how shelters are important for that safety net. I recognize through my experience that folks utilize shelters only in the times of utmost urgency, a crisis of the level that challenges the very foundation of how people are living. But because people are used to being in encampments, unfortunately, because of chronic homelessness, I saw the need for us to address the unsheltered population that are living in encampments. What we're trying to do is to meet people where they are with mobile services that can support them.
>>>Read: Q&A: Homeless During a Coronavirus Christmas
RP: Has homelessness gotten worse during the COVID-19 pandemic? If so, how?
DB: I can't actually tell you numbers. We have been limited in our scope of providing services to encampments across Richmond. And if we're really working in Richmond, we really need to be able to also work with San Pablo, unincorporated Richmond, in El Sobrante, to really have a full picture.
Folks are recognizing that there are more and more folks having to go to the margins of our communities. Every single day, I see a place that is brand new that I have not seen before. There's no one who's going to have a full understanding, not any more than our employees who have peers in encampments and can better answer that question than myself. During COVID, folks have had to shelter in place. So there hasn't been much movement from homelessness with the exception of our wonderful program that has been leveraged in through state funds for the county to provide Project Roomkey motel rooms. That has been probably one of the most important opportunities that has been available for people during COVID — that they have been able to get off the streets, be in motel rooms and have services available. That's what we've been looking for for more than two decades — to have a housing first strategy. It's finally happening in this county and still happens, because of the commitment that the county has made to keep folks indoors when they are the most vulnerable.
But do we expect to see more people to become homeless? Of course. Are people becoming homeless? Absolutely. I think more than half of the homeless population is folks 55 and older. I think the numbers are showing there are more first time homeless than before. And we're going to be seeing more families that are homeless than before.
RP: The pandemic has brought many of society's ills to the forefront. With regards to homelessness, can you speak to some of the things that have been there the whole time that no one was paying attention to, that the pandemic has exacerbated?
DB: The typical response to homelessness has been to abate, to remove and to displace. Nonetheless, because of the pandemic, some encampments have been left alone. The best and the worst happened in that situation. Encampments are unsupported because there's a lack of access to support during the pandemic. Then, the service needs haven't been met for the people who are in those encampments. Now, we have the responsibility that we're a little more open to provide those services.
>>>Read: 'It's Scary': Unhoused Richmond Women on Life in the Pandemic
RP: Where are the major encampments in Richmond? How many are we talking about?
DB: People are forced to live, most of the time, alongside freeways. I would say that's the most common place to find homeless encampments. And railroads — railroads don't regularly enforce abatement activities on the right of way. Of course, both of those are very unsafe situations. We also find people in parks and on sidewalks, and in the creeks, especially in North Richmond. In San Pablo, we have folks along the creek, affecting our waterways. But because there's no other place to be, that's where folks are.
I could count dozens and dozens and dozens. But again, we don't know how many encampments there are until we actually go in and support them. The good thing about our streets team is that we've continued to provide our support to encampments, and haven't stopped our services during pandemic. But we've been limited in our size. Hopefully, I can answer that question much more authoritatively in the next six months, when we're able to go and reach more deeply into the places where people are, where they have the least access to outsiders and are the most isolated and unable to be stable.
RP: What are some of the homelessness challenges specific to Richmond?
DB: There's a large amount of road and freeway and park access. So folks are able to find places of last refuge a little more easily than in other jurisdictions. In Oakland, in Berkeley, even though they have more services than West Contra Costa County does, they are more focused; they're much more dense urban areas. We see folks right there on curbside in the most unstable of situations. Here, in West County, folks are more hidden away. When folks are more hidden away, there's less ability to interact and to change those conditions. That makes it even more important that we outreach into the encampments — not just provide access to services but to reach them and engage and support our residents of Richmond who are unsheltered.
So that's the distinction that I think makes the streets team even more important. Because of the difficulty in reaching folks who are further hidden and marginalized in our neighborhoods than they are in other cities.
RP: You talked about outreach. Who else is doing outreach work in Richmond?
DB: There are all kinds of organizations that that do good work by providing food, by providing other necessities and they are very neighborhood-based, mostly grassroots. GRIP, the Greater Richmond Interfaith Program, provides a mobile outreach program. These community-based efforts are targeted to provide a piece of what people need at those locations. Can we, as a city, coordinate and make them more mobile and more accessible to the people we serve? I welcome that we all get together and sit down and plan as a community, plan as a partnership of providers to really create a system-wide response.
RP: What do you see as the role of city and county government to respond to homelessness?
DB: County has the responsibility for general human welfare, to provide safety net services. We do not have enough resources to provide those basic services. So here we are trying to create something. A robust response to homelessness needs to be not only community-based; it needs to be neighborhood-based. Can we create a network that links neighborhoods together — each neighborhood impacted by homelessness — providing some basic supports to the encampments of that neighborhood, not with the goal of driving people to other neighborhoods, but the goal of supporting and perhaps providing the alternative interim sheltering and other opportunities that people need in those neighborhoods? It's not just a county response or a city response, but it's a neighborhood by neighborhood required necessity that we address our homeless neighbors.
>>>Read: Council Reverses Hilltop Decision, Picks New Location for Safe Parking Program
RP: What are some of the lasting results would you like when we come out of the pandemic, when it comes to homelessness?
DB: Well, we see that recognizing the needs for our most marginalized has become more important because of the pandemic. And because it continues, we seek to develop new interventions. If we've seen progress made because of the housing first strategy, to try to isolate the most vulnerable and the most chronically ill of our homeless communities to get them behind the door, and with support under a roof, we need to continue to do that. Because there is no infrastructure for that beyond what is already being provided by the county through state resources, we need to now build new approaches. I would suggest that it's getting folks off the streets but in our neighborhoods. Like the scattered sites program that we're now beginning to unfold in partnership with local faith organizations. And creating transitional villages in nonresidential areas of Richmond that have additional supports in place, a stable location that will last for years. Those are future steps that we want to take as a community to provide because we will not have anytime soon, and the additional housing that is necessary to get people indoors and safe.