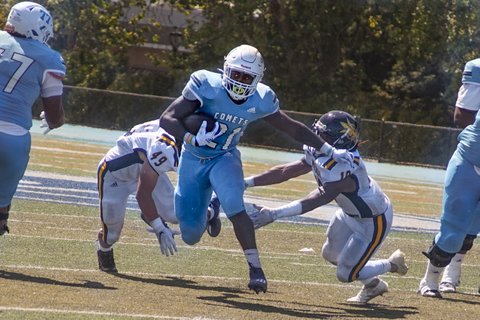 13 Sep

'We Came to Ball for Him': Contra Costa Honors Slain Quarterback With Opening Win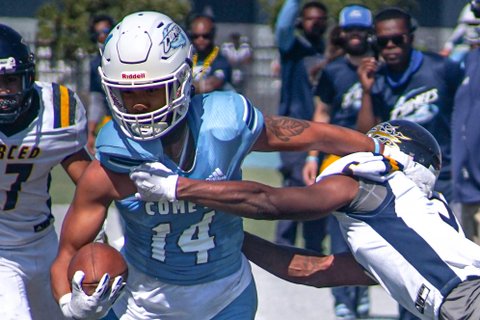 Wide receiver Dom Latham rushes a ball as he pushes back an opponent during Contra Costa College's 35-19 win against Merced College on Sept. 4.
Story and photos by Denis Perez-Bravo
The Contra Costa College football team won their opener 35-19 against Merced College at home Sept. 4, in a season that honors the life of their former quarterback Tyler Dickson.
"He would love to be out here," defensive back Trey Baker said.
On the Comets' helmets, a No. 9 is printed, representing Dickson's high school jersey number. His picture also hangs on the lanyards of coaches and is lifted high surrounded by hands as the team prays during the postgame huddle.
Contra Costa College's football team surrounds a picture of former back-up quarterback Tyler Dickson, who was found dead July 3, during the huddle following its 35-19 win against Merced College on Sept. 4.
The Contra Costa football players suffered the loss of their teammate during summer training. Dickson, an El Cerrito High School graduate and Contra Costa student-athlete was found dead in a tent at Bidwell Canyon Marina campground on July 3, as reported by multiple outlets. His death is being investigated as a murder.
The helmets worn by wide receiver DeMarshia Jones and the rest of the Contra Costa football team feature a No. 9 angel wings decal in honor of late quarterback Tyler Dickson.
Baker, a star player at Kennedy High School before graduating in 2020, was a close friend of Dickson before college. They began playing for Contra Costa around the same time and set out to continue their football career on the same team.
"We are changing the culture of Contra Costa with people from all over the nation," Baker said.
That was the mentality Dickson had bought into during summer training before he died. Now, his teammates will honor his life at practice and in every game played this season.
"We did it for him. We came to ball for him," Baker said.
The team has been training hard despite adversities including COVID-19 and injuries, but the first game is an indicator that they hope to continue getting better, Contra Costa running back Mike Franklin said.
"It is a new era. We have been putting in work," Franklin said.
Franklin, a freshman from Spanish Fork, Alabama, rushed 150 yards on 14 carries, an average of 10 yards per carry, and scored a touchdown in the second quarter. Franklin was named offensive player of the week by the coaching staff.
Running back Mike Franklin rushes a ball during Contra Costa College's 35-19 win against Merced College on Sept. 4.
The team, which is made up of mostly freshmen, will be successful if it continues to grind and listen to the coaching staff, Franklin said.
Had coach Otis Yelverton's criticism of Contra Costa's first game is focused on the team's defense. Contra Costa allowed Merced to get 25 first downs, compared with its 21 first down completions. Thirteen of Merced's first downs came from passing, eight from rushing and four from penalties.
Toward the end of the game, Contra Costa had to run down the clock to stop Merced from gaining any chance to come back, Yelverton said.
Contra Costa ended the game holding ball possession for 32 minutes and 11 seconds, and Merced had the ball for 27:49.
Offensively, while improvements are needed, Contra Costa played on its feet and was able to take advantage of what it could anticipate.
"We went back and watched what they did two year ago when they came and beat us," Yelverton said.
Running back Felix Igiri jumps over a Merced College player as he rushes a ball during Contra Costa College's 35-19 win against Merced College on Sept. 4.
The Contra Costa defense was alerted to watch the Merced special teams for opportunities to get ahead. In the first quarter, as Merced had the goal line within a few yards of them as they entered a fourth down, it decided to kick for a field goal.
The ball was blocked by the Contra Costa defense, and defensive back Alex Smith grabbed the ball and ran 81 yards to Merced's end zone. This would be one of the multiple times Contra Costa's defensive team blocked Merced's punts and helped the Comets gain yards. Merced pushed back to tie the game despite its sloppy special teams play.
Contra Costa continued its offense and worked up the field in the first quarter. Wide receiver DeMarshia Davis, a recruit from Mobile, Alabama, received a short pass at the end zone to give the Comets a 13-7 lead late in the first.
Contra Costa then went on to dominate the second quarter, scoring two touchdowns and both field goals. Merced scored late in the third quarter, but the 28-13 deficit was too hard to come back from. Both teams scored once more in the fourth quarter, and the game ended 35-19.
"We … played a little sloppy, but a bad win beats a great loss," Yelverton said on Twitter.
Contra Costa College is currently 2-0. The Comets' game against Gavilan College scheduled for Saturday was won by forfeit.