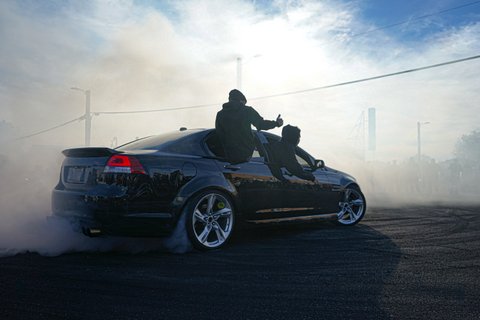 23 Sep

Richmond Explores Ways To Hinder Auto Sideshows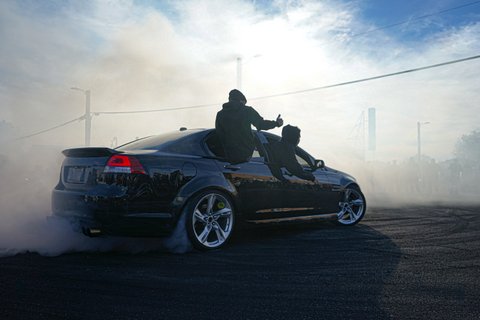 Two passengers hang out of the windows of a car as the driver performs a "donut"  during a sideshow at the intersection of Macdonald Avenue and 1st Street on Feb. 7 as illegal car shows popped up that weekend in the East Bay partly due to Super Bowl LV celebrations. (Denis Perez-Bravo / Richmond Pulse)
By Mathew Miranda
Richmond City Council and law enforcement were in agreement Tuesday, acknowledging rampant sideshow activity and recommending multifaceted approaches to address the problem.
Most of the council meeting centered on this discussion as residents continue to complain about sideshows in which drivers spin their vehicles in a circle to create skid marks on the pavement and a large plume of smoke. Ideas suggested included GPS launchers, tire deflation devices, license plate readers and citizen arrests. These solutions would be more effective than increasing punishments or drafting a city ordinance, said Richmond Police Department community prosecutor Paul Graves.
"The issue isn't with increasing punishments because, the truth is, most of our sideshow people aren't reading your municipal code," Graves said.
Since sideshows already violate state law and hold a fine of up to $1,000, Graves recommended that the city focus its attention on enforcement and discouragement. He said people often overlook the reasons why few arrests are made in connection with these illegal activities.
In an audit from late 2019 to early 2020, Graves said he submitted 16 cases to the district attorney's office for prosecution. Only five of those cases led to misdemeanor filings. The issue stems from not having the tools or staff to prove guilt beyond a reasonable doubt.
"Someone just saying here's a license plate of a car does not solve the issue," Graves said. "We need to know who was driving, which cars were involved, and have the manpower to stop a vehicle shortly after it occurs."
Graves said the 16 cases are not an accurate representation of the number of sideshows occurring. Richmond Police Capt. Al Walle agreed and reported 74 sideshows thus far in 2021. Each sideshow typically consists of 50 to 100 cars, Walle added.
In his comments to the council, Walle described the strategies the department intends to implement or hopes to, if given approval and funding from the council. RPD has begun training officers to use tire deflation devices and seizure warrants, judge-signed orders that allow officers to go to a driver's home and impound a car for up to 30 days.
Walle also proposed department ideas still being researched, with plans to bring them to the council in the coming months. He said handheld GPS tagging technology would allow officers to tag and track a fleeing vehicle, while license plate readers could easily identify cars involved in sideshow activities.
Richmond ended its contract with an automated license plate reader in 2019 after concerns about the company's relationship with immigration authorities. Walle said the department is looking for a vendor that protected undocumented community members.
"We do all want to feel safe and secure but also want to approach this in a way to not punish everyone," said Council member Willis, in regard to license plate readers.
Lastly, and perhaps most important for enforcement, Walle discussed the possibility of revamping the department's CCTV 38-camera system. In prior years, retired officers would monitor the cameras, but the department moved away from that model to save money and update the system. The department would eventually lose the funding because of COVID-19 cutbacks. Walle said civilians could potentially staff the cameras.
"The challenge with sideshows is a misdemeanor committed not in our presence," Walle said. "But if we had a civilian monitoring the cameras, they could notify our watch commander or station sergeant."
Civilians can also help enforce sideshows in other ways. Graves said if a person takes a video and identifies the car or license plate then they can perform a "citizen's arrest" through the department. Essentially, the department would give the onlooker a form that asks if they want to "arrest" the person they recorded. Graves reinforced that residents should not chase cars or physically try to arrest someone.
However, Graves noted Richmond has one of the lowest percentages of individuals willing to make a citizen's arrest in the county. He added that the combination of citizen aid and increased police enforcement significantly helps prevent sideshows.
"There are communities in Contra Costa that you don't see sideshows because they know they will be caught if they go there," Graves said.
Ultimately, the council voted unanimously that city staff return within 60 days with potential programs and strategies to implement on sideshows and reckless driving. Additionally, staff was asked to provide an update on possible temporary measures within 30 days.