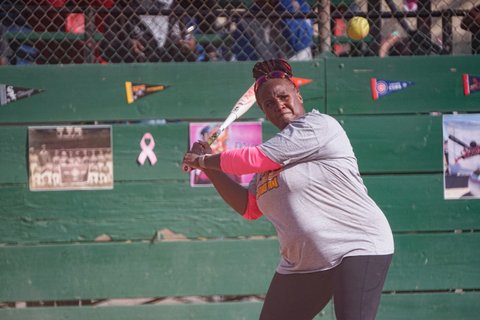 20 Oct

Life Is Honored at Soulful Softball Sunday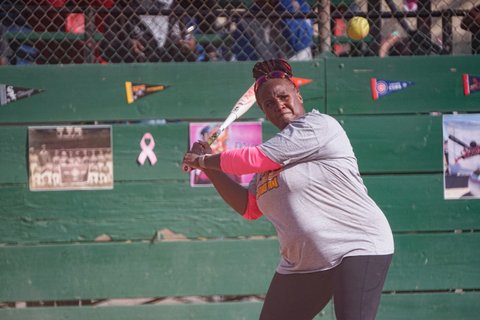 Story and photos by Denis Perez-Bravo
Bay Area softball teams honored breast cancer survivors and a late longtime Richmond adult softball player at the inaugural James Ruiz Invitational Tournament hosted Oct. 17 during Soulful Softball Sunday at Nicholl Park.
Ruiz died earlier this year due to COVID-19 related health issues.
"He would have enjoyed this," said his widow, Nicole Ruiz.
Camaraderie among his teammates, the opponent and the community who came to watch is the reason why Ruiz enjoyed softball, and Softball Sunday shows that united joy Black and Brown communities from all over the Bay Area can share when they have fun together, she said.
She, James' brother Joe Ruiz and over 20 other family members attended the tournament. Nicole threw the first pitch before the women's final match.
Joe Ruiz wears the no. 24 in honor of his brother for whom the inaugural James Ruiz Invitational Tournament was named. James Ruiz died this year from health issues related to COVID-19.
Four teams in both women's and men's categories participated in a knockout tournament. Richmond won the men's tournament and East Oakland, the women's.
Other teams came from East Oakland, West Oakland, Berkeley and San Francisco.
"This is the first time women's teams played on Soulful Softball Sunday," organizer Ricky Coleman said.
The advent of more men's and women's softball teams popping up in different cities allowed the tournament style to be tried out for the first time, he said.
This style of play is something that will continue next year, Coleman continued.
The women's final was an Oakland showdown as East and West fought until the very end. West Oakland went up 1-0 in the top of the first inning, but East Oakland answered with 4 runs of their own. Scoring went back and forth throughout the game. West Oakland led 10-6 late, but East Oakland came back and took a 15-10 lead. Ultimately, East Oakland scored a run on the last play of the last inning to win, breaking a 17-17 tie.
East Oakland players celebrate during a multi-run inning on their way to beating West Oakland 18-17 to win the women's tournament.
The Richmond men's team faced Berkeley in the finals. Richmond ended the first inning with a 6-0 lead. They increased their lead until the fourth inning when Berkeley cut the deficit to 10-6. As cloudy skies hovered over Nicholl Park, Richmond continued to dominate the game and won 21-7.
Players from the Richmond men's team celebrate with their trophy after beating Berkeley 21-7 in the final round of the tournament.
As teams played, a fair filled with food, clothes, art and resources lined the trail near the Nicholl Park softball field. The windy day waved the flags of different nations that decorated the outfield fence. And at the stands, music bumped as people danced and cheered for their teams.
Sharon Buchanan, 63, had not played softball since her adolescence until she picked it back up last year.
"Today was one of the best games ever between East and West Oakland," West Oakland player Sharon Buchanan, 63, said.
Buchanan was one of many breast cancer survivors honored after the women's finals. They received gifts, a certificate and a pink rose.
Unlike others at the event, Buchanan is not a long-time adult softball player. She picked it up last year after not having played since her adolescence.
In December 2011, she was diagnosed with brain cancer. With treatment, it was removed but came back as breast cancer in 2014. Although she has been in remission for seven years, the chemotherapy has had a lot of side effects on her body, including bone health issues.
"I didn't just want to be sitting around, so I became active," Buchanan said.
Participating in the Soulful Softball Sunday tournament is a positive part of her struggle to "stomp out the cancer," she said.
"Whoever is fighting cancer, don't give up. At the end, it pays off," Buchanan said.