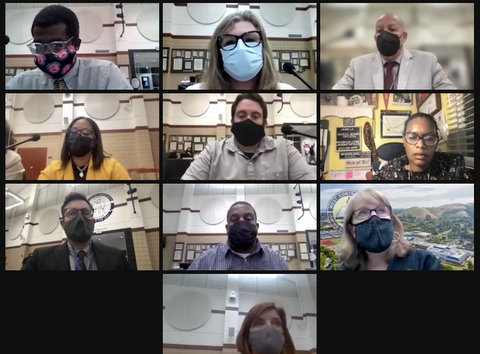 21 Oct

School Board Votes to Honor Indigenous and Filipino Heritages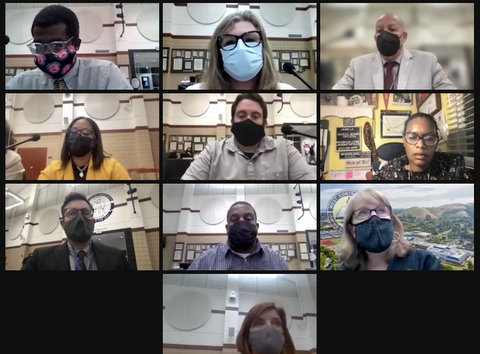 The West Contra Costa school board voted Tuesday to recognize Indigenous Peoples' Day and Filipino American History Month. (Screenshot captured by Julia Métraux / Richmond Pulse)
By Julia Métraux
The West Contra Costa Board of Education convened Tuesday for a special meeting to discuss the vaccine mandate and vote on resolutions related to awareness days and months. Student trustee ​​Irene Kou was absent.
In less than 75 days, students who are 12 years old or older, staff, and volunteers will have to be vaccinated against COVID-19. The deadline is Jan. 2. Exceptions will be made for individuals who qualify for a religious or medical exemption.
WCCUSD Special Education Local Plan Area director Kristen Hardy said that starting next week, parents and guardians will be able to upload their student's COVID-19 card. Parents and guardians will also be able to request a medical exception for their child.
"The California Immunization Registry has a portal where families can go in and create an account if they believe that their child may require a medical exemption for the COVID vaccine," Hardy said.
>>>Read: Some Eager, Some Reluctant — Teens Reflect on the Vaccine
Teachers and other staff who are not vaccinated by Jan. 2 and do not receive an exemption will be put on unpaid leave and would risk termination. Marci Williams, the WCCUSD chief personnel officer of human resources, said there are 70 religious exemption applications from teachers and staff. Unvaccinated students without an exemption who are 12 years old or older will be transferred to the online Vista Virtual Academy on Jan. 17 at the start of the new semester.
"We did not want to interrupt the last two weeks of anyone's semester, so for students who are not fully vaccinated when they return on Jan. 3, they would remain in person [and] they would submit to weekly testing," Hardy said.
Recognition of Indigenous Peoples Day
The board unanimously passed a resolution to make the second Monday of October Indigenous Peoples Day. President Joe Biden issued a proclamation earlier this month that recognized Oct. 11 as Indigenous Peoples Day, making him the first U.S. president to formally declare it a holiday.
Both trustee Jamela Smith-Folds and trustee Demetrio Gonzalez-Hoy spoke about measures that should be taken for Indigenous Peoples Day in the coming years. Gonzalez-Hoy said that this was a previous subject of discussion in the WCCUSD academic committee.
"As part of the resolution, we call [for] training and resources for educators to teach about Indigenous people," Gonzalez-Hoy said. "I would love to talk about, in the spring, web resources, curriculum and supports we do provide to teachers at the schools to teach their real history and rich history of Indigenous peoples here in our area."
>>>PHOTOS: Alcatraz Sunrise Gathering Celebrates Tradition of Resistance
Smith-Folds said she hopes that the district updates its calendar to reflect the board's passing of this resolution.
"The district calendar doesn't call it Indigenous People Day," Smith–Folds said. "The district calendar calls it is smoke day or reserve day or whatever, so […] I think the district calendar needs to reflect it."
The board of education also unanimously voted to pass resolutions to recognize the month of October as Filipino American History Month. The California State Assembly previously voted in 2009 to celebrate Filipino American History Month in October.
Will Older Adult Learning Programs Be Discontinued?
During public comment, numerous callers expressed concerns that Principal Jeffrey Carr will end the West Contra Costa Adult Education's older adult classes in December 2021. The program risked being defunded in 2019.
"It seems not only inhumane but fiscally foolish to throw out a program that serves so many people who are vulnerable and isolated," said Jim Knebelman, an English as a Second Language teacher with the adult education program. "We know that so many studies show that keeping adults engaged in lifelong learning helps them to live longer and be happier and healthier."
At the end of the board meeting, trustee Mister Phillips clarified that the decision to end funding for the older adult classes is not Carr's alone. WCCUSD Superintendent Kenneth "Chris" Hurst is looking into this program and would have to make a recommendation to the school board for anything to change.
"If he feels that a change needs to be made, he will make a recommendation to the board, and at that time, if he does that, there will be a public discussion," Phillips said. "I know that this is a very important issue to people, and I'm not trying to downplay it at all."