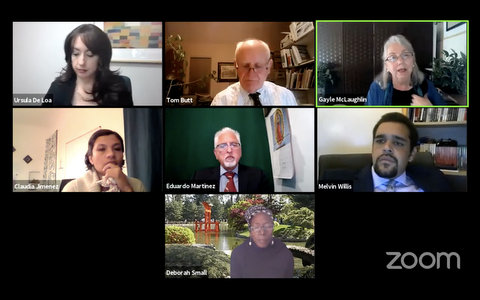 25 Oct

Public Safety Task Force to Give City Council Monthly Reports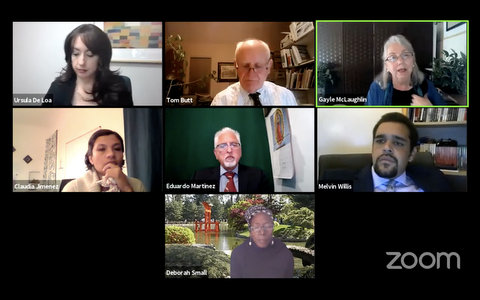 (Screenshot captured by Mathew Miranda / Richmond Pulse)
By Mathew Miranda
The Richmond City Council voted Oct. 19 to begin receiving monthly reports from the implementation subcommittee of the Reimagining Public Safety Community Task Force.
Reports will be given at every third Tuesday council meeting and focus on executing the four proposals approved in June. These proposals include expanding funding for YouthWORKS, unhoused intervention, the Office of Neighborhood Safety and a new program that will enable responses to mental health crises without law enforcement.
"Learning about how these programs are shaping up will help the City Council and the public at large stay informed about new hires and other activities associated with the initiatives, as well as provide information about upcoming task force meetings and community events," said council member Gayle McLaughlin, who co-drafted the agenda item.
Deborah Small, a member of the subcommittee, provided the first update of the implementations at Tuesday's meeting. Along with Small, the implementation committee consists of two members from the task force working groups that developed the proposals.
Small began her presentation with a report on the YouthWORKS program. She said the number of youth workers has increased from 175 last year to a current total of 500. The upper age for the workers was also raised to 24. Youth work occurs at more than 70 sites across the city including local government, nonprofit organizations, small businesses, public schools and health care providers.
Additionally, Small an additional 100 youth are waiting to work because their applications haven't been processed yet. This stems from insufficient staffing. Currently, only two workers provide services for approximately 300 participants, according to Small.
"There seems to be some confusion at HR regarding what the process is for hiring youth staff," Small said. "My hope is that by bringing this to the City Council's attention, you'll be able to work with them to clarify that issue."
Small then provided potential timelines for the Office of Neighborhood Safety and the city's new mental health response program. By November, ONS plans to post job openings with new employees expected to begin in January. The response program has a similar timeline with hiring set to begin in early 2022.
The task force will also hold online community conversations to provide further updates on the four proposals from 6 to 7 p.m. on the third Wednesday of each month. The Zoom links for these meetings can be found on the task force webpage.
In other news, Mayor Tom Butt withdrew his agenda proposal to remove Tamisha Torres-Walker from the task force. Butt did not state his reasons for doing so. Per the city charter, the mayor has the authority to make appointments and removals for all boards, commissions and committees with the concurrence of at least three other council members.
Though she previously lived in Richmond and is the executive director of the Richmond-based Safe Return Project, Torres-Walker now lives in Antioch, where she is a council member. Critics, including Butt and Council member Nat Bates, argue she has an anti-police attitude. Torres-Walker recently resigned as chair of the Antioch Police Oversight Standing Committee. The move stemmed from an Oct. 2 incident at her home, which led to calls for her resignation from the Antioch mayor and three council members.
At Tuesday's Richmond council meeting, public speakers and council members Eduardo Martinez and Claudia Jimenez expressed their support for Torres-Walker. Jimenez referenced Torres-Walker's work around the community and singled out Butt for putting the item on the agenda.
"I hope that we don't see these kinds of items that are a waste of our time and to put down women of color in our community that have done amazing work," Jimenez said. "I hope that you listen to the community and today is the last day you try to degenerate Tamisha."