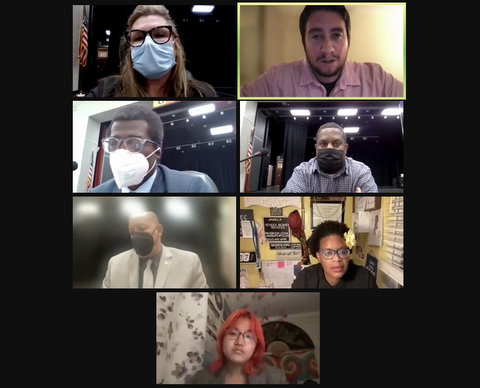 28 Oct

WCCUSD Appoints New Director of Operations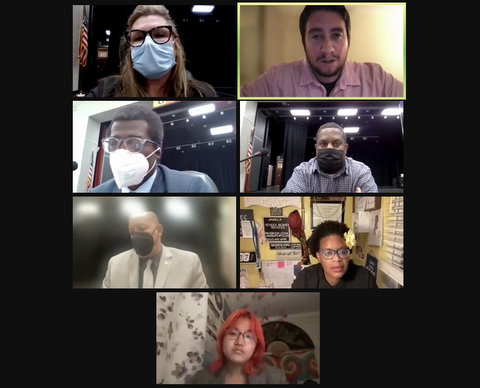 The West Contra Costa Board of Education convened Wednesday for a special meeting. (Screenshot captured by Julia Métraux / Richmond Pulse)
By Julia Métraux
The West Contra Costa Board of Education convened for a special meeting Wednesday to appoint Marin Trujillo, the West Contra Costa Unified School District community engagement coordinator, as the district's next director of operations.
The vote for the appointment occurred during closed session. Four trustees voted in favor of Trujillo receiving this position, and trustee Jamela Smith-Folds voted no. Student trustee Justin Trujillo was absent.
"I've known you for many, many years, and I've always appreciated and respected the way that you've held up and advocated for the children and families in this district," trustee Leslie Reckler said, addressing Marin Trujillo.
No business or action items were brought before the West Contra Costa Board of Education during the public session. During the public comment period, Marissa Glidden, who serves as the director of United Teachers of Richmond, called for the board to find ways to hire more substitute teachers to work in the district.
>>>Read: 'We … Put Ourselves Last': Former WCCUSD Teachers on Why They Left the Classroom
"The district should be actively listening to the needs and concerns that educators have and should be focusing every single day on finding ways to provide educators with the support and resources they need and deserve," Glidden said. "Teachers are period subbing and taking on additional students, and it's burning them out, and it's not sustainable."
Trustee Demetrio Gonzalez Hoy, who is also a union rep for the California Teachers Association, shared that one of the districts he supports was able to offer financial incentives to attract substitute teachers.
"It was like $300 a day, which we'll never be able to compete [with]," Gonzalez Hoy said. "So we have to figure out creative ideas to be able to get subs because I know that's actually a big issue both for principals and for teachers."
Importance of Student Voices and Participation
Gonzalez Hoy also requested for the eighth time that student trustees Trujillo and Irene Kou be given time regularly in school board meetings for updates on their work. Kou supported Gonzalez Hoy's request.
"We are advocating also to have standard reports as well and not just presenting data, presenting how students actually feel rather than just statistics of like, 'Oh, how are you feeling on campus,' and then there would be a bar graph," Kou said. "We're actually trying to get students to have conversations with us and then present that."
If attendees want to speak during public comment, they have to raise their hand on Zoom or hand in a form shortly after the meeting starts at 6:30pm. Miesha Harris Gash, a special education teacher at John F. Kennedy High School, raised concerns that this time might be difficult for students in after-school activities to make.
"One of my students, one of my queens, she attempted to do so, but she didn't get on in time," Harris Gash said. "What she had expressed to the two trustees [who visited Kennedy High School] is she's going to start conditioning for softball, which then means she may not get home in time to put her hand up in order to participate in the process."
Gun Violence on and Near Campuses
Kou, a student at De Anza High School in Richmond, asked the district to address gun violence on and near campuses.
"My sophomore year, I experienced [a] school shooting before my birthday, and now this year, my friend got shot across the street from high school," Kou said. "It was even more concerning and upsetting that the district did not say anything about it, nor did they promote the GoFundMe or anything along those lines to help support her."
Kou said that she is concerned about the lack of action to address these issues.
"There have been weapons that have been found on campus that our school site principal has addressed, but the district has not addressed them as well," she said. "Just last week, a gun was found with a student that school site security had to take."
The next Board of Education meeting will take place Nov. 3.