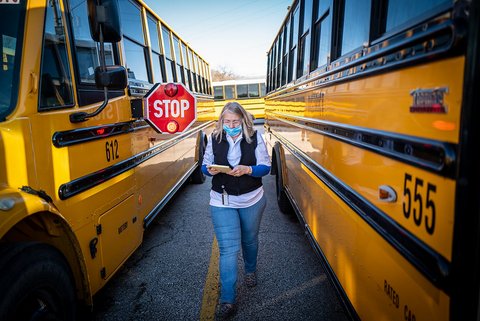 12 Aug

'We … Put Ourselves Last': Former WCCUSD Teachers on Why They Left the Classroom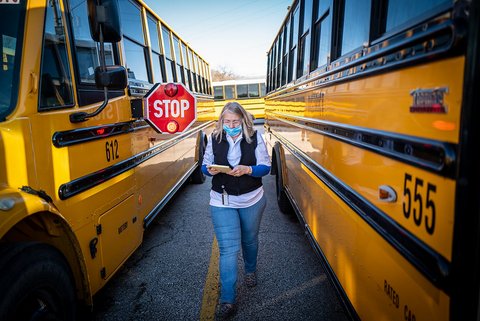 High workload, little support and low pay contribute to teachers leaving the profession. It's not yet clear how many will ultimately quit specifically because of the pandemic. ("Special Delivery" by Phil Roeder via Flickr under CC BY-ND 2.0 license)
By Clara Brownstein
Elora Henderson is now in law school; Maya Kosover is pursuing a creative writing career; Maddie Schmaltz is helping write accurate and social justice-centered textbooks.
A year ago, these three people were teachers in the West Contra Costa Unified School District, and although each has her own reasons for leaving, the stories they tell shed light on the problem of teacher retention, both in the district and nationwide.
Eight percent of teachers nationally leave the profession each year, and a comparable number move from one teaching job to another, making the overall turnover rate 16%. Of the teachers who leave the profession, only around a third of those are retiring, meaning that two-thirds decide to leave the profession unexpectedly early.
Teacher turnover does not affect all districts equally. Research suggests that Title I schools — those receiving federal funds for low-income students — have turnover rates that are nearly 50% greater than other schools, and that turnover is higher for teachers of color.
While it is hard to say why exactly most teachers leave, it is often related to a combination of high workload, little support and low pay.
Kosover, who taught at Richmond High School for six years, also made the decision to leave because she wanted to be more creative, as she plans to pursue a career writing young adult and children's books. She said teachers are not sufficiently supported for the work they do, but even if they were, it would not necessarily have changed her decision.
"It's like literally all of society's ills in a small microcosm of a place, and it's like you're in a position to try to be of service and change all of it … I think society expects schools to fix too much, to fix everything, and teachers are honestly just not well cared for," said Kosover. "Just the amount that teachers are expected to work overtime, to work above and beyond, like there's no teacher that just works 8 to 3."
>>>Read: Distance Learning Presents Challenges for Students, Parents and Teachers
Kosover also became frustrated with the institution of schools, and said that she did not feel they were built for the students they serve.
"I absolutely love youth, and I absolutely love learning, but I absolutely do not love schools. There are so many small things, like bell schedules that are not healthy for students or grading systems that are inequitable and outdated that make my job really oppressive," Kosover said. "I felt like my job was getting far away from what I wanted to do, which was spend time with students, and laugh with them, and create with them, and imagine with them, and dream with them."
Schmaltz also left RHS for similar reasons. Her family is moving out of state, and Schmaltz made the decision not to teach at another school, saying that "Richmond High spoiled [her]."
Schmaltz also came to the conclusion that, after a year of distance learning, teaching was emotionally draining for her.
Contrary to the common narrative, the pandemic actually allowed Schmaltz to realize she was "naturally an introvert" and that she was healthier without the near-constant social contact of a regular school day.
"One thing teachers have in common is that we will care about the kids and put ourselves last and basically put everything else last," Schmaltz said, "and there's not a lot of good models on how to be a teacher and a functioning human with a social life."
Schmaltz also said that she found it challenging to "get what I need" from the district in terms of mental health support and benefits.
Schmaltz called for free therapy and counseling for teachers, especially as she found it common for teachers to absorb their students' problems and to devote themselves fully to others. She said she knows many teachers who have ended up paying for therapy "out of pocket," which is not always sustainable on teachers' salaries.
Henderson, who left the West Contra Costa Unified School District after the 2019-20 school year to attend law school, also wants more support for teachers but of a different variety.
After teaching special education for kindergarten through sixth grade at Lincoln Elementary School for seven years, Henderson found herself frustrated.
"It was just really hard watching my students struggle and work so hard while they were with me and go off to new teachers … and they just often would struggle in middle school or high school," said Henderson. "I had a few of my students wind up dropping out, a few of my students wound up getting involved in the carceral system, just that type of stuff happening."
Henderson finally decided to see for herself what it was that happened when her students reached higher grade levels and began dropping off the map.
For her final year of teaching she taught grades four through eight at Montalvin Elementary School and immediately saw a significant difference.
Henderson found that as class sizes increased and curriculum became more and more complex, it was harder for teachers to support every single student, and more began falling through the cracks, often those who were already struggling.
"What can wind up happening is that you spend your focus on students who you know are going to get to the next level with a moderate amount of support," Henderson said, "and when you have kids that are five grade levels behind it feels almost impossible to figure out how you can get them up to grade level."
Henderson said only certain teachers have the skills to help all their students, but she does not blame teachers for the problem as a whole, instead calling attention to shortfalls in the training and coaching they receive.
Splitting the class into small groups, for example, is a strategy that can be helpful for students in larger classes, but which teachers should be trained in, according to Henderson.
When she did the most learning as a teacher, Henderson said, was when her school was financially able to hire a coach to come to her class every other day and help her teach. She said that coaches in special education, math, literacy and more could be extremely helpful, both for new and veteran educators.
Henderson acknowledges that the district holds trainings and teachers receive guidance in certain skills, but she said all teachers still need more coaching on the ground.
"Going to a training to see how someone else does it is a lot different from getting someone to come to your class and show you and coach you on a consistent basis on how to run small groups so you can support all of your students…," Henderson said. " It's like the difference between reading about playing the piano and then actually having to play the piano."
Across issues including mental health, teacher training and students falling behind, most WCCUSD teachers the Pulse spoke to did not blame the district — and certainly did not blame their schools — for these widespread problems.
While Henderson does want more transparency in terms of how funds are allocated to each school, and Schmaltz would like to see more mental health benefits for teachers, none of the teachers the Pulse spoke with considered leaving the district or their school to pursue teaching somewhere else.
In addition, none of the teachers the Pulse spoke with left the profession directly because of the pandemic, although it played a slight role for Schmaltz. However, this does not mean that teachers are not leaving in response to the pandemic.
Lora Bartlett, a professor of education at UC Santa Cruz, has been researching this very topic, talking to 75 teachers from across the country about teaching during the pandemic. In a recent article in Edweek, Bartlett said teachers generally felt "exhausted but recognized in the spring, largely ignored in the summer, and increasingly vilified in the fall."
Bartlett, who has worked with fellow education professors Judith Warren Little, Alisun Thompson and Lina Darwhich on this research, specifically found that teachers were less satisfied when they worked in districts with little union strength and felt they were not being heard, and when they had to teach in a hybrid manner, with simultaneous virtual and in-person instruction.
>>>Read: 'We Can Reimagine How We Teach': How Four WCCUSD Teachers Adapted to Distance Learning
While neither of these problems necessarily apply to WCCUSD, the common theme of not feeling heard can be found in teachers in most districts.
Out of the 75 teachers in the study, around 15 are leaving or considering leaving teaching altogether. This number is obviously higher than the typical 8%, although it is based on a relatively small sample size, and the effects of the pandemic on teachers leaving are as of yet difficult to determine.
Whether more teachers decide to leave the profession as a result of the pandemic or not, it is clear that the issues at the root of the problem — burnout, mental health problems, lack of feeling listened to, and frustration with the educational system — have been exacerbated.
Perhaps these problems will now be closer to the forefront of peoples' minds, and it is encouraging that the state's 2021 budget allocated $2.4 billion to several programs investing in teacher recruitment, training and retention. While this is not a guarantee of change, hopefully some of the funds will go towards giving teachers more of the support they need.