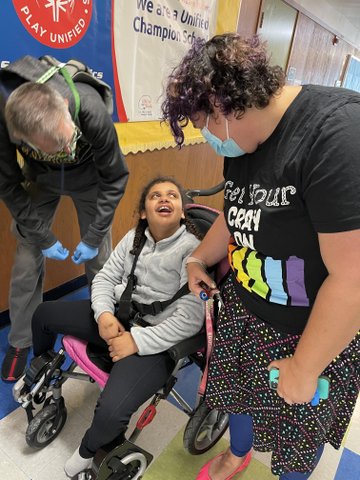 07 Jul

'We Can Reimagine How We Teach': How Four WCCUSD Teachers Adapted to Distance Learning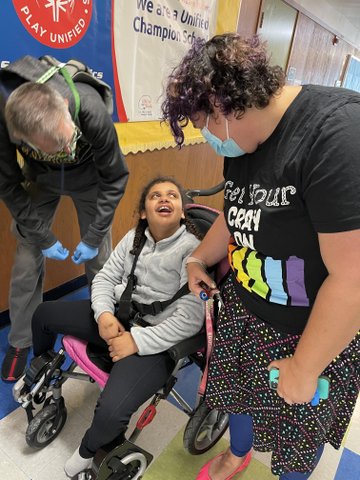 Leanne Wu, right, a special education teacher at Tara Hills Elementary in San Pablo, had to drastically change her teaching plans to keep her students engaged while learning from home. (Photo courtesy of Leanne Wu)
By Clara Brownstein
It is no secret the 2020-21 school year has been challenging for students, parents and teachers alike. Adapting to distance learning, making connections while isolated and changing curricula are only a few of the difficulties that educators have had to overcome, and all without the interpersonal interactions that make teaching rewarding.
To thank Richmond teachers and highlight their experiences this year, Richmond Pulse has profiled four indefatigable educators who have gone above and beyond to support their students.
"A lot of those expectations had fallen by the wayside and allowed for greater creativity," said Richmond High's Carlo Juntillo about how teaching changed during the pandemic. (Photo courtesy of Carlo Juntillo)
Carlo Juntilla, Social Science, 11th and 12th Grade, Richmond High
Carlo Juntilla took distance learning as an opportunity to incorporate new teaching styles.
Juntilla did a lot more culturally responsive teaching this year, working hard to connect everything students learned to their own lives and experiences in the Richmond community.
"While that is something that we typically do in a traditional physical classroom, it gets harder when things are muddled with normal expectations for what things should look like regarding testing, regarding standards with what students should meet," Juntilla said. "Because we were in this environment where we could try and experiment with new things, a lot of those expectations had fallen by the wayside and allowed for greater creativity and incorporating lessons that we felt are actually more relevant to students' lives."
While Juntilla put a lot of effort into his teaching this year, he said he still had moments of doubt and questioned whether he was doing a good job. Because of this, when West Contra Costa School District awarded him one of the Teacher of the Year Awards, he said it was extremely meaningful.
>>>Read: In Appreciation of the Teacher Who Helped Me Find Myself
"I hope that teachers, especially this year, feel some sort of breath of relief knowing that they did the best that they could," said Juntilla, "and that so long as you're able to show up to the classroom and give as much support as you can to your students, you still made a difference in your kids' lives."
Special education teacher Leanne Wu planned each class around a different theme, while keeping some things the same to give her students consistency. (Photo courtesy of Leanne Wu)
Leanne Wu, Special Education, Tara Hills Elementary
Leanne Wu has had to get extremely creative this year.
Wu, who teaches special education for medically fragile students at Tara Hills Elementary School, changed nearly everything about her teaching during distance learning.
One of the biggest projects Wu undertook to support her students was to send home materials for them to learn with, including special education equipment and arts and crafts supplies for projects.
Wu structured her class around a different theme each week, using projects, assignments and special guests to help students learn. For a unit on national parks, Wu developed assignments in which students could make a bird feeder, learn new vocabulary related to the park and make volcanoes out of play dough.
"My students really thrive with repetition, so instead of creating everything new from scratch each time, each of my weekly themes I would kind of build on the week before," said Wu. "There were some songs that stayed the same, some activities that stayed the same, our attendance procedure stayed the same, and I really noticed that the parent feedback and the way that the students engaged with it — they really thrived off that."
Wu also included a variety of other interesting and creative activities to keep her students engaged. Her class was able to cook together, put on a play in collaboration with a second grade class, and build connections with general education students through a peer group.
Asedo Wilson said he had a hard time engaging with students from a distance at first. But now he wants teachers to keep doing things differently even after returning to the classroom. (Photo courtesy of Asedo Wilson)
Asedo Wilson, African American Literature, Richmond High
Asedo Wilson completely changed his curriculum in the spring of 2020.
Not only because of the condensed distance learning class schedule but also because of the challenges of Zoom education, Wilson decided to move his class away from the traditional format of assigning reading and discussing it in class the next day. Instead, he incorporated a lot more multimedia instruction this year, using video content, writing and other active strategies to present the material.
Wilson said he struggled at first to engage and bond with students this year but was able to adjust.
"Usually, that's one of my strengths as an educator — that I'm able to make connections with students in person," said Wilson.
He decided not to return to in-person instruction this school year, citing safety concerns.
"I didn't like how it was handled. The district didn't do a good job preparing folks. There were a lot of promises that were made that weren't carried out in terms of having all the proper resources and whatnot," said Wilson. "It kind of created a rift between educators, school board, parents."
Wilson still has some concerns for next school year's planned return, but he is also excited to see his students again.
"I'm looking forward to the opportunity that we can reimagine how learning happens; we can reimagine how we teach," said Wilson. "We have the opportunity to start something new in terms of how we teach our classes, how our students learn, how we interact with each other."
Fourth grade teacher Sarah Muench said she focused on positives to give her students "more incentive" and to "make distance learning enjoyable." (Photo courtesy of Sarah Muench)
Sarah Muench, Fourth Grade, Murphy Elementary
Sarah Muench has tried to look for the positives in everything her class has done this year.
"I definitely focused on student celebration and making sure that anytime I reached out to a family it was always extremely positive," said Muench. "Even if I had a student that only showed up once a week, taking one thing that they did throughout that class and running with it, celebrating it schoolwide, classwide, with their families. Then, maybe there would be more incentive for the student to come and just make distance learning enjoyable. "
Muench did this in various ways, whether it be trying to connect one-on-one with students and families through office hours and individual meetings or allowing more time for building community during class.
The first half-hour of Muench's class was usually used for interpersonal learning and community learning, she said, often consisting of a greeting, a journaling prompt, time to share and then a game.
Muench will not continue as a teacher at Murphy next year and will instead attend Harvard's Graduate School of Education in the fall.
"I'm definitely going to take everything I learned from this year and the years preceding into this new chapter of learning and hope that I can just build skills to come back and show up as a better educator and a better educational leader," said Muench.