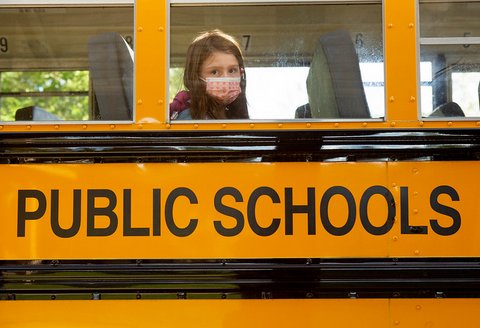 21 Jan

Doctors, Teachers and Parents Debate Return to In-Person Classes Before School Board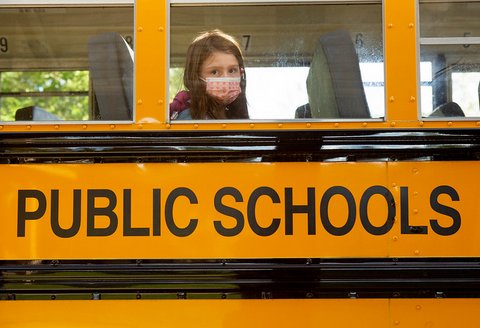 ("Elementary girl with mask on bus" by Allison Shelley for American Education: Images of Teachers and Students in Action, licensed under CC BY-NC 2.0)
By Edward Booth
The West Contra Costa Board of Education held the first in a series of study sessions Wednesday and heard from experts about the possibility of reopening schools for in-person instruction.
Over the course of the roughly five and a half hour meeting, the board heard from Contra Costa County health officer Dr. Chris Farnitano, UC San Francisco professor of epidemiology Dr. George Rutherford and UCSF director of COVID-19 response Dr. Jeanne Noble. During a public comment period at the end of the meeting, teachers and members of the United Teachers of Richmond voiced concerns about returning to in-person instruction and several parents of students spoke about the potential benefits of such an action.
The three presenters covered various aspects of the COVID-19 pandemic, often in great detail, and talked about how reopening in-person instruction with safety precautions could happen. After each speaker was done presenting, the board asked them a few questions.
Farnitano gave information about the current state of the pandemic in the county. He said the county currently experiences 57.3 daily cases per 100,000 residents and has a testing positivity rate of 10.6%. To move to the red tier of the state's Blueprint for a Safer Economy, which formerly began the process of allowing schools to reopen, the county needs to have less than seven daily cases per 100,000 residents and below an 8% test positivity rate for two consecutive weeks.
There's also an equity test positivity requirement in addition to the countywide requirement. The test positivity rate for residents living in census tracts that fall in the lowest quarter of the Healthy Places Index — which measures social determinants of health and includes much of Richmond — must fall below 8% for the county to move into the red tier. Currently, the county is at a 16% positivity rate for census tracts that fall under this measure, according to Farnitano.
According to new state guidance this month, K-6 schools can open while in purple tier counties that have a seven-day average of 25 or fewer cases per 100,000 residents for five consecutive days.
Farnitano also talked about how COVID-19 works differently with children. He said kids are less likely to get infected with the virus, less likely to transmit it, more likely to be asymptomatic or mildly symptomatic when they are infected and only rarely become very sick and die. Teenagers fall between adults and other children in regard to risk of contracting the virus or transmitting it, he said, so opening up schools for younger students is safer.
As for school reopenings, Farnitano said many schools across the country were able to reopen in Fall 2020 for in-person learning, either fully or with a hybrid model, and experienced few cases and rare outbreaks. Furthermore, he said, reopening guidelines are designed to prevent transmission at school sites, with the expectation that some students will contract the virus from the community or their families.
"There have been cases, there have been outbreaks, but mostly it's been few and rare," Farnitano said. "When schools open, we fully expect there are going to be students who got exposed in the community, and they're going to be showing up at school, positive for COVID. So the guidelines for schools are not designed to prevent that from happening, it's really to reduce the risk that a child spreads COVID, or a staff member for that matter, while on campus."
Farnitano also said the memorandum of understanding approved by the board with district unions differs from state and local guidance in several ways. The MOU specifies that before schools can reopen there must be less than 10 daily COVID-19 cases per 100,000 people in ZIP codes where students and teachers live, and the percentage of positive COVID-19 tests must be less than 3%. Additionally, the average rate of transmission for each case contracted must be below one. The MOU expires June 30.
Farnitano added the county doesn't calculate the rate of transmission by ZIP code and he isn't sure where the district could acquire that information. Some ZIP codes also contain a very low number of people, he said, and even a single household outbreak of COVID-19 in some cases could push the rate above that threshold.
"There's metrics here that, it's unclear who would be doing the measuring, how it would be measured, and other metrics that don't seem achievable at any time," Farnitano said.
In response to a question from board president Mister Phillips, Farnitano said the less than 3% positivity in the MOU is a very difficult metric to meet. He said it's unlikely the metric would be reached before summer.
Rutherford and Noble covered similar ground as Farnitano, bringing in more case studies, statistics and comparisons to other school districts. Both said a study in North Carolina could work as a comparison to the racial demographics of the district. Noble also suggested school openings in Marin County could be used. Rutherford said he believes it's safe to open elementary schools once the school district has met the state guidelines.
Noble also talked about the impacts on mental health connected to the social isolation of students at the current moment, tied to the closure of schools. She said suicides and suicide attempts are up, as well as eating disorders.
Gabrielle Micheletti, a teacher at Verde Elementary School, said mental health is an issue close to her heart, and that she's very open about having been medicated for major depressive disorder for the past seven years. She said blaming suicidality on the COVID-19 pandemic is a disingenuous use of a separate mental health crisis, and added that the experts had clearly never tried to teach students while they're grieving.
"You cannot blame these tragic events on schools being closed without acknowledging that means your expectation is that the majority of someone's mental well-being lies on the already overburdened shoulders of teachers rather than families, medical professionals and mental health specialists," Micheletti said.
Other teachers were also critical of the presentations. Marissa Glidden, president of UTR, said many educators, students and families are mourning losses. She said the MOU was misunderstood, and no labor representatives were brought in to clear up confusion. Asédo Wilson, a teacher at Richmond High School and president of the district's Black Educators Network, said the experts didn't do any equitable research with district staff.
"Were they aware that this district has facilities that lacked windows, proper ventilation and access to PPE?" Wilson said. "The reopening schools debate across the country is rooted in racism and privilege. The comparisons to districts that are not WCCUSD are not equitable. This is not a one size fits all scenario, this is a matter of life and death. Literally."
Parents with students in the district spoke about how distance learning wasn't working for their families. Carrie Shulman said getting her kids, a kindergartner and second grader, to log in to their classes is a constant battle. Even when she convinces them to log in, she said, she can't force them to pay attention. She also had serious concerns at one point that her second grader was becoming depressed.
Ernesto Falcon, who said he has a 5-year-old son in the district, said the presentation made clear that, if the district is smart and establishes strict safety rules, students can safely go back to school.
"[My son] spent his first year in public school, and he doesn't have the ability to make any friends," Falcon said. "And it seems pretty clear from these health experts that we can have strict masking. It's key, kids are not the source of the spread. It's the adults that really have to follow these strict rules to prevent any sort of spread of contagion."