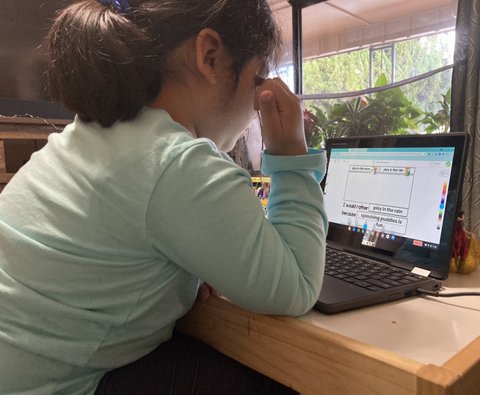 15 Feb

My Kids and I Are All Distance Learning. Something Needs to Change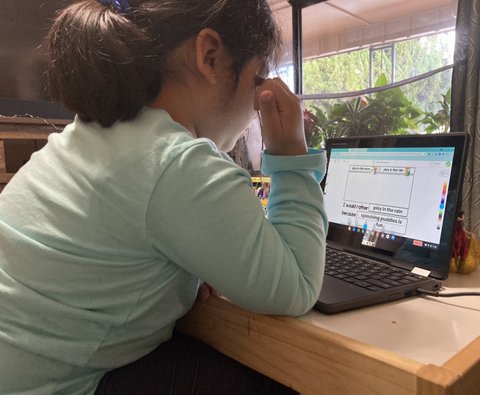 Marinah, 6, started kindergarten during the pandemic, so she has never gone to school in person. Her 8-year-old brother and her father, a college senior and the writer of this story, are learning from home too. (Joel Umanzor Jr. / Richmond Pulse)
By Joel Umanzor Jr.
The current state of education for our children leaves much to be desired as parents and students approach the one-year anniversary of distance learning becoming the norm.
As a parent of two elementary students, I can't help but feel that both of my kids have lost valuable learning moments because of the coronavirus, which will adversely affect their development in the upcoming years.
My son is 8 years old and my daughter is 6. Both are in the midst of the most important periods of growth and social introduction, which have been stunted because their small, compartmentalized worlds have been mushed together to form an amorphous blob that will eventually need to be sorted out.
According to a October 2020 study by Frontiers in Psychology, routine can help make life easier for children during distance learning. Yet often, Black and Brown youth are not afforded the opportunity to have the same routine practices as other young people of higher economic status.
On top of having two children in elementary school, I am a senior at San Francisco State University as well as being a reporter and editor. Even with the constant attention and aid from myself and other family members making sure they stay attentive and finish their assignments, it has been difficult to keep my kids on top of their assignments as I try to work and do my own schooling from home.
My son, Junior, who has never had a problem with school before and has often received praise from his instructors, has had one of the hardest scholastic years so far in third grade. He consistently is spacing out, easily distracted by the computer or his classmates' homes.
My daughter, Marinah, is in kindergarten. She has never experienced school in person. Those valuable moments in your first year of school set the foundation for how you respond to instruction in academia. It impacts how you feel about being inside of a classroom.
I feel for the children of essential workers and parents who have difficulty finding childcare while they are being asked to be their child's teacher's assistant on top of all of the stresses of having to provide in the midst of a pandemic.
Selfishly, I would like schools to reopen again so things could return to a sense of normalcy. I would like my kids to have a space in which they are able to learn without feeling like they are a world away from the educational experience they had before the pandemic began.
Yet I'm torn because I know how difficult it must be for teachers to be put in the predicament of having to deal with the pandemic and teach in uncertain environments.
Last fall, Richmond High School teacher Maya Kosover — affectionately known as Mrs. K to her students — told me those feelings of isolation in education affect teachers as well as students and parents.
Kosover said technology has made class time "formulaic" rather than a collaborative effort.
"One of the biggest challenges seems like the lack of joy and just human connection," she said last year. "There is an energy that is shared in a classroom with laughter, encouragement, support and collaboration."
It's been well noted that both Gov. Gavin Newsom and parents want schools to reopen while teachers and school officials are trying not to reenter without the vaccine being distributed first.
Yet relying on a system that has failed so miserably by waiting till all students and teachers are vaccinated before resuming classes means children will be almost two years behind. And the anxiousness and despair will continue in the minds of all affected by the educational gaps the pandemic has exposed.
In my opinion, if the outrage for reopening schools in California was as great as the outrage for reopening outdoor dining, then teachers and education officials would have already found a solution to socially distant education. They would have figured out a way to incorporate outdoor seating to let students have in-person interaction with their instructors.
My daughter gets physically upset when her teacher has her do independent work. She yearns for her teacher's interaction that would help clarify some of the things she needs to learn.
"I don't want her to do breakout rooms," Marinah says on an almost daily basis now. Her disdain for breakout rooms is almost as passionate as some of my professors at SF State.
The fact of the matter is public education shouldn't be a strain on Black and Brown children.
And although there have been many uncertainties in the current state of education, there needs to be a more concerted effort to take a deeper look into what parents, teachers and officials can do to ensure that both the education and mental health of students is being cared for in a community-focused way.
With the vaccine just beginning to be distributed, there is hope that we can return to the normalcy that the pandemic has stripped from our daily lives. But with the gap in the opportunity to receive the vaccine, there will still be a lag in getting back to a normal educational setting.
If we delay our children's education, the pandemic will have much farther reaching consequences than we could have ever imagined.