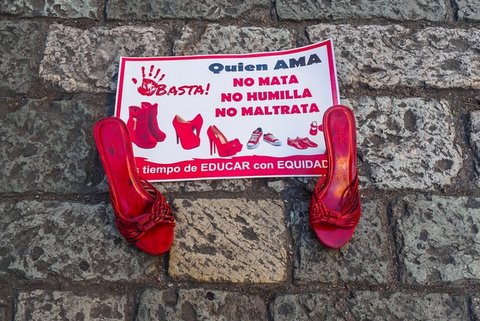 10 Nov

Language Barrier Poses Extra Challenge to Latinx Domestic Violence Survivors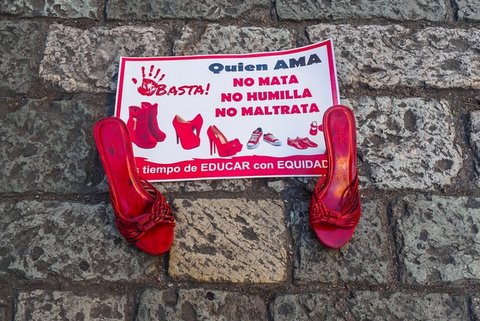 In Mexico, where this photo was taken, red shoes became a symbol of protest against violence against women. Roughly translated, the sign says that those "who love don't kill, don't humiliate, don't mistreat." (Photo by Alexander Schimmeck on Unsplash)
By Grace Galletti
Survivors of domestic violence face many obstacles to getting help. Fear that their abuser will retaliate, lack of financial resources and even love for their partner can make it hard for someone to leave. For Latinx survivors, speaking little to no English can make it even harder to get help.
The Latina Center is working to combat this by connecting survivors to crucial resources in Spanish.
As part of its efforts, the center hosted a panel discussion Oct. 29 over Zoom and Facebook Live for National Domestic Violence Awareness Month. The organization said having this event in Spanish was important to address the lack of information available for monolingual Spanish speakers and connect them with resources that they might not have known about.
"The goal is to bring awareness that we have resources no matter where you are, no matter if you don't speak English," program coordinator Erika Ramirez told Richmond Pulse before the event.
Domestic violence is a pattern of behavior in any relationship that is used to gain or maintain power and control over an intimate partner, according to the United Nations. Although, as Esperanza United project manager Leo Martinez mentioned, the legal definition of domestic violence can vary by state or county.
"A lot of people think it's only physical violence. And it's not like that," Maria Solórzano of the Family Justice Center said in Spanish. "It can be verbal, emotional or financial abuse. And it's not just your partner; it can be your parents, a brother or another relative."
Domestic violence affects individuals in every community, regardless of age, economic status, sexual orientation, gender, race, religion or nationality, according to the National Coalition Against Domestic Violence. About one in three Latinas will experience domestic violence in their lifetime, approximately the same rate as white populations, according to the National Intimate Partner and Sexual Violence Survey. However, Latinx populations may face more barriers to accessing and receiving help.
"The pandemic has been very difficult, especially for our community," said Solórzano in Spanish.
>>>Read: Domestic Violence Reflects the 'Brokenness of Our Society'
She said many people lost their jobs, and there were not a lot of safety nets for undocumented immigrants. Many shelters also closed their doors.
The Family Justice Center reported receiving 18% more clients in the first six months of the pandemic. Martinez said that, on the one hand, a lot of people were not able to get help during the pandemic because they were stuck at home with their abusers. On the other hand, a lot more people asked for help who hadn't before.
Martinez also spoke about why people stay in abusive relationships. Reasons can include not having financial resources to support themselves, fear the abuser will hurt them or their family, and lack of awareness of available resources.
"I think what often doesn't get talked about enough are people's feelings," Martinez said in Spanish. "A lot of people just want their partner to change; they don't want them to leave."
He also said the criminal justice system is complicated, and it's a lot harder for people who don't speak English or who are undocumented and fear being deported.
The language barrier is a big problem as resources may not be available in Spanish or be culturally appropriate. According to the National Latino Survey conducted by the Pew Research Center in 2017, 38% of Latinos speak only Spanish.
The intersection of identities can also make it harder to get help. Having a physical disability can make it more difficult to leave, whereas someone whose family doesn't know they are LGBTQ+ may not want to go to them for help.
Outreach and resources in Spanish, like this panel, can help break down some of the barriers to getting help. Local organizations such as the Latina Center, Family Justice Center, Community Violence Solutions and Lao Family Community Development connect people to the resources they need whether that's crisis counseling, help finding a job, or accompanying them to court. These resources are free, which is vital as many people may not have the financial resources to spare.
The panel also included Richmond Police Detective Jaime Guzmán, who spoke about the process of reporting domestic violence. Adriana Davalos and Ruben Coria from Lao Family Community Development spoke about the process of getting restraining orders. Immigration attorney Jonathan Dunten spoke about the different visas available for undocumented survivors of domestic violence. Liliana González from Community Violence Solutions also presented the resources her organization provides, which focus more on sexual violence and human trafficking, although she said the topics were closely related to domestic violence.
"There are many subjects that are difficult to talk about and this is one of those. But it's really important that we talk about it so that our community knows how to prevent domestic violence in their families," said Yenny Garcia, the assistant executive director of the Latina Center.
The nearly two-hour panel can be viewed on the Latina Center's Facebook page.
If you need help, you can call the Latina Center at (510) 233-8595 or the National Domestic Violence Hotline at 1-(800) 799-SAFE (7233).