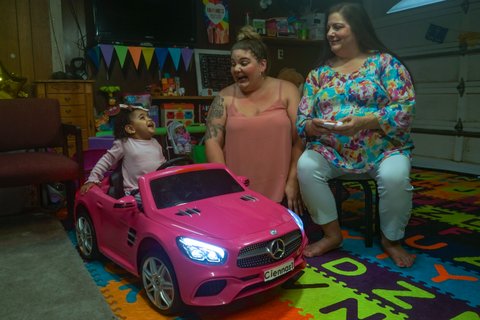 22 Nov

A Special Time in History: Young People Reflect On Their Lives During COVID-19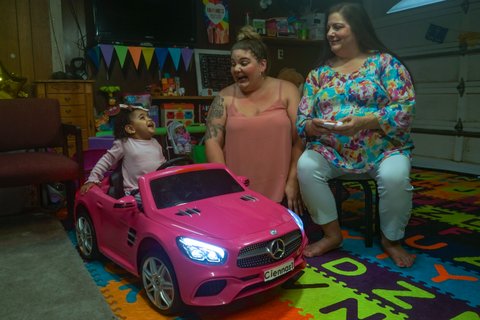 Two-year-old Cienna with her mom, Laicee Brown, and grandmother Debby Brown in their San Pablo home. Laicee and Debby converted their garage into a play area for Cienna during the pandemic.
Story and photos by Denis Perez-Bravo
San Pablo resident Laicee Brown, 31, is a single parent to 2-year-old daughter Cienna, while being a full-time student at UC Davis.
She gave birth in July 2019, before the pandemic, something that has challenged her child's first years of life and her first years as a mother.
Brown hopes to give her child the best opportunities she can with the resources available to her. One of the biggest areas is Cienna's socialization with other children and the outside world.
"It was really hard to limit my child's outside time," Brown said. "She lights up around other children."
But Cienna's pediatrician warned that taking her to a play structure with even one other child could put her at risk of COVID-19.
That warning made Brown think outside the box.
In the San Pablo house they share, she and her mother, Debby Brown, renovated the garage into an play area where Cienna could move around, explore with toys and experience some type of normalcy.
Cienna, 2, was born just a few months before the pandemic. Her mom, Laicee Brown, wanted to give her a place to play without fear of catching the coronavirus.
"I have created ways that she can be more independent at home. Here, she has to clean up after herself, sanitize her hands and learn things she will need to know as she gets older," she said.
For Brown, being a mother under the pandemic has become the norm, and her child has pretty much only known the world under COVID-19 rules.
That makes it special to Brown, knowing that she and her child are learning together.
"I hope my child can look back and feel like a survivor. I hope she can feel like she accomplished something," Brown said.
Art and the late Kobe Bryant's motto inspire 22-year-old Richmond resident and college senior Yeymi Perez. She attends Sonoma State and works for the campus DREAM center from her room.
Richmond resident Yeymi Perez is a 22-year-old Sonoma State University student.  
"COVID really affected me and my last year as a student," Perez said.
With only weeks left until she graduates with a Bachelor of Arts degree in criminology and criminal justice studies, Perez is on track to be the first in her family to graduate from a university.
"I felt like COVID-19 took a lot away from my senior year. I was looking forward to continuing making connections with staff and faculty," she said.
At Sonoma, Perez works at the DREAM Center, which provides resources for undocumented students.
"I was very sad to know that I wouldn't be able to make more connections with students in person," Perez said.
But through her laptop, Zoom and a good Wi-Fi connection, she is able to connect with students without leaving her room.
>>>Read: How My Sonoma State Classmates and I Are Handling Online Learning
From around 9 a.m. to 3 p.m., or sometimes longer, Perez sits in her room working on her studies and then checking into her job.
Her space for everything — school, work and her personal life are all in the same place: her room.
Therefore, she takes deep pride in decorating her walls with colorful canvases she painted, a planned color scheme of white and bright colors in her furniture and neatly organized desk.
Two canvases decorate the wall in front of her desk. One is of the bottom half of a head painted in blue in front of a black background. On the top half, planets are painted as if they are coming out of the head. Adjacent is a canvas of a yellow and blue koi fish creating a yin and yang symbol. Next to those artworks, a small white board reads "Mamba Mentality," referring to the philosophy of late NBA legend Kobe Bryant.
She has held those words close to her during her journey at Sonoma. From the start when she had to come up with money to pay for college, she worked hard to get scholarships to fund her education. And when she struggled with the nuisances of being an undocumented first-generation college student, she sought help and went on to pioneer resources for others like her.
And when she was confined to her room, she made sure her work ethic, her lifestyle and spirituality were not compromised.
Her room does not compare to Sonoma, though.
"I miss the ability to be on campus, going to the library to zone out and speaking to other students about projects in class. I think our environments play a great role in our well being," she said.
"However, now with almost two years of online school, I have been able to adapt and create a space where I can do all I need to in one place."
Luis Lopez, 26, has his own photography and clothing businesses. The sweatshirt he is wearing features one of his own designs. At his day job, Lopez grows cannabis.
Entrepreneur Luis Lopez, 26, will have his clothing line sold at Exclusive Apparel, a clothing store in Richmond this month.
"It's amazing to sell 45 items to them. It shows the hard work I put into it over the past year," Lopez said.
Before the pandemic, Lopez had begun taking portraits of models under his media company, Eye Capture Photography. He has continued to do that these past two years.
He armed himself with a Sony mirrorless camera, a prime lens and goals.
This year, he expanded into creating clothing apparel, Love Kills, by creating hoodies, shirts and other apparel stamped with graphic designs of classic TV shows and films and pop icons. Lopez also features apparel designed with his own photography.
On his clothing line website, LoveKills.biz, he sells designs featuring Sailor Moon and DragonBall Z anime, the Rugrats cartoon and musical artist Bad Bunny.
>>>Read: Pandemic Inspires Richmond Residents to Dress Their Way
As the pandemic continues, Lopez has no plans to slow down his ventures.
Lopez, who works 50 hours a week at Redwood Medical Supply as a cannabis grower,
said he was affected positively by the change of lifestyle COVID-19 brought. 
Less interaction with people gave him more time for himself. He turned to fitness, business and art.
He started going to the gym more, taking care of his health and buckling down on his diet. Three-mile runs also became part of his regime.
His health fueled his energy for the entrepreneurship ventures he pursues after his job. And his lifestyle has changed to a more productive one, he said.
"I'm working on being my own boss," he said.
"This has been the year where I feel I've grown and learned more about myself than ever before," Luis Lopez said. "Every insecurity I had, I tackled it head on and I have never been happier in my life."
Lopez does not see himself working a 9 to 5 job for the rest of his life; that is his biggest fear. He wants to own a business.
COVID-19 made him reevaluate how much time and work he was putting into that goal, and he saw that it wasn't enough to make it happen.
"This has been the year where I feel I've grown and learned more about myself than ever before. Every insecurity I had, I tackled it head on and I have never been happier in my life," Lopez said.
Hair stylist and makeup artist Mariana Rosas, 24, has continued working at Lily's Beauty Salon in Richmond throughout the pandemic. Mask requirements have often interfered with her work, however.
Richmond resident Mariana Rosas, 24, has been consistently cutting hair and doing makeup for clients through the pandemic.  
Rosas works at Lily's Beauty Salon on 23rd Street in Richmond.
"COVID-19 affected my work in hair and make-up design because I wasn't able to cut hair like before," she said.
>>>Read: A Barber Revolution Starts With a Bus
The faces that would usually be uncovered and talkative, now became covered with masks that got in the way of her process.
"It was different. I wasn't able to line beards up," she said.
For female clients, the mask mandate ruled out her chances of continuing to provide make-up services. Even with COVID-19 vaccines made available, masks were still mandatory.
Rosas still serves unvaccinated clients, but for her protection, masks are a must at Lily's.
Rosas' family has suffered the ultimate cost of COVID-19. Earlier this year, she visited Puebla, Mexico, after a relative died due to the disease.
But as the year enters its holiday season, Rosas is seeing normalcy come back.
"I am very happy that this year has been a little more normal, and we are excited for the holidays here at Lily's," Rosas said.