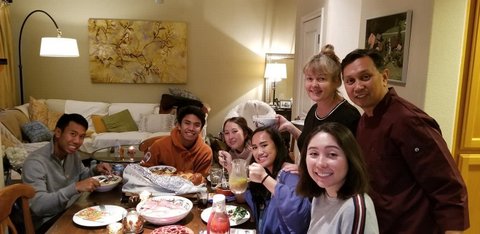 23 Nov

I'm Thankful for My Vegan Diet Full of Love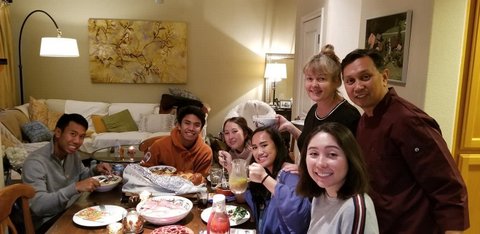 The Lozano family at Thanksgiving dinner 2018, the author's second as a vegan. She is third from left. To the left of her are two cousins. On her other side is another cousin and her sister in front. Her parents are standing.
By Olivia Lozano
It's Thanksgiving 2017, and I'm in my kitchen, already snacking on the dinner my mom and I collaborated on. Guests will be arriving soon for our feast. It will be the first time I have to explain why I won't be participating in the turkey carving and why I won't be reaching for my once-favorite mechado from my grandpa's well-worn serving dish.
I can still hear my grandpa asking, "Darling, why don't you eat?"
As a new vegan, I was excited and anxious about how the dinner conversation would go. In a Filipino household, you never turn away food, especially if it was made by your elders. You're taught to nod your head, thank the person who's served you, and eat, even if you're stuffed and the button of your jeans seems close to popping off. If you're as "smart" as my cousins and me, you grab your napkin and fold the last bites of food into it to avoid the dreaded food coma.
Food, although seemingly straightforward, comes with a lot of emotion attached. It's central to our identity, and it says so much about where we come from and what we value. It can also be an opportunity to show others what we're passionate about.
In my case, this passion is what I like to call "low-impact eating." Definitions for this lifestyle vary from person to person, but for me, it's all about doing the most that I can with the resources I have available to be compassionate to the Earth and my body.
On that Thanksgiving back in 2017, I thought it would be a great idea to show my family how tasty vegan food can be by making our feast almost entirely plant-based. There were creamy mashed potatoes, vegan stuffing with veggie sausage, caramelized brussels sprouts, beet salad with a Swiss herb dressing, "cheesy" potato gratin topped with Follow Your Heart vegan cheese, and for my protein option, a vegan "roast" from Trader Joe's. My grandparents also brought their beef mechado, veggie lumpia, pancit, and the star staple at any Filipino function: freshly cooked and always steamy rice.
As we passed around plates and tongues were greeted with spoonfuls of flavor, there were stunned faces all around. My aunt, shocked, asked, "This is vegan?" There's a part of my soul that sparks when I hear something like that. Yes, that was all the work of plants, hours of YouTube tutorials, and my mom's creativity.
Two desserts from the Lozano family's 2018 Thanksgiving dinner: a berry cheesecake and a pumpkin pie — both vegan.
Thanksgivings in the past have made me feel bloated and heavy. Meat is usually harder for the body to break down since it has higher amounts of fat that slow digestion. Eating a large Thanksgiving meal full of meat can cause constipation, bloating and flatulence. The lack of fiber in meat correlates with indigestion. But that Thanksgiving, the feast had not put me in a dreaded food coma, and I felt quite nourished and satisfied.
My intentions for cooking the foods I did were not entirely for health reasons. I was drawn to nostalgia and wanted to eat exactly how I would in previous years without taking away from tradition. It is fully possible to create a vegan meal in disguise that will surprise the most unsuspecting of family members, and more important, the vegan herself.
>>>Read: My Journey to Becoming a Vegan
America's food system is seasonless — we can eat summery mangoes and avocados in the dead of winter. It's no wonder why when we eat a holiday meal using the traditional fruits and vegetables, we feel more satisfied. Seasonal produce, harvested at the peak of freshness, contains higher amounts of antioxidants that protect the body from cell damage. Carrots, sweet potatoes, collard greens, Brussels sprouts, broccoli, mushrooms, celery, corn, squash, pumpkin and apples are some of the typical foods we find stocked on the shelves at local grocers in the fall.
Pancit, or noodles in Tagalog, is the perfect dish to try that incorporates some of these veggies. This is a staple Filipino food served at all sorts of events and especially holidays because it represents a long life.
For the recipe you will need:
8 ounces bihon noodles (or rice vermicelli noodles)
Lukewarm water, as needed
1 small white onion, finely diced
6 garlic cloves, finely minced
1 cup sliced cabbage
1 cup sliced celery
1 cup julienned carrots
2 cups vegetable broth, divided
1/4 cup soy sauce
Salt and black pepper, to taste
3 green onions, finely sliced
Calamansi juice or lemon juice
Method:
Place the noodles in a bowl, and cover them with lukewarm water. When the noodles are soft, after about 10 minutes, drain and set aside.
Heat a saucepan or wok to medium heat. Then, add oil along with the onions and garlic. Sauté until soft and translucent.
Deglaze the pan with ¼ cup veggie broth and add the vegetables. At this stage, you can add salt to taste. Cook until tender.
Remove the vegetables from the pan and set aside.
Add the remaining broth and soy sauce to the pan. Bring to a simmer and then add in the noodles. Allow the noodles to simmer for about 5-7 minutes, or until fully cooked.
Add in the veggies and top with the green onion. BE GENEROUS!
Don't forget to top off with some calamansi or lemon juice. This brings out the savoriness so well.
I had read a Bon Appetit article recently that featured Filipina chef Yana Gilbuena, who said, "meat was never the star of Filipino cuisine" and that instead, it's so good because of the complexities of sweetness, saltiness, sourness, spice and textures.
Without these elements — without spices, without creativity — eating would be boring. It's not so much the holiday bird that makes our mouths water, it's everything else.
Thanksgiving is about love. That love translated into food is adding extra veggies to the pancit like my grandpa does for me now when he cooks or the talks I have with my tita about new plant-based outings or recipes she's tried. We'll see what we get into during this year's conversations.
This year, I am thankful for my family's health and for the thousands of migrant farmworkers who work tirelessly to supply California and the rest of the country with food to eat. This year you can donate to United Farm Workers to help bring vaccine clinics to farmworkers across California.