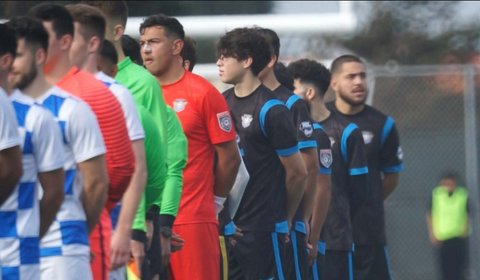 03 Jan

Contra Costa FC Earns First U.S. Open Cup Berth in Shootout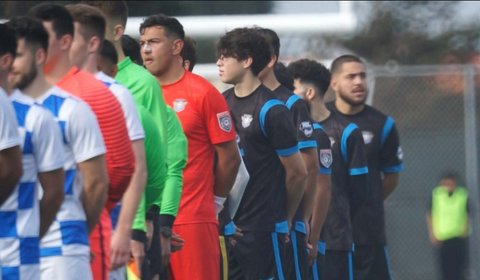 Goalkeeper Carlos Herrera, center with teammates during the national anthem, scored a penalty kick during Contra Costa FC's Dec. 19 shootout win to secure a spot in the U.S. Open Cup. (Screenshot from video recorded by Denis Perez-Bravo / Richmond Pulse)
By Denis Perez-Bravo
The 2021-22 Contra Costa Football Club, a team with most players 20 or younger, will face the biggest challenge in their club's history and, for some, of their lives so far.
After four rounds of single-elimination qualifier matches, Contra Costa, a National Premier Soccer League team, has earned an opportunity to try for something near impossible: winning the 107th Lamar Hunt U.S. Open Cup.
The tournament, founded in 1914, is this country's oldest ongoing national soccer competition. It was not held in 2020 or this year, primarily because of the pandemic. Professional and amateur teams alike play for the title.
Since 1996 when Major League Soccer was sanctioned as Division I, its teams have dominated the tournament, and only one lower division team, the 1999 Raging Rhinos, has won the U.S. Open Cup.
Contra Costa qualified for the first round Dec. 19 at Salesian Preparatory High School in Richmond against San Francisco's Metro FC. Metro scored first, but Contra Costa's Roberto Gonzalez tied the game by converting a penalty kick. The match remained a 1-1 draw through the rest of regulation and overtime. Contra Costa ultimately took the game on an 8-7 penalty shootout win.
"It gives them an opportunity to really develop as a human and as a player to have a challenge like this in their lives," Contra Costa FC head coach Bejan Esmaili said.
The team's roster boasts players who have competed in the club's National Soccer League affiliate, Atlético East Bay. Contra Costa FC was founded six years ago on the principle of possession-based soccer, which is meant to develop players' technical IQ and speed of play.
To help broaden players' horizons even further, Contra Costa's ownership group, LSE Brands LLC, acquired Portuguese Liga 3 team Sporting Clube São João de Ver in September to give its Northern California players direct access to European soccer. This month, the ownership group acquired a minority stake in Thisted FC, a Danish team.
"This is more than a soccer thing; this is a life thing," Esmaili said. "We want to make sure whatever pathway they want or need, at least they have the opportunity to take it."
As the team prepares for the tournament, the players will have to adjust to a stricter diet, workout and lifestyle in order to "switch gears," he said.
In the first round, Contra Costa will face another high-ranking Division IV or lower team from the pool of qualifiers: Brockton FC United from Massachusetts; Lynchburg FC from Virginia; Oyster Bay United FC from New York; City Soccer FC and Orlando FC Wolves from Florida; Azteca FC from Colorado; D'Feeters Kicks Soccer Club from Texas; and Escondido FC and San Fernando Valley from California.
New York's Lansdowne Yonkers FC, the 2021 U.S. Adult Soccer Association National Amateur Cup champion, and a few other top-ranking NPSL and United Soccer League Two teams, who have not been announced yet, will also participate in the first round.
On Jan. 19, a draw will pair Contra Costa against one of these opponents. Overall, 56 teams will compete in the opening round.
"Once we know who we are playing, we can look at game film and try to anticipate what we can expect in that environment," Esmaili said.
If Contra Costa advances to the second round, it will be joined by teams from Division II USL Championship and Division III USL League One, National Independent Soccer Association and MLS NEXT Pro.
In the third round, 17 Division I MLS teams will enter the competition. Then, the eight top-ranking MLS teams will join the competition in the fourth round, or round of 32.
From there, the round of 16, quarterfinals, semifinals and the final will be held from May to September.
The winner of the U.S. Open Cup will earn $300,000, a berth in the 2023 CONCACAF Champions League and have its name engraved on the Dewar Challenge Trophy. The runner-up will receive $100,000, while the team that advances furthest from each lower division will earn $25,000.
Contra Costa FC's 24-year-old goalkeeper, Carlos Herrera, hopes to "transmit confidence" to his less experienced teammates for the upcoming U.S. Open Cup match.
"I have been in the U.S. Open Cup playing in stadiums against professional teams in the USL level," he said.
Herrera played with the Texas-based Laredo Heat in 2019 when they advanced to the second round before being eliminated by Division II team San Antonio FC at Toyota Field in Texas.
"Those experiences, playing in big matches, help me with matches like these," he said referring to the Dec. 19 match against Metro FC.
Under a cloudy sky and surrounded by cold winds, Herrera pumped himself up, screaming at the top of his lungs over to the right side of the goal as he waited for his turn.
As he walked to the center of the goal, he cheered, turned to the goal, jumped and smacked the top goal post with his hands in preparation to face Metro FC players.
Herrera blocked two of the 10 penalty kicks by Metro FC and even scored a penalty kick.
Moving forward, Herrera expects the first-round match to be a close game, but Contra Costa FC will hope to end it within 90 minutes.
"We are at a good level, but after this round, it is more technical and physical," Contra Costa forward Octavio Munoz said.
But Munoz is confident in his team's effort and ability.
And despite the challenges ahead, the goal for him and his teammates has stayed the same — play soccer, develop and win at life.
"It feels good to have our community come out, and to see us win and continue," Munoz said.
The U.S. Open Cup will get underway March 22 or 23.