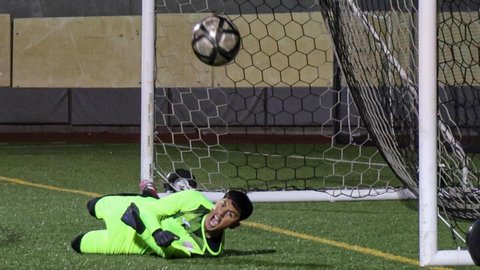 24 Feb

Richmond Beats Bishop O'Dowd in Shootout, Advances to Boys' Soccer NCS DII Finals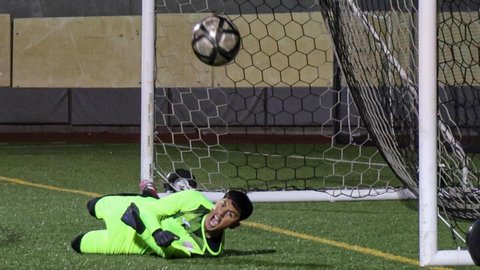 Richmond's coaches decided to use backup goalie Adrian Rebuelta if a playoff match went to a shootout. With this save, the Oilers beat Bishop O'Dowd in the North Coast Section DII boys soccer championship semifinals.
Story and photos by Denis Perez-Bravo
As Bishop O'Dowd High School forward Tomas Caminos walked up to take a penalty kick, Richmond High School goalie Adrian Rebuelta studied his movements in great detail.
Rebuelta had already blocked two out of the three penalty shots from Bishop O'Dowd. One more block would win Richmond the penalty shootout and take them to North Coast Section Division II finals.
>>>Read: Richmond High Boys and Girls Take TCAL Rock, Stone Soccer Titles
As Caminos shot, Rebuelta took a step forward with his left leg and then dove left, extending his arms to block the kick.
Richmond rushed Rebuelta and celebrated the road win over Bishop O'Dowd 3-1 in penalty kicks after a 1-1 tie Tuesday in Oakland.
The Richmond second-string senior goalie has played four years of high school soccer. Blocking penalty kicks is something that, despite not having a lot of playing time to practice, he has been able to perfect.
"Practice makes perfect," he said. And despite not being a starter, he never stopped practicing for the moments his team would need him, like an NCS semifinal penalty shootout.
And so during practice it was decided by the coaches that if a playoff game went to penalty kicks, Rebuelta would be the guy to block them.
"I just feel proud. Proud of my brothers," Rebuelta said.
Richmond forward Ivan Campos, left, overpowers Bishop O'Dowd defender Jason Jelincic to get the ball during the North Coast Section DII boys soccer championship semifinals Tuesday in Oakland.
Richmond, the third seed, will face top-seed Redwood High School on the road Saturday at 12 p.m. in Larkspur, California.
"An away game is not exactly what we wanted, but we are up for the challenge," Richmond forward Fernando Villanueva said.
Villanueva scored for Richmond at the eighth minute of the first half.
After a cross from a set piece was headed by Richmond midfielder Jonathan Castillo-Duran into the back of a Bishop O'Dowd defender, the ball bounced in front of Villanueva inside the O'Dowd goal box.
One bounce was enough for Villanueva to rush in and volley it with his left foot past goalie Konstantinos Selk-Anagnos who made slight contact with the ball with his finger tips.
The rest of the game would show Richmond get close to the goal, only to be overpowered by a Bishop O'Dowd player and then turn the ball over.
Villanueva said O'Dowd's physical play took them by surprise and gave the home team space to take shots.
One of those shots came early in the second half when Bishop O'Dowd midfielder Mason Cox shot a long ball from outside the goal box.
Richmond goalie Diego Albarran jumped too late and missed the ball with his hands. The ball rebounded on the top post and hit Albarran's arms, which knocked the ball into the goal.
As the game progressed, O'Dowd showed more physical strength than Richmond and held more possessions on the Oilers' side of the field.
But Richmond held a united front on defense to keep O'Dowd from scoring.
As the final whistle blew, Richmond and Bishop O'Dowd went to 10-minute overtime halves where both teams, fatigued and hungry, kept each other on their toes as they shot at the goal.
But ultimately, the evenly matched teams decided the game in penalty kicks where Richmond came better equipped.
"We are here to win the NCS championship. We are all prepared," Villanueva said.