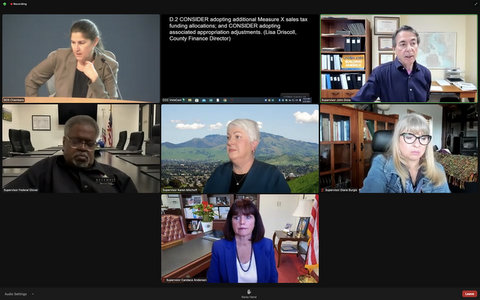 24 Feb

Supervisors Allocate Millions in Public Services Funding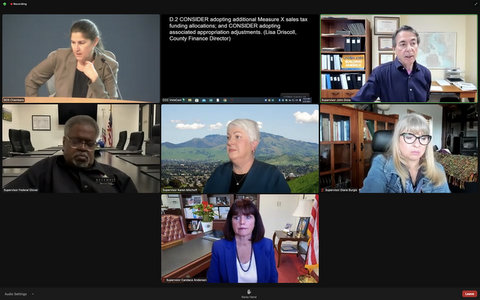 By Richard Tzul
The Contra Costa County Board of Supervisors deliberated over how to spend millions on public services funded by a voter-approved tax measure. County health officials are also navigating out of the final phase of the omicron surge, while still expressing caution.
Measure X Funding
Lisa Driscoll, the county finance director, gave a presentation on Measure X and recommendations provided by an advisory board on how to use the tax measure's funds. In total, Measure X had a remainder of $8.8 million in one-time spending and $6.7 million in ongoing spending that hadn't yet been designated for a particular purpose.
With one exception, the board unanimously approved all spending recommendations. A one-time allocation of $3.75 million for deferred maintenance of county facilities was separated from the rest of the proposed allocations at the request of District 1 Supervisor John Gioia who cast the only vote against it.
With all allocations ultimately approved, the $15.5 million will be spent on childcare, libraries, refugee resettlement and deferred maintenance for county facilities.
The approved Measure X spending includes:
$200,000 in ongoing funds for literacy programs
$50,000 in one-time funds to establish a Contra Costa County library foundation
$1.5 million in ongoing funds for additional childcare providers
$4 million in ongoing funds to create 500 childcare slots via a voucher program
$4 million in one-time funds to repair and renovate libraries
$450,000 in ongoing funds to educate providers and improve programs that serve children with disabilities
$3.75 million in one-time funds for deferred maintenance of county-owned facilities
$1 million in one-time funds for Afghan refugee resettlement
At its last meeting, the board considered expanding funding for the county health services program CARES, albeit no formal decision was made. On Tuesday, District 4 Supervisor Karen Mitchoff said that CARES funding would be again discussed at a later meeting "because of the various funding streams and also because we were presented with some options and various supervisors wanted additional information."
The CARES program provides health coverage for uninsured lower-income residents 19 or older. Though, the program will phase out in 2024 if Gov. Gavin Newsom's budget proposal passes, which expands Medi-Cal eligibility to all undocumented people who meet the income requirements.
Despite the program potentially ending in just a couple years, funding for the remainder of its lifespan has been a contentious issue. CARES funding will be decided during the county's budget process or prior to a hearing April 12. Local hospital partners have been called by the board to aid the program.
While CARES funding wasn't going to be decided Tuesday, Gioia still echoed his concerns from the previous meeting, expressing doubt that CARES enrollment will happen as quickly as some project. Funding for CARES will vary depending on how many are signed up for the program.
Gioia proposed reserving the $3.75 million meant for deferred maintenance and using it for CARES instead. Gioia brought up the possibility of tapping into revenue from the American Rescue Plan Act to fund the deferred maintenance. If there's still unused money from CARES, it can be redirected back to maintenance, he said. (The board will review ARPA funds in January 2023.)
His fellow supervisors did not side with him.
"The longer we defer maintenance, the more expensive it is," said District 3 Supervisor Diane Burgis.
At another point during the meeting, county counsel informed Mitchoff that Measure X funds could be used for general services including animal aid programs, something that multiple public commenters pleaded for. Mitchoff said she initially was put under the false impression by staff that the funds could not be used for such purposes, which she lambasted them for. Along with Burgis, she expressed interest in exploring Measure X spending for animal services at a future meeting.
COVID Update
Anna Roth, the county health director, said the county was exiting the omicron surge, but she cautioned the pandemic wasn't over. Another health official said the county would have to wait for Newsom's Monday announcement for a statewide mask mandate update. It's speculated that the governor will lift indoor masking requirements for K-12 schools. The supervisors were also told it may be several more months before the U.S. Food and Drug Administration authorizes COVID vaccinations for children under the age of 5.
The next supervisors meeting is March 1.