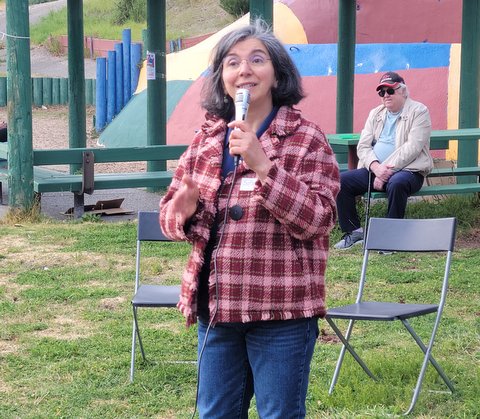 14 Mar

Richmond Activist Hopes to Win District 4 Seat in November Election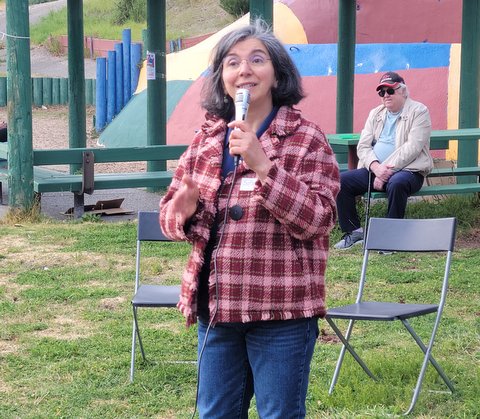 Soheila Bana is running for Richmond City Council. She wants to represent El Sobrante, which has not had a resident on the council in years. (Richard Tzul / Richmond Pulse)
By Richard Tzul
With a City Council election coming later this year, Soheila Bana has her eyes set on the newly created District 4, which covers parts of El Sobrante. 
The 59-year-old formally launched her campaign to represent the district Saturday at La Moine Park, speaking in front of over 40 people. The most notable attendee was Mayor Tom Butt, who endorsed Bana and was the introductory speaker at her event.
"We haven't actually had a council member who has lived in this area for 20 years, maybe longer than that," Butt told Richmond Pulse shortly before his speech. "So, with district elections, this will be the first chance in a long time for somebody who lives in this area to actually represent them."
A 25-year Richmond resident, Bana retired from engineering to focus fully on local activism, including being a founder of the 94803 Emergency Preparedness Alliance, which promotes public safety and collaborates with the city's police and fire departments. Butt has previously appointed her as a commissioner on the Richmond Recreation and Parks Commission. Additionally, she's an alternate member of the Contra Costa County Advisory Fire Commission. She said fellow community members told her she could make even more of a difference by joining the City Council.
Prior to the campaign launch, Bana spoke with Richmond Pulse, emphasizing her signature platform of public safety, in particular concerning wildfire prevention and response as well as policing, which she pointed out are connected.
"I'm against racism as a brown woman. Of course, I stand against police brutality," she said, "However, we should understand that by the state law, evacuation is enforced by law enforcement."
It's because of this that she wants to increase funding and staffing for the Richmond Police Department. She was also critical of the city's Community Police Review Commission, the members of which were appointed by City Council. She said El Sobrante did not have representation, calling it "undemocratic."
Bana wants to promote community engagement, communication and transparency to improve policing and build trust among communities. She once coordinated a community forum between police and residents after a shooting and plans to continue such events. Her campaign will also distribute local officers' contact information and schedules (provided to her by the police department) to encourage positive relations.
As part of her public safety plan, Bana also emphasizes wildfire preparation and prevention. El Sobrante, in particular, is a high-risk area, she said, with residents having a suitcase by the door ready during days when the threat is high — which is often the case.
In May, she'll help coordinate an evacuation drill in El Sobrante as part of a collaboration with John Gioia, District 1 county supervisor, and Richmond's Office of Emergency Services. The joint efforts between the city and the county is something she wants to continue in office.
Along with evacuation drills, Bana wants to increase community awareness of home hardening, or preventative measures that address structural vulnerabilities so that homeowners can better improve their house's chances of withstanding a fire. Along with spreading awareness, she said, regulations need to be more enforced, ensuring contractors implement home hardening. Bana, along with other activists, is also attempting to form a Joint Powers Authority in the East Bay, a coalition of multiple public agencies and organizations that would address wildfires together.
"I hate to say it," said Butt before introducing Bana at the campaign event, "but if we have a fire-related crisis, it's going to be here," in El Sobrante.
While public safety may be her top priority, Bana also wants to open a park by San Pablo Creek. She said the El Sobrante region lacks a public park with a restroom and that parents in the area take their children as far as Walnut Creek to give them a space to play. She's working with Gioia to get a ballot measure to secure funding from the county to develop and maintain the park. Residents have raised the possibility of having a weekly farmers' market if the park came to fruition, said Bana.
During her campaign speech, she pointed out that a luscious environment surrounds Richmond with Silicon Valley not far away. That should be taken advantage of, she said, for economic development.
"This is very exciting," Bana told Richmond Pulse after concluding her speech. "It's the first time we're getting a representative, and I have the honor of being their choice."