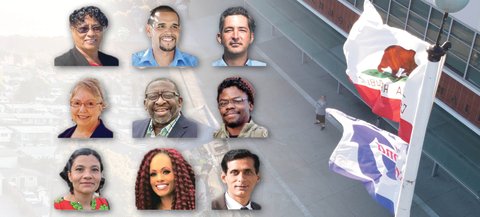 13 Oct

Richmond Set for First District Council Elections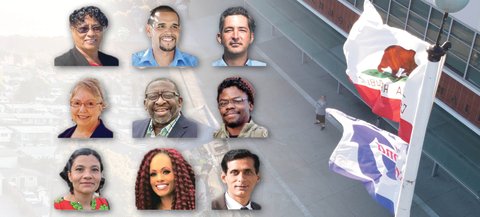 Eleanor Thompson, from top left, Melvin Willis, Mike Vasilas, Gayle McLaughlin, Ahmad Anderson, Najari Smith, Claudia Jimenez, Ms. Dandie and Vinay Pimple are running for City Council. (Composed by Denis Perez-Bravo / Richmond Pulse)
By Vernon Whitmore
Richmond has entered a new political frontier this year with its move from at-large to district city council elections, ending a political debate that has been going on behind the scene for years.
What held up the change? The shift to district elections would disadvantage incumbents on the council who have been historically elected in citywide votes.
The election landscape shifted last year in response to a lawsuit filed by Walnut Creek attorney Scott Rafferty, which alleged that at-large city council elections violated the California Voter Rights Act. Rafferty also filed suit against the West Contra Costa Unified School District, which forced it to change to district elections to avoid a costly legal fight.
"At-large elections can weaken the representation of particular groups, such as people of color, especially if the group does not have a citywide base of operations or is an ethnic or racial group concentrated in a specific ward," the National League of Cities said in support of district electoral contests.
For many years, Richmond City Council members came from similar city neighborhoods: Marina Bay, Point Richmond and Carriage Hills. And the old saying, "my council member needs to drive over the same potholes I do to feel my pain" rang true.
In other words, since my council member will now live near me, we will experience the same quality of life issues, such as traffic, parking, drugs, illegal dumping, etc.
At-large elections hampered the ability of many potentially good candidates to run for office because of the cost of running an effective, citywide campaign. Unless a person was recruited by one of the local political machines to run for City Council, odds were they would be left on the sidelines without a way to get their message to voters.
District elections are less costly because of the smaller geographic base candidates needs to reach to get their campaign message across. Also, potential candidates likely understand the major quality of life issues that impact their neighbors in their district.
The League of California Cities agrees.
"District elections may improve citizen participation because council members who represent a specific district may be more responsive to their constituency," it said.
Reviewing the list of candidates running in this first district election this year, I see many new names beside the incumbent and former council members that have added excitement to the three-district election races.
Congratulations to the candidates in District 1, 5 and 6 for stepping up to the plate and serving the residents of the city of Richmond.
Vernon Whitmore is the former publisher of The Richmond Globe newspaper and is a veteran political commentator. Whitmore is former president of the West Coast Black Publishers Association, and a former Richmond Chamber of Commerce Board chair.
Read Richmond Pulse's interviews with this year's candidates for City Council: