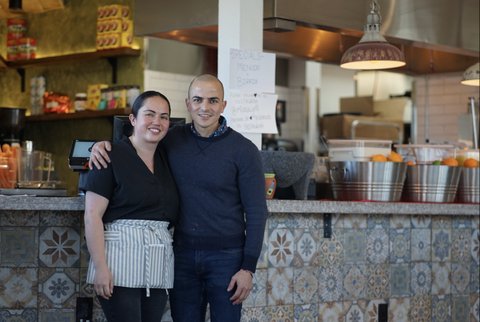 22 Mar

Richmond Couple Opens Mi Casa Grill to Serve Community Homestyle Cooking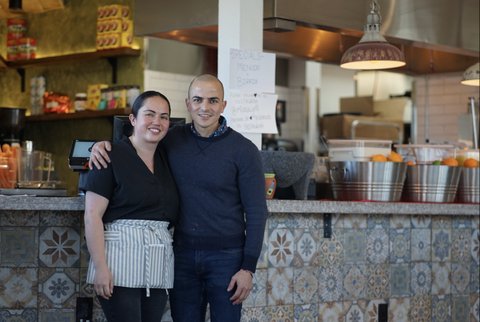 Blanca and Juvenil Magaña stand in their newly opened restaurant, Mi Casa Grill, in Richmond.
Story and photos by Denis Perez-Bravo
Mi Casa Grill owners Blanca and Juvenil Magaña have transformed an empty corner building at the intersection of San Pablo and Macdonald avenues into a colorful Mexican restaurant.
Their goal is to grow a successful business that promotes community in the East Richmond neighborhood with the idea that "mi casa es su casa" can be deeply engraved in their way of business.
"We wanted it to have a feeling like going to your abuelita's," Blanca said.
In Mexican culture — and many other cultures — when a child goes to their grandma or auntie's house, the child will be well-fed with food prepared with care. Often there would be handmade tortillas, she said.
Mi Casa Grill follows the tradition of Mexican-home comfort food by providing homemade tortillas and bread with its dishes.
For breakfast, the restaurant serves plates like chilaquiles, huevos rancheros and Torta Polla Ala Diabla, a spicy chicken sandwich served on a bolillo roll.
The menu is filled with plates from Southern Mexico such as the dinner dish Enchiladas Estilo Apatzingan, or Apatzingan-Style Enchiladas, from Michoacan, Mexico.
Other plates like Salvadorean pupusas and Venezuelan empanadas bring the flavors of South America. The restaurant's menu also includes an Italian dish — Mi Casa Grill's take on parmesan chicken. The restaurant's bar serves specialty cocktails, beer and wine.
In the back of the house, three Mexican cooks, including co-owner Juvenil, take the lead in the food's preparation. Juvenil worked in the kitchen of Montero's Cafe for 12 years,
The other two cooks are Alejandro Perez and Victoria Sandre. Perez is from Veracruz and has been cooking for 22 years. Sandre is from Puebla and has worked as a cook for 16 years.
Mi Casa Grill cook Victoria Sandre, who is from Puebla, Mexico, stirs a pot of beans in the restaurant's kitchen.
"The three of us have a connection in that we always put love into our passion," Juvenil said. "We always say, 'If you don't put in the love, it will definitely show.' "
Mi Casa Grill's grand opening came Feb. 22 after months of renovating. Juvenil said they did all the work and had help from friends and family.
"We like to do manual labor ourselves because it transforms into passion," Juvenil said. "You are giving life to every corner."
Skeletons wearing traditional Mexican clothing and decorated skulls line a shelf by an entrance door at Mi Casa Grill.
One evening, as he walked up to the restaurant before it officially opened, Juvenil said he got goosebumps. They had just finished installing lights on the outside of the building. It brought light — a sign of life.
And at that moment, Juvenil and Blanca hugged each other tightly after months of labor that started early in the morning going to late at night. But their desire drove them to continue building.
One of the most notable parts of the renovation, Blanca said, was the back wall mural of the Frida Kahlo's painting "The Love Embrace of the Universe, The Earth, Myself, Diego and Senor Xolotl."
"It's a reminder that we are all one," Blanca said.
That mentality kept Blanca and Juvenil pushing hard to get the restaurant renovated, furnished and open.
"This isn't for us," she said. "It's for everyone around us."
In the future, the couple hopes Mi Casa Grill will have an outside patio on the Macdonald Avenue sidewalk. Inside and outside, they hope to host community events. They also hope to soon give back by feeding underserved people.
>>>Read: From Cooking at Home to Cooking for the Homeless: Tempero Goiano Celebrates 10 Years
Already, Mi Casa Grill on occasion gives food to patrons who don't have enough money to pay for it.
"It has happened many times already," Blanca said. "Someone will be short on money or can't pay."
Because they have lived in Richmond for a long time, Blanca and Juvenil believe they can relate to the needs of their fellow residents. Being business owners means they have a chance to change their community for the better.
Juvenil came to Richmond from Mexico in 2004. He said he has seen Richmond change in a positive way, and he is proud of the direction the city is going. Even more, he is honored that his family is part of the revitalization of parts of the city.
"If you have goals for your life, put them to the test," Juvenil said. "Don't stop. All is possible."