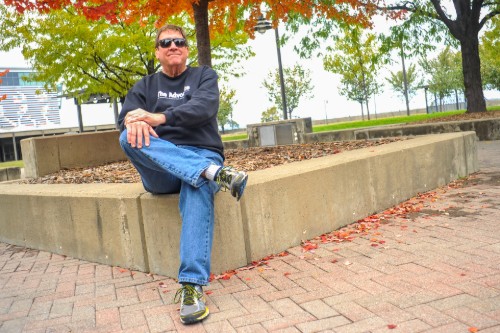 07 Apr

Paul DeBolt Honored by SPJ for Teaching Journalism Ethics and Values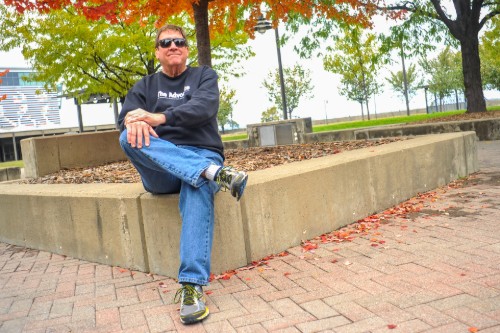 Paul DeBolt was a teacher and journalism advisor at Contra Costa College for 40 years and head coach of its women's basketball team for 30 years. (Denis Perez-Bravo / Richmond Pulse)
By Joel Umanzor
For Paul DeBolt, the longtime journalism advisor at Contra Costa College, the motivation for staying at the school where he once studied was simple: It represented home.
On March 16, in honor of his 40-year teaching career, DeBolt, who never took a semester off, was given the Beverly Kees Educator Award from the Society of Professional Journalists of Northern California as part of the 37th Annual James Madison Freedom of Information Awards.
Born in Houston and raised in Richmond, DeBolt was a student at Contra Costa College, serving as the editor in chief of the school's student-ran publication, the Advocate.
After completing his studies at CCC, DeBolt transferred to San Diego State, where he played briefly for the Aztecs basketball team.
He always considered the East Bay to be his home base, returning to CCC as its journalism advisor in 1980. He retired at the end of the 2020 academic year — an anti-climactic ending to his many years of championing the First Amendment in the Advocate's newsroom on the second floor of the Applied Arts building.
That longevity, DeBolt says, was a "labor of love" for his students and the program he helped direct.
"Stepping away from it, I was like, 'Wow, I did that,' " he said of CCC's journalism department. "I was ethical, I was good, and I didn't get in the way of Advocate's reporters."
DeBolt, who was also head coach for CCC's women's basketball team for 30 years, handled his reporters like his basketball players: schooling them on the fundamentals while trying to put them in the best position to succeed.
Under the guidance of DeBolt, CCC's Advocate newspaper won regional, state and national awards for its campus coverage along with its weekly publication's layout and design.
"What my students were doing was — not working my values but — working journalistic values," DeBolt said, adding that the work of journalism is people-driven work that requires conversation and trust.
For decades, DeBolt carried the torch of journalism in West Contra Costa, an often overlooked region where many residents are people of color.
The current demographics of the Contra Costa College student body are 45% Hispanic, 19% Asian, 16% Black and 11% white, according to the U.S. Department of Education — a far cry from the white-dominated campus he first stepped onto as a student half a century ago.
Race has never been off topic for DeBolt. As an instructor, he educated his students on the historic inefficiencies that journalism had in addressing the needs of Black and Brown communities — a failure he feels the industry of journalism should accept and learn from.
"The journalism of the past, the white-owned corporations in journalism, didn't set a great standard for people of color to trust them, and I think that's a legacy that journalism has to own and still hasn't owned," DeBolt said, recalling the struggles he faced trying to relate journalism to skeptical communities and his enduring desire to instill journalistic practices with those students who represented them.
Passing on those ethics was what kept him motivated during his time as an instructor, DeBolt said, and his students encountered many instances where they put those instructions into practice telling stories that discussed race, gender and socioeconomic issues.
Now a coach for the Napa Valley College women's basketball team, DeBolt finds himself as an observer in the world of journalism these days, far from the way he used to coach his students at the Advocate.
Looking at the future of journalism, DeBolt said it's hard to judge what is good or bad in the industry because of the ever-changing landscape in media.
"It's continuing to change," he said, adding local news will continue to be the bastion of journalism in the immediate future. "Real journalism is local. Not a whole lot of filters to it."
Reminiscent of the past, DeBolt believes that community journalism in tune with local politics, advertising and sources will always be present.
Additionally, educating consumers of media about what is and isn't journalism in the age of "fake news" will be a challenge to the future of the practice.
"The pundits on TV, I guess they are journalists, but they are really not because they are not driven by journalistic values and ethics," he said, recalling the times he took out of the beginning of every semester to review the SPJ Code of Ethics with his students.
"There's a lot of stuff that passes as journalism that isn't, and, I think, eventually good journalism catches up to these new platforms. I'm always optimistic about the future of journalism."
For those young minds, like his students, who wish to pursue journalism in their local communities, DeBolt gave a few suggestions.
"No. 1, be prepared to work your butt off," he said. "No. 2, listen and don't be afraid to screw up. You're going to make some mistakes, but if you have a dream and believe in yourself, you are unstoppable."
Joel Umanzor was a student of Paul DeBolt and a staff member at the Advocate before completing his journalism degree at San Francisco State. A former Pulse reporter, Umanzor is now a Hearst fellow at the Houston Chronicle.