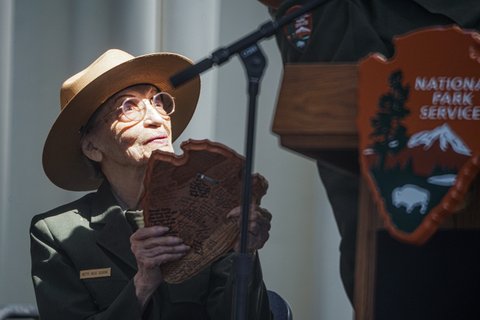 19 Apr

Oldest U.S. Park Ranger, Betty Reid Soskin, Celebrated at Retirement Ceremony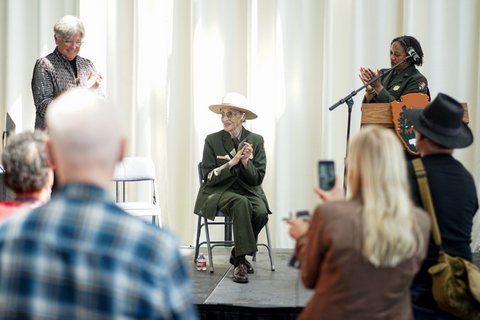 U.S. park ranger Betty Reid Soskin, center, claps along as hundreds of people give her a standing ovation at her retirement ceremony Saturday in Richmond.
Story and photos by Denis Perez-Bravo
Cheers filled the Craneway Pavilion on Saturday in Richmond as approximately 300 people stood and applauded Betty Reid Soskin at her retirement ceremony — a celebration of her life's work. At 100, she was the oldest active U.S. park ranger.
A moment before, the crowd had been asked by retired National Park Service deputy regional director Martha Lee to stand up if Reid Soskin inspired them.
Everyone stood up.
"She has shown what can be," Richmond resident Pearl Hunter, 67, said.
At 85, Reid Soskin began working as a permanent U.S. park ranger. Working at the Rosie the Riveter Visitor Education Center, she spoke to audiences and led tours to educate about the efforts of Black women in Richmond during World War II.
Reid Soskin has not let discrimination, racism, age or anything else get in her way. Hunter said that being recognized by so many shows what a blessing to the world she has been.
About 300 people attended Betty Reid Soskin's retirement ceremony at the Craneway Pavilion on Saturday.
A graduate of Oakland's Castlemont High School, Reid Soskin worked during WWII as a file clerk for Boilermakers Union A-36, a segregated union.
After the war in 1945, she and her first husband, Mel Reid, opened Reid's Records in Berkeley, the Bay Area's first Black-owned record store. She later worked in Berkeley city government and as a field representative to former Assemblywoman Dion Aroner and state Sen. Loni Hancock.
U.S. park rangers clap during Betty Reid Soskin's retirement ceremony. The 100-year-old Soskin was the oldest active park ranger.
In the early 2000s, Reid Soskin worked with the city of Richmond and the National Park Service to develop and fund a plan for Rosie the Riveter/WWII Home Front National Historic Park. She hoped to uncover the untold stories of African American home front workers.
Through her initial work as a volunteer and then as a temporary worker, Reid Soskin gained a permanent NPS position in 2007. She turned 100 in September of last year and officially retired March 31.
Betty Reid Soskin holds a gift she received and a poster a child gave her during her retirement ceremony at Craneway Pavilion  on Saturday.
"Being a primary source in the sharing of that history — my history — and giving shape to a new national park has been exciting and fulfilling," said Reid Soskin in a press release. "It has proven to bring meaning to my final years."
At her retirement ceremony, tables were set up at the entrance to the pavilion next to the Richmond ferry stop. One was for the public to leave gifts for Reid Soskin. Another had paper and pens so attendees could write messages to her.
During her retirement ceremony, Betty Reid Soskin received a National Park Service arrowhead plaque signed by colleagues.
After speaking and taking pictures with the public, Reid Soskin read some of the messages she received as her daughter Diara Reid pushed her wheelchair alongside her sister Dorian Reid and park ranger Fernando Villalba.
>>>Read: Art Helps Disabled Richmond Residents Through the Pandemic
As they approached the door leading outside to the area next to the park's visitor center, Dorian announced that her mother was "on her way out and onto the next adventure."
Betty Reid Soskin, in wheelchair, is "on her way out and onto the next adventure," said her daughter Dorian Reid, left. Also pictured are Reid Soskin's daughter Diara Reid, pushing wheelchair, and park ranger Fernando Villalba.