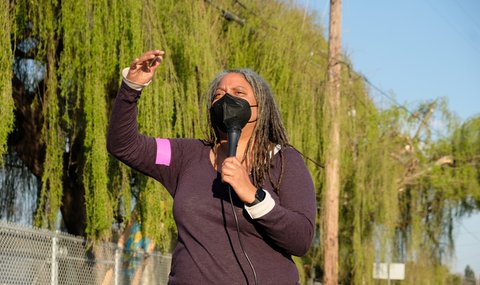 21 Apr

Urban Tilth Executive Director Named to State Food and Agricultural Board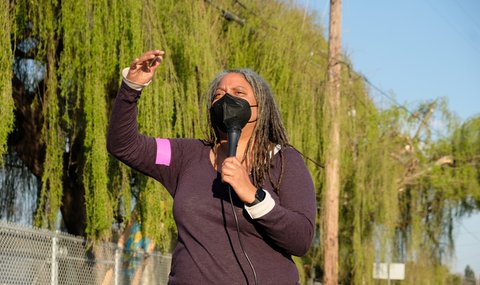 Doria Robinson, speaking at a February protest of a planned development in North Richmond, has been named to the state ag board. (Myah Overstreet / Richmond Pulse file)
By Michael J. Fitzgerald
Doria Robinson, the executive director of Urban Tilth since 2008, was appointed Tuesday to the California State Board of Food of Agriculture by Gov. Gavin Newsom.
Robinson said she is excited to talk with people about the work of the ag board and will be raising issues about sustainable agriculture, particularly as it applies to urban settings.
>>>Read: Activists Try to Renew Black People's Connection to Land and Healthy Food
"A lot of the supports for conventional agriculture are just not available for people growing in cities," she told the Pulse. She will continue her work with Urban Tilth, she added.
Robinson, a Democrat, was creeks and communities program manager for the Urban Creeks Council from 2008-09 and community programs coordinator and manager for the Watershed Project from 2005-08. She also taught nutrition at University of California Cooperative Extension from 2004-06.
Currently, the 48-year-old Robinson is a member of Cooperation Richmond, Richmond Our Power Coalition, Climate Justice Alliance, U.S. Food Sovereignty Alliance and the Richmond Food Policy Council. She is a third-generation Richmond resident.
The position is unpaid and does not require state Senate confirmation.
I'm so proud to announce that Governor Newsom has appointed me to the State Board of Agriculture!

I think I will be the 1st black woman to ever serve on this board and the 1st urban agriculture practitioner!

Pretty phenomenal.https://t.co/7Nw8hBYcgP

— doria (@doriarobinson) April 20, 2022