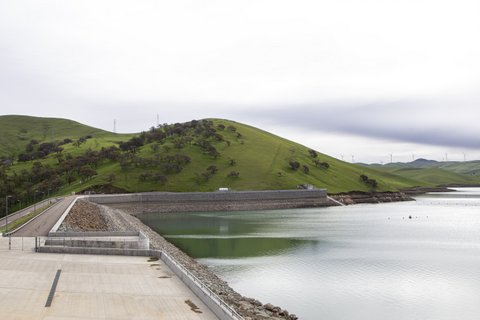 22 Apr

Water District Encouraging 15% Water Use Reduction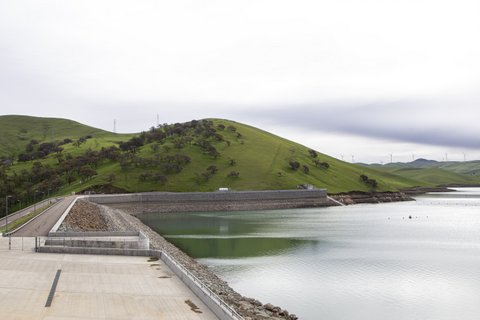 Los Vaqueros Reservoir dam in the northern Diablo Range, south of Brentwood, Calif., on Dec. 28, 2021. (Harika Maddala/ Bay City News)
By Eli Walsh, Bay City News Foundation
Contra Costa Water District officials called on the county's residents this week to begin reducing their water use by 15% in light of the state's ongoing drought conditions.
The water district Board of Directors adopted an updated drought management program Wednesday, calling for a 15% reduction in water use compared to the countywide water usage in 2020.
According to the water district, the county expects to receive a limited amount of water from the federal Central Valley Project, which transports water from Northern California to the San Joaquin Valley.
Local water supplies will be supplemented with water from the Los Vaqueros Reservoir near Brentwood, which is currently at 58% of its total capacity.
"We know that further reductions can be a challenge, but our customers are conscientious water users who step up for their community," Board President Lisa Borba said in a statement. "Setting our baseline year as 2020 protects those customers who voluntarily reduced their water use in 2021."
The district also plans to hold a public hearing in June to consider a potential 15% water use surcharge, which would amount to roughly $0.28 per day for average customers that use 260 gallons of water per day.
Information on water saving resources and rebates for reduced water use can be found at https://www.ccwater.com/195/Drought-and-Water-Efficiency-Resource-Ce.
Copyright © 2022 Bay City News, Inc. All rights reserved. Republication, rebroadcast or redistribution without the express written consent of Bay City News, Inc. is prohibited. Bay City News is a 24/7 news service covering the greater Bay Area.