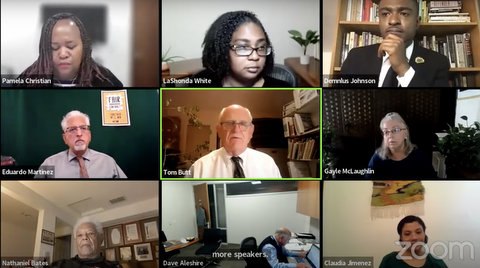 04 May

City Works to Expand Electric Vehicle Use, Reacts to Roe v. Wade News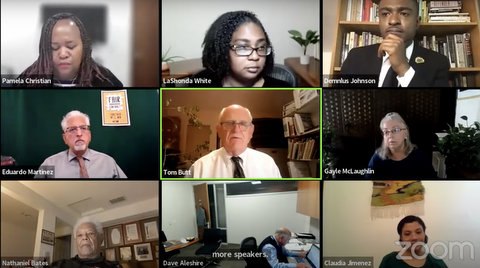 The Richmond City Council meeting on Tuesday covered electric vehicle projects in the city, the Roe v. Wade leak and the litigation against Mayor Tom Butt. (Screenshot captured by Julia Métraux / Richmond Pulse)
By Julia Métraux
The city of Richmond and state of California are trying to make it easier for people to get around in more environmentally friendly ways.
The state offers various initiatives, including grants, to encourage individuals to use electric modes of transportation, as electric vehicles have smaller carbon footprints. This includes, according to the U.S. Department of Energy, "point-of-sale rebates of up to $750 for the purchase or lease of a new all-electric or plug-in hybrid electric vehicle through the Clean Fuel Reward Program."
Richmond City Council received a presentation Tuesday from Denée Evans, the city's transportation services project manager, on different electric vehicle projects that the city has been undertaking.
Among these is the Richmond Moves program, which was introduced around Earth Day. It debuted April 20 and fully launched April 25. This is a citywide service where people can request rides on a shared shuttle for $2, though residents over 60 and students aged 13-18 will ride for free. It runs from 7 a.m. to 7 p.m., Monday through Friday.
"This is something that is a real benefit to the seniors so that they can age in place gracefully," Evans said.
According to SF FunCheap, "the fleet will include all plug-in hybrid electric vehicles, reducing energy consumption." Richmond residents can request a ride via its iPhone or Android apps. This project is funded by the Clean Mobility Options Voucher Pilot Program.
Evans thanked the City Council for its support in funding different transportation initiatives.
"I do want to say that everything that we do today as it pertains to transportation and electrification, we could not have done that without the leadership and the support of the council," she said.
People will soon also be able to rent electric cars from the city for $4 an hour or $35 a day. Evans also asked the City Council for feedback, which council member Demnlus Johnson III gave enthusiastically.
"I'm one of those individuals that are looking for the scooters and mopeds as well, so most definitely would love to see that happen," Johnson said with a large smile on his face.
The transportation department is also working to expand electric vehicle charging infrastructure in the city. This infrastructure initiative is being supported in part by Bay Area Air Quality Management District, California Energy Commission, Volta, Tesla, and other initiatives and private companies.
"I was able to negotiate to free level two charging stations which are located at the Harbor Gate mall location, and that's free for anyone to use," Evans said.
Council member Melvin Willis was absent from last night's meeting.
Acknowledging the Threat Against Roe v. Wade
On Monday, Politico revealed that the U.S. Supreme Court had voted to overturn Roe v. Wade, according to an initial majority draft circulated inside the court that was leaked. Roe v. Wade gives people who are pregnant the right to have an abortion without excessive government restriction.
During the public comment session, council member Claudia Jimenez spoke about her disappointment with the Supreme Court's decision.
"This is not just a tragedy for women's health and the right to choose, but also for gay rights, which are now placed in an extremely precarious position," Jimenez said.
In the leaked opinion, Justice Samuel Alito criticized Obergefell v. Hodges, a landmark case that gave gay people the right to marry across the United States. There has never been a leaked draft of an opinion, so there is no historical basis on whether the leak would influence justices to potentially change their vote following the public backlash.
California Senate President pro Tempore Toni G. Atkins, California Assembly Speaker Anthony Rendon and California Gov. Gavin Newsom released a statement Monday that the state is now considering putting the right to choose to get an abortion into the state constitution.
Ending Litigation Against Mayor 
Based on the recommendation of interim City Attorney Dave Aleshire, the City Council voted to end its litigation against Mayor Tom Butt. Concerns were raised in the fall as Butt was accused of sharing confidential information in his e-forum.
"It jeopardized the relationship between the City Council and legal staff and all staff," Vice Mayor Eduardo Martinez said.
Both Butt and council member Nathaniel Bates at Tuesday's meeting called the investigation and lawsuit a waste of taxpayers' money.
The next regular City Council meeting will be held May 17.