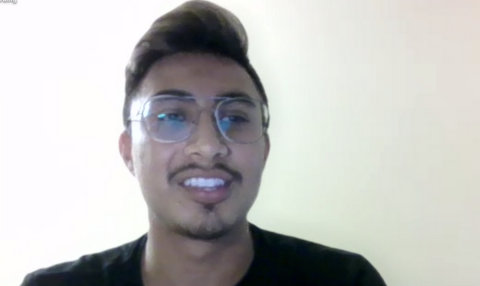 17 May

College Corps Will Help Students Who Help Others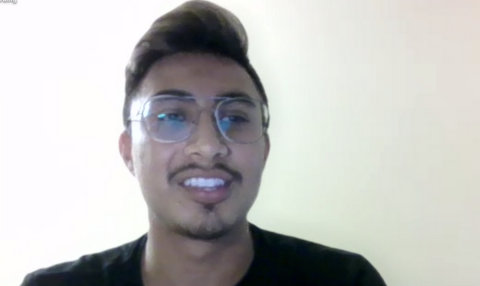 San Jose State University student Fernando Martinez is set to take part in a new program that gives students money for college in exchange for public service. (Screenshot captured by Julia Métraux / Richmond Pulse)
By Julia Métraux
A new state-funded program aims to engage California's undergraduate students in service in their communities while offsetting some financial costs.
Undergraduates from 48 participating community colleges and universities will be able to apply for the state's #CaliforniansForAll College Corps. In turn for 450 hours of service during an academic year, students will be given a $7,000 stipend and a $3,000 Education Award. Participating universities close to Richmond include the UC Berkeley, CSU East Bay and San Francisco State University. Students apply through their schools, and each deadline to apply is set by the individual university, with some having already passed.
"Students are going to be providing very meaningful service for our community in a way that we hope lifts our entire state," Josh Fryday, the California chief service officer, said at a meeting hosted by Ethnic Media Services.
Even before the COVID-19 pandemic, university students in the United States faced another obstacle to finishing their programs: the student debt crisis, which College Corps hopes to address.
>>>Read: Student Debt Fuels Racial Wealth Gap, Advocates Say
"We've created this program with the goal of helping students stay in school, graduate on time, graduate with less debt, but also benefiting the community in really significant ways," Fryday said.
Students will be placed with community-based organizations that focus on K-12 education, climate action, food insecurity or COVID-19 recovery.
United Way of Fresno & Madera Counties President and CEO Lindsay Fox also hopes that this program helps undergraduate students, particularly lower-income and students of color, thrive despite the challenges of COVID-19.
"We need for our communities to ensure that we break through this COVID fog that seems to be hanging over so many aspects of our lives," Fox said. "A program like College Corps really takes down so many barriers."
This program aims to both allow students to have work opportunities, community-based organizations to receive more support and for students to have more financial assistance.
Fernando Martinez, a student at San Jose State University who was part of a pilot program called Civil Action Fellows, said engaging with service allowed him to be involved with his community.
"I applied because I was looking for ways to be involved within my campus and within my new community," Martinez said.
Martinez helped children in underserved communities with computer programming enrichment.
"I have learned firsthand how much local communities are lacking in areas like technology and access to STEM-related careers," he said. Martinez himself did not have access to a computer at home until high school because his parents could not afford it.
Martinez shared that he will be interning at Robinhood, a financial services company, this summer and is grateful for the opportunity to help teach students computer skills.
"The most meaningful part of the fellowship is the genuine connections I've made with the children that I mentor," he said, "and knowing that I can be the one to inspire them to pursue STEM or you can just get them excited for college."
Unlike many service programs in the United States, like AmeriCorps and Teach for America, undocumented students are eligible to apply if they are an AB-540 Eligible Dreamer.
"With the Californians for All College Corps, because of the governor's commitment and the legislators' commitment, we are able to include Dreamers in this service opportunity for the first time," Fryday said.
However, Fryday also clarified that international students would likely not be eligible for this program unless they qualify for financial aid.
The College Corps currently has funding for its first two and a half years, though Gov. Gavin Newsom has said he hopes it will be a long-term program.
"The governor was very clear when he announced the program initially in January that his intention is to have this program be sustainable and be scaled over time and become a model for the nation," Fryday said.