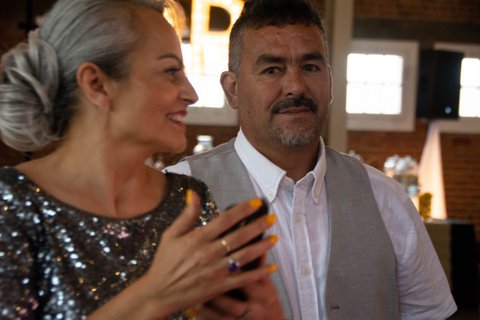 19 Jun

My Dad Works Hard to Make Us Smile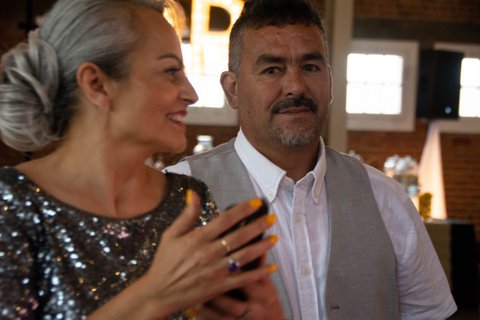 The author's parents, Rosa Pérez and Miguel Alfonso Pérez Pérez, at a wedding.
Commentary and photos by Mitzi Pérez-Caro
My dad always has the best jokes. Wherever we go he is always making someone smile. He is also very proud of his craft and has always been a hard worker. When I was in high school, he was a construction worker here in Richmond with Local 324. He was featured by Chevron in 2012 as a model hardworking employee. He had to be photographed for the campaign and came home really excited and showed us how he posed. He made us all laugh because he did it with that fake smile that you do as a kid when family asks you to pose, yet we were so happy for him. 
When I went off to college at Cal, he told me which buildings he had worked on. When I had classes at Stanley Hall or Hearst Mining Building, I was always so proud to walk in and I would even mention it to some of my peers. He shared these stories with me and my sister growing up because he always wanted the best for us. When I bought my home alongside my husband, he was there to help us make the right choices. To this day, he is always finding the best way to make us smile.
The author with her sister, Jeanette Pérez, their parents, Rosa Pérez and Miguel Alfonso Pérez Pérez, and her dog, Luna, in their holiday photo at her home in Richmond.
Now that I am an adult, I love getting dinner and a beer with my dad and watching the game. Whether it is the Warriors or the Giants, it is always game time in the Pérez house. For Father's Day this year, we had planned to watch the NBA Finals if the series had gone to Game 7. We've been fans since the early 2000s and we will continue to support our local teams.  My hope, when I climb up the pay scale, is to take my dad to a Warriors finals game. Let's hope they continue to make it to the finals. My dad loves football so much he can't pick a team; he is equally loyal to the Raiders and the 49ers. Although I don't follow football as religiously, I always love to see the excitement on my dad's face when whichever team he is rooting for wins.
The author and her father celebrated Father's Day another year at Fieldwork Brewing Company in Berkeley.
My dad grew up in Richmond, just like me. He taught me to always expect the unexpected. He has experienced so much in our city. He lived through the coldest winter in '76, the huge earthquake of '89, and he even had a UFO sighting in the area. That's right. When he was a kid, he, his brothers and cousins were playing basketball on a local court, and they saw bright lights. When they looked up, they saw a saucer. They were spooked and ran home.
With each of these stories, he was able to share how it has made him grow. As I grow older, I always ask my dad for advice and help. He told me and my sister that he was never the favorite growing up, but he never wanted either of us to feel that way. Although he may need growth in his communication skills, he is such a wise man, and I am so happy to have him as my dad. I still have so much to learn from him. This summer, he plans to teach me how to drive a manual car. Let's hope I make him proud!
>>>Read: My Father's Life Is the Greatest Lesson I Have Learned
I am thankful that my dad is responsive, hardworking and available. He is always around when I need him. I have never met anyone that knows as much about mechanical, construction, plumbing and electrical work as my dad. That really comes in handy now that I am a new homeowner. He has been able to help me with things that break down in my new home as he always taught me to look at things from a new angle. He made me a giant Jenga for my last birthday, he is helping me build out my attic, and he wants to support me in making a home garden. What I have learned in each of these projects is that things are never what they seem, and there are always hidden solutions to everything. As a teacher at Kennedy High, that has really given me the strength to continue each year. My dad, Miguel Alfonso Pérez Pérez, is such a blessing. Love you, Dad!