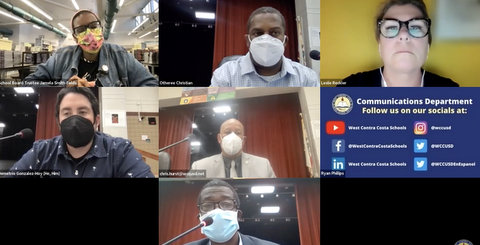 15 Jul

WCCUSD Moves Toward Universal Transitional Kindergarten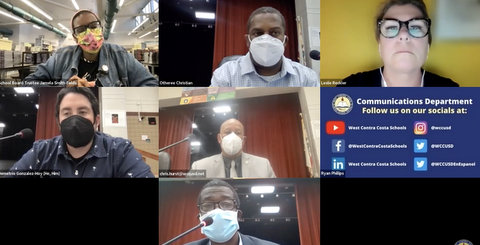 By Julia Métraux
By the 2025-26 school year, every student in the West Contra Costa Unified School District who would turn 5 between Sept. 2 and Feb. 2 will be eligible for universal transitional kindergarten education.
"Across the next three years, every 4-year-old will have access to quality learning before kindergarten," Christi Roscigno, the director of curriculum instruction and assessment, said at Wednesday's Board of Education meeting. TK, however, is not mandatory for children in California public schools.
Gov. Gavin Newsom signed Assembly 130 into law in 2021, which expands access to classroom-based pre-kindergarten programs offered by school districts. Around 422 students would be eligible to participate in TK in WCCUSD in the upcoming school year.
In addition, districts across the state will receive funding to implement TK programs.
"Those one-time funds, that will be over the next three years, are going to be allocated in the manner that was decided upon by the TK WCCUSD committee," Roscigno said.
Parents from WCCUSD's Multilingual District Advisory Committee, African American Site Advisory Team, and Community Advisory Committee for Special Education were consulted for this program.
Trustee Jamela Smith-Folds asked how classrooms will be designed to accommodate the different needs of 4-year-olds.
"Those are big age periods where things change, and kids have different strengths," Smith-Folds said. "We'll have some kids who are able to turn that faucet in TK, and some who just don't have the arm strength to do it."
Roscigno said that the district is currently still evaluating how facilities could better serve this age group. In addition, for students taking part in TK, being completely potty-trained is not mandatory.
"The expectation is that students are potty-trained or working towards [being] potty-trained," Roscigno said. "There are aides in the classrooms to be able to assist, if needed."
By the 2025-26 school year, 1,024 students are expected to be eligible for transitional kindergarten. This will also require 53 classrooms designated for TK. Trustee Leslie Reckler asked whether the district had enough extra classrooms, but she did not receive a direct response.
"There's those hard conversations happening at sites to make sure that the younger students who really need those specifically designed classes have access to them," Roscigno said. "That's all we can say about that at this point."
As this was just a discussion item on the agenda, the board did not take any action on the TK program, but Smith-Folds asked if they could receive more updates.
Parents can find more information about enrolling in transitional kindergarten here, and the current sites that offer TK can be found here. For any questions, they can email the district at Tk@wccusd.net.
Relationship Between District and Police
Miscommunication led to a misunderstanding about what trustee Mister Phillips wanted on the agenda. Phillips said he had no intention of wanting to reconsider the resolution to condemn police brutality against Black people and other people of color.
"I will not be making a motion to reconsider a resolution that talks about violent acts that have happened to people Black and Brown people because those acts really did happen," Phillips said.
Instead, Phillips asked that Superintendent Kenneth "Chris" Hurst and his staff "draft a policy about how this district can develop healthy relationships with police" for incidents when they do come on to campus.
"All I'm asking the superintendent to do is to come back to the board with a draft policy to outline how this district can have a healthy relationship with law enforcement on campuses," Phillips said.
Hurst did not say during this motion when he would be able to bring back a potential policy for the board to consider.
The next West Contra Costa Board of Education meeting is scheduled for Aug. 3.