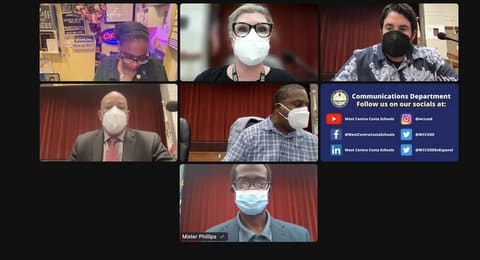 04 Aug

WCCUSD Lays Out COVID Protocols for New School Year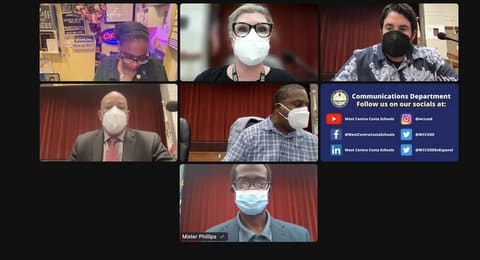 (Screenshot captured by Julia Métraux / Richmond Pulse)
By Julia Métraux
With the next academic year starting in less than two weeks, the West Contra Costa Unified School District shared its plan for mitigating COVID-19 at Wednesday's meeting.
The district's deadline to get vaccinated against COVID-19 is now July 1, 2023, which is in line with the state of California. Unlike the last school year, students of all ages in the district are now able to get the COVID-19 vaccine, which reduces people's chances of developing severe or fatal complications from this infectious disease.
Michael Booker, the WCCUSD safety and emergency preparedness consultant, said there will be weekly testing during the first two weeks of school.
"Our testing company, LSA, will conduct weekly testing at all school sites," Booker said. "Thereafter, LSA will only conduct group testing during the entire school year for exposed groups at all sites."
School sites will also distribute at-home-test kits to students and staff before every major school break, such as Thanksgiving.
Booker also said that school sites have been given instructions to be cautious about nonessential volunteers helping out on their campuses.
"The site leader has to approve that volunteer, and they have to adhere to our COVID protocols," he said. "That includes either vaccination verification or proof of a negative test within 72 hours."
Currently, there are no state or local guidelines on how many COVID-19 cases a classroom needs to have before it is closed temporarily due to an outbreak. Superintendent Kenneth "Chris" Hurst does have the authority to temporarily close classrooms or schools due to COVID-19 outbreaks.
There is no mask mandate for WCCUSD to limit the spread of COVID-19, which is caused by an airborne virus. Several teachers raised concerns about this and other COVID-19 precautions during the open comment session.
"Masks are a proven strategy to help prevent the spread of the virus," said Joseph Glatzer, a history teacher at Hercules Middle School. "We're still in a pandemic with 2,000 to 3,000 people dying weekly, and we need to protect our immunocompromised community members."
Pinole Middle School music director Tara Fay, who said she is immunocompromised , said the district needs to increase its COVID-19 testing to make sure vulnerable members of the WCCUSD community remain safe.
"We need on-site testing weekly to ensure equitable access and to catch cases before they spread across entire classes and campuses," Fay said. "We need to ensure we aren't hit with another wave that causes illness and deaths in our community."
Recognizing the Loss of Richmond High School Student
The Richmond High School community lost one of its students last month. Gonzalo Jr. Sanchez drowned July 17 in Calaveras County, the Richmond Standard reported. He was 14 years old.
"Gonzalo was described as a positive, friendly, well-loved student who is naturally talented at playing the trumpet," Hurst said.
A fundraiser for Sanchez's funeral on GoFundMe raised over $8,000 before it closed.
Washington Elementary School Parents Call for Changes 
At the beginning of the meeting, several parents from Washington Elementary School in Richmond raised concerns about its leadership and staffing shortages. Due to the bilingual program at Washington, many parents also advocated for having a principal who is bilingual in English and Spanish.
"​​As parents, we need to know what to expect to prepare our students, our children," said Ellie Vargas, the parent of two children at Washington. "I'm fearful that they're going to be placed in the back of classrooms to teachers who are already struggling."
In closed session, there was discussion about reassigning an elementary school principal, but no action was taken. It was not confirmed whether or not this was for Washington Elementary School.
The first day of school is Aug. 16. The next regular board meeting is scheduled for Aug. 24.