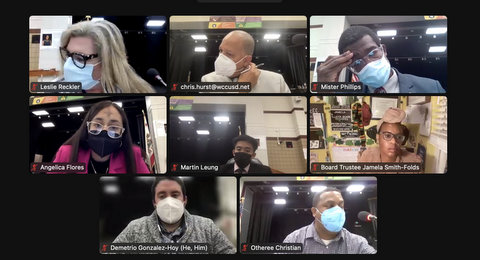 03 Mar

WCCUSD Vaccine Mandate Again Gets Pushed, Raises Questions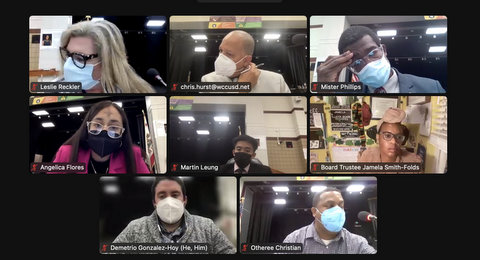 By Julia Métraux
The West Contra Costa Board of Education voted to move the deadline to be fully vaccinated to attend school in person to July 1 for students 12 and older. This is the same date that the state of California's COVID-19 vaccine requirement for students in grades 7-12 kicks in.
The board of education previously adopted measures to make the deadline to be vaccinated against COVID-19 for students 12 and older Jan. 3 and then Feb. 18. The measure the board voted on also included monthly updates from the staff, which led trustee Jamela Smith-Folds to abstain from the vote.
"I'm abstaining," Smith-Folds said. "It doesn't matter because if the governor says July 1, and it's July 1, but I do value staff time."
Trustee Mister Phillips also said that he is proud of the West Contra Costa Board of Education for its willingness to implement a COVID-19 vaccine mandate before the state of California did.
"I think that this board, our superintendent and our staff, I think that we were extremely courageous, and we were willing to stand in the breach because other people wouldn't," Phillips said.
After gaining access to the California Immunization Registry, WCCUSD was able to confirm that 87% of students 12 and older are fully vaccinated. This means that they either received two doses of Pfizer-BioNTech or Moderna's COVID-19 vaccine, or one dose of Johnson and Johnson's COVID-19 vaccine. Some private clinics and hospitals do not upload vaccination information into the California Immunization Registry.
WCCUSD communications director Ryan Phillips said that the district is planning to organize initiatives, like raffles, to encourage students to get vaccinated and submit proof of COVID-19 vaccination.
"Breaking down this data of the students, we found that 81% are at schools at the secondary level that includes 52% of the high school level and of this, 49% are students in Richmond schools," Phillips said.
These initiatives will largely target Richmond schools due to gaps in data from schools in this city. Nearly 1,500 students at WCCUSD schools 12 and older either have not been vaccinated against COVID-19 or have not submitted proof.
Superintendent Kenneth "Chris" Hurst also announced that starting March 3, students will not be required to wear masks when they are outside, but they are allowed to continue to do so.
"We also wanted to share that passing periods are not considered outdoors," Hurst said.
WCCUSD will also keep its indoor mask mandate, despite the fact that the state of California will lift its statewide indoor mask mandate for K-12 schools March 12.
Despite, the COVID-19 vaccine mandate being a central focus for WCCUSD and other districts across the county, some questions remain unanswered about how exactly it will be implemented.
"So after the state mandate kicks in, our capacity is no longer an issue because the kids legally cannot be here if they are not vaccinated?" trustee Phillips asked.
Hurst confirmed this, although it is unclear whether Vista's Virtual Academy will have enough room for unvaccinated students or if they will need to go on independent study.
Smith-Folds also asked how the July 1 deadline will affect students who will attend summer school that may not be fully vaccinated against COVID-19 by this time.
"There has not been an offering yet of independent study virtually for summer school," WCCUSD chief academic officer and associate superintendent LaResha Martin said. "I would probably need to go back and also discuss that with the team as well."
>>>Read: Waiting to Get Kids Vaccinated Comes With Its Own Risks
Several members of the board and staff also encouraged students to continue to get vaccinated to keep themselves and those around them safe. Young people can still develop long COVID after contracting the omicron variant, and research suggests that getting vaccinated makes people less likely to develop long COVID.
"I've lost many family members in the last year, including another member of my family three weeks ago, and it was because of COVID," clerk Demetrio Gonzalez-Hoy said. "I believe that we have to continue to push to get every single individual vaccinated if we can."