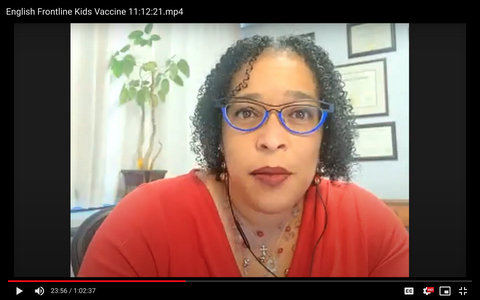 08 Dec

Waiting to Get Kids Vaccinated Comes With Its Own Risks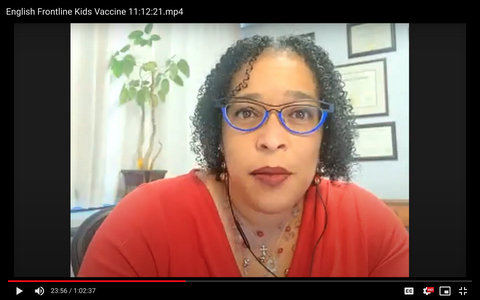 Dr. Jennifer Miller, an East Bay pediatrician, says more of her patients have been anxious, depressed and even suicidal during the pandemic. (Screenshot captured by Danielle Parenteau-Decker / Richmond Pulse)
By Danielle Parenteau-Decker
When word began to spread that a COVID-19 vaccine was on the way for young children, pediatrician Dr. Jennifer Miller says that some "parents started beating my door down," while others have been more reluctant.
That reluctance concerns her because of the effects of the pandemic on children's mental health.
Miller works at East Bay Pediatrics and was part of "Vaccinating 5-11 Year Olds: Voices from the Front Lines," a panel discussion hosted Nov. 12 by Ethnic Media Services. The discussion came exactly two weeks after the U.S. Food and Drug Administration authorized the Pfizer-BioNTech COVID-19 vaccine for emergency use in children aged 5 to 11.
Some of her patients' parents were excited by the news, eager for the chance "to resume some semblance of normalcy in their lives," said Miller.
And it wasn't just the parents.
"Kids are never excited to get vaccines, and now kids were excited to get vaccinated," she said. They want things to go back to normal too, go to school and see their friends without worrying about COVID-19.
"And then there's the other group of patients who have been more cautious and more hesitant," Miller continued.
She said some vaccinated parents will tell her they believe in it, they believe in science, yet they are afraid to get their kids vaccinated. Other parents don't want the vaccine for themselves or their children.
These parents worry about side effects both in the immediate aftermath and down the line. They worry about fertility issues and myocarditis.
"This is a great vaccine," Miller said. "It does not change the DNA, and it does not affect the fertility of our patients."
While some vaccinated people — particularly young men — did experience heart inflammation, this has been rare. No one 5 to 11 in Pfizer's clinical trials experienced myocarditis after getting the vaccine, according to the Centers for Disease Control and Prevention.
And as Miller pointed out, myocarditis is more likely to occur because of the coronavirus, not because of the vaccine made to protect us from it.
She said that the myocarditis caused by COVID-19 is "much more dangerous" than the inflammation that has come after the vaccine. Among vaccinated people, cases were generally mild, "went away on their own" and did not result in long-term consequences.
While children are at substantially lower risk of severe disease or death from COVID-19, that risk is not nonexistent.
"Kids do get COVID," she said.
And that appears to be happening at an increasing rate.
A report last month by the American Academy of Pediatrics showed that children were making up a disproportionate share of new cases, Jen Christensen of CNN wrote. Nearly 142,000 cases were reported in children for the week ending Nov. 18, making up more than a quarter of all new cases. Early in 2020, children accounted for less than 3% of cases. Overall, more than 6 million children in the U.S. have been diagnosed with COVID-19, according to the CDC.
"Thousands of kids were hospitalized for COVID, many of which were in the intensive care units in our country, and hundreds of kids did die from COVID," Miller said. "It is nowhere near as severe for kids as it has been for adults, not in as large numbers. But it's not nothing."
>>>Read: Kids Need COVID-19 Vaccine Too, Says Health Official
Miller said that the vaccine isn't needed solely to protect kids' physical health.
"The wait-and-see group has concerned me because in the last 20 months, I've experienced dealing with such high numbers of suicidality, depression and anxiety," she said.
She said she has an 8-year-old patient who has been practicing self-harm. And she has other patients hospitalized because of suicidal thoughts or gestures. Another medical provider told Miller: "That's everybody I see, all day long," referring to patients who feel depressed or anxious.
Madison Sandoval, who recently transitioned from school nursing to become a public health nurse, said she had also been seeing a lot of kids with "psycho-social symptoms." Those include headaches, stomachaches or feeling unwell for no specific reason. "It tends to turn out to be something around anxiety," she said.
>>>Read: As Pandemic Worsens' Students Mental Health, WCCUSD Tries to Keep Up
Maria Elena Meraz, founder and director of the Parent Engagement Academy in Los Angeles, said in her experience many parents are worried about their kids' social and emotional health but wary of getting their children vaccinated right away.
That includes even parents who are frontline workers and have family members who died because of COVID-19. "They're still thinking, we prefer to wait for our little ones," Meraz said.
Some parents she works with don't want to get their kids vaccinated but feel they have no choice, she said.
If parents opt to keep their children out of school rather than get them vaccinated, it could exacerbate educational disparities, which are already worse for families of color.
"These kids will continue to fall behind and won't be able to compete with their peers," Miller said.
It's not just concerns about the vaccine holding some parents back.
Meraz said some parents have told her they would only get their kids vaccinated by a doctor, not at a pharmacy or elsewhere. But they don't have the transportation to get there.
In response, Miller said people should get the vaccine wherever they can and that pharmacies can be a good option for families because they are open longer hours and on weekends and may allow walk-ins. While speaking in the panel discussion, Miller noticed a comment in the Zoom chat on vaccine costs at pharmacies.
"They don't charge. … It's free," she said. "The vaccine is free to everyone, wherever you get it."
Sandoval said some parents worry that even with mild side effects, their child might need to miss school, a problem because parents can't miss work and can't afford childcare.
Dr. Monica Gandhi of UC San Francisco summed up the importance of the pediatric vaccine with the headline of an article she co-wrote for Time magazine with Dr. Jeff Vergales, a University of Virginia pediatrics professor: "Kids Aren't Supposed to Die."
In the Nov. 3 article, the doctors explained that pediatricians actually have more information about this vaccine than other medications they may prescribe.
"With the conclusion of the current trial, pediatricians will be prescribing this vaccine with more data, knowledge and science behind it than virtually any other medicine we routinely administer," they wrote.
They said doctors could look at billions of real-word examples in adults and thousands of examples from children in clinical trials.
"While that might not be enough for many parents, that is vastly more data than other medications we usually give children," Gandhi and Vergales wrote.
Gandhi said that COVID-19 was the eighth-leading cause of death among children in the U.S. during the delta variant surge.
"If you had a shot, if you had a pill that would prevent any other cause of death among children — accidents or cancer or the other leading causes of death — we would take that pill or that shot if [it] were safe," Gandhi said.
Scientists, doctors and public health experts agree that the COVID-19 vaccine is safe and the best way to protect ourselves from the coronavirus and the serious, long-lasting and even fatal consequences it can result in.
Visit Contra Costa Health Services' Get Vaccinated page for more information about where to get the shot for yourself or your child.