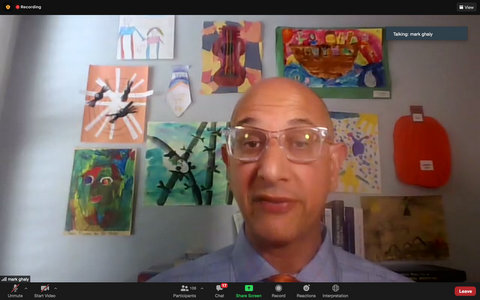 16 Nov

Kids Need COVID-19 Vaccine Too, Says Health Official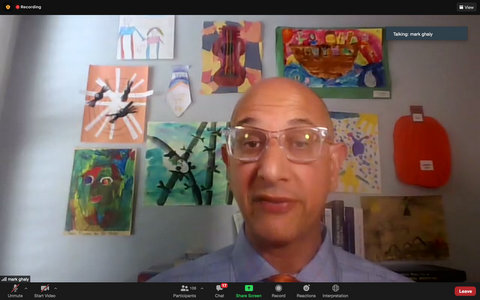 "The idea that young people don't get infected and don't get affected by COVID is not true," said pediatrician and California Secretary of Health and Human Services Dr. Mark Ghaly. (Screenshot captured by Danielle Parenteau-Decker / Richmond Pulse)
By Danielle Parenteau-Decker
Children should get the COVID-19 vaccine, not only to protect their communities but for their own sakes as well, says pediatrician Dr. Mark Ghaly, a top California health official.
About 3.2 million more Californians, or about 9% of the state's population, became eligible to receive the vaccine when the U.S. Food and Drug Administration authorized emergency use of the Pfizer-BioNTech inoculation at a reduced dose in children aged 5-11.
Ghaly, California's secretary of health and human services, discussed the pediatric vaccine and concerns during a press briefing Nov. 8 sponsored by Ethnic Media Services and California Black Media.
Ghaly also attempted to reframe how people think about COVID-19 and the vaccine, particularly when it comes to children.
"The idea that young people don't get infected and don't get affected by COVID is not true and, in fact, they're one of the increasingly most-impacted groups in our own state," Ghaly said.
He said the conversation tends to be about how children need to get vaccinated to help protect older adults, but more attention needs to be paid to the danger the coronavirus poses to children.
Through Nov. 11, over 700,000 minors have been diagnosed with COVID-19 in California, and nearly 40 have died from the disease, according to the state public health department. Ghaly said children have been hospitalized because of the respiratory, psychiatric and neurological effects of COVID-19.
Even if a young person doesn't experience severe symptoms, that does not mean they are in the clear.
"Long COVID ­— the long-term complications of having a COVID infection — are real for young people. We're learning more about these every day, every week, every month," Ghaly said. "Many young people who get infected do have a negative outcome and have some problem for weeks, months — and we hope not years — down the road after getting infected."
Even as the vaccines continue to be studied in clinical and real-world settings and show positive results, people continue to worry that they were developed too quickly and not studied enough.
Ghaly countered those concerns.
"It's really exciting to see this begin to take shape as we prepared long and hard for this moment," he said. "It's only come after months and months of … data."
That data came from studies and clinical trials with more than 4,000 participants between the ages of 5 and 11. Those children came from all regions of the nation and represent all races and ethnicities, according to Ghaly. Some had preexisting conditions, he said.
"The studies and the trials were done to make sure that this vaccine is safe and effective at this dose," Ghaly said. The vaccine given to 5- to 11-year-olds is one-third the dose of that given to adults and adolescents.
But if people have questions or concerns about the vaccine, Ghaly said they should talk to a trusted medical provider.
"I can share with you all of the data in the world. We can give you all of the information that I think is convincing and important," he said. "But that trusted individual that you turn to, I think is going to be a really important person to help you ultimately feel confident and make the decision."
In addition to being a pediatrician and the state's health and human services leader, Ghaly has four children, three of them under the age of 12. He said that everyone in his family has received at least the first dose of the vaccine.
When young people — children included — get vaccinated against COVID-19, serious complications are extremely unlikely.
"Thankfully, the vast, vast, vast majority of young people have no significant side effects from the vaccines," Ghaly said. "Very, very, very few — on the order of a few in the millions — actually get any significant side effects. The other good news is even when those do occur, they often resolve with minimal intervention or self-resolve."
He said there were no cases of myocarditis or pericarditis in the 5-11 trial group. Those forms of cardiac inflammation have been seen in older teenagers, however. "So we take that very seriously," Ghaly said.
He pointed out that COVID-19 is far more likely to cause heart problems than the vaccine is. "The risks of having more serious cardiac consequences from getting infected are real and well-documented for young people," Ghaly said.
Like everyone else, children may experience mild symptoms from the shot such as soreness or low-grade fever. But these are not reasons to not get the vaccine, he said.
"We have been looking for a miracle, for solutions to help us get through this pandemic," he said. He added that the vaccine is the best hope we have.
Collectively, the COVID-19 inoculations are "some of the most safe, some of the most effective and some of the most successful vaccines we've ever seen in modern medicine," he said.
People of all ages need to get vaccinated because it's "our way through this."
"Any additional death of a young person is unacceptable if it's preventable," Ghaly said."