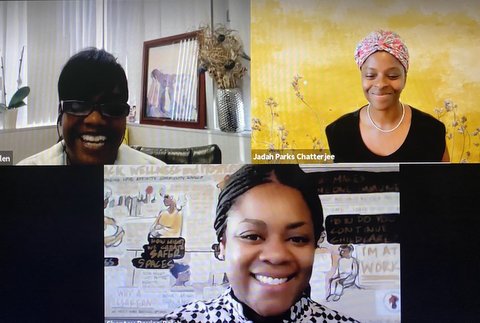 19 Oct

Maternal Health Experts Dispel COVID-19 Vaccine Myths Around Infertility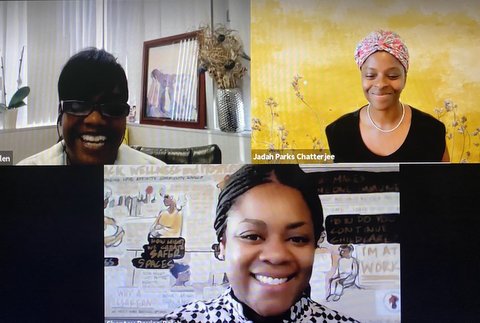 Dr. Gwen Allen, top left, and nurse Jadah Parks Chatterjee addressed the misinformation surrounding vaccines and fertility in a discussion moderated by Shantay R. Davies-Balch of the Black Wellness and Prosperity Center.  (Screenshot captured by Keisa Reynolds / Richmond Pulse)
By Keisa Reynolds
Medical providers are still working hard to get patients to trust in the COVID-19 vaccine. However, misinformation continues to prey on vulnerable populations, such as pregnant people and those who wish to conceive in the future.
Concerns over side effects have prevented many from getting vaccinated, including those who fear it will hurt their fertility or unborn children. Those fears were worsened amid the controversy surrounding Nicki Minaj's tweets last month in which she alleged that a family friend became impotent after receiving the vaccine. The myth runs deep, as patients, including pregnant people, remain woefully uninformed about the vaccines.
The California Department of Public Health's Vaccinate All 58 campaign hosted a press conference Oct. 12 to address Black communities' concerns around infertility being a side effect. Dr. Gwen Allen and nurse Jadah Parks Chatterjee shared their expertise to dispel the myth and share challenges of increasing vaccination rates in Black communities.
"Pregnant women are shying away from the vaccine. They are not looking at the fact that there's another life inside of them," said Allen, an obstetrician-gynecologist based in Los Angeles.
The Centers for Disease Control and Prevention and other medical organizations recommend the vaccine for "for everyone 12 years of age and older, including people who are trying to get pregnant now or might become pregnant in the future, as well as their partners."
Birthing parents have expressed numerous concerns over receiving the vaccine, even though experts have shared that it can increase their chances of a healthy pregnancy and birth of their child amidst the pandemic.
Allen shared four facts to dispel myths: The vaccine (1) does not infect people with COVID-19; (2) is safe; (3) does not cause birth defects; and finally, (4) does not cause infertility.
The vaccine injects messenger RNA that lets the body know how to protect itself against the coronavirus. Allen said that the vaccine is safe to take during any trimester of pregnancy and addressed other misconceptions about what the vaccine entails. She assures parents that the vaccine does not cause autism or Down syndrome, claims regularly associated with vaccines.
Pregnancy itself can worsen COVID-19 symptoms. According to the CDC, pregnant people are more likely to experience severe symptoms of COVID-19 compared with people who aren't pregnant. Current research shows that mild to severe symptoms of the coronavirus are more likely to cause infertility than the vaccine itself.
In Los Angeles County, as Allen pointed out, over 13,000 pregnant people had tested positive for COVID-19 as of Oct. 5, and 12 of them have died. Over 60 infants tested positive there as well. Nationally, more than 125,000 pregnant people had tested positive as of Sept. 27, according to the CDC. Of those, more than 22,000 were hospitalized and 161 have died. It appears that similar data is not available for Contra Costa County at this time.
Yet only 31% of pregnant people had been vaccinated according to CDC data presented in a Sept. 29 health advisory. Just 15.6% of Black pregnant people had been vaccinated at that point, making them the racial or ethnic group with the lowest vaccination rate.
In August, a UC San Francisco study looked at all documented births over six months to identify the impact of the coronavirus during pregnancy. Researchers found that preterm birth was 60% higher for people infected with COVID-19 during their pregnancy. Births are considered premature when babies are born before 37 weeks.
"Nothing is more devastating to have to see when we have to intubate and take a baby prematurely," said Allen.
Respiratory issues are a major concern once a child is born. Newborns exposed to the coronavirus could start their lives in neonatal intensive care units.
Jadah Parks Chatterjee, a registered nurse in maternal child health and a lactation specialist, said there aren't numbers on children who have lost one or more parents due to COVID-19. She has witnessed babies born prematurely in the process of intubating a birthing parent infected with the coronavirus.
There are still many questions regarding immunity for newborns. There are benefits to breastfeeding as a vaccinated person, as antibodies are passed from parent to child. It won't fully protect the child, but it gives them a better fighting chance.
There are no known cases of the coronavirus being transmitted through breast milk; it is a respiratory virus, so Parks Chatterjee recommends that nursing parents infected with the virus wear a mask.
As for non-birthing parents, particularly men, there are no known side effects of the vaccine on their fertility. Vaccinated people who experience impotence and erectile dysfunction should consider other contributing factors. Such issues can be due to high blood pressure, which Allen said is a prominent health concern among Black men.
Parks Chatterjee encourages people to review biology basics to ground themselves in the science around the vaccine.
"The reason we have fear is because we don't understand, so we can't make a decision," she said.
She often hears from patients that they are doing their research, which she highly recommends. Parks Chatterjee also challenges people to consider the times they don't do research, such as when they eat meals from fast food restaurants.
She said people have the right to make decisions about their bodies.
"I also understand that there are not a lot of Black nurses at the bedside that are engaging you or asking you about your choices in order to expand that conversation and dialogue for us to be able to walk away with a good, informed decision," Parks Chatterjee said.
The research is available, and advocates are working hard to continue making information accessible. For example, the California Department of Public Health has a fact sheet on pregnancy and the vaccine.
Misinformation is still reaching many, especially men. In June, the CDC reported a gender gap in vaccination rates: 9.5 million more women were vaccinated than men at that time. As of Oct. 14, there remains a gap as 54.9% of men are fully vaccinated, compared with 59% of women.
Parks Chatterjee described being in scenarios where a mother requested the vaccine when her male partner went out of the room but changed her mind when he returned. There are clearly other relationship dynamics at play, but this scenario highlights an intimate barrier to protecting a mother and her unborn child.
"Someone asked the question, 'What are some common reasons that pregnant women aren't taking the vaccine?' " Parks Chatterjee said. "I have been blown away at how many times that scenario has occurred, where I have women that are making decisions for themselves, but when their male partners arrive, they no longer want to follow through with that."
"That's not my business, I can't manage that," she continued. "What I can be is a resource in order to [do a] deep dive so they together can make a decision where the female patient doesn't feel that she is too afraid to even make a decision for herself."
Dr. Gwen Allen counsels patients who are hesitant to get the vaccine and often cite the U.S. Public Health Service Study on Syphilis, commonly known as the Tuskegee experiment. She reminds them to consider the time period in which the experiment was conducted and that such unethical practices did not have the oversight that exists today.
>>>Read: Churches Play Key Role in Getting Black People Vaccinated
"You cannot say that this vaccine is killing Black folks when the vaccine is available in every CVS across the country," Allen said.
Like other advocates, the pair urges people to find someone they can trust, such as a friend or physician, to talk through their concerns. Given the opportunity, trusted people can provide valuable information that could save lives.