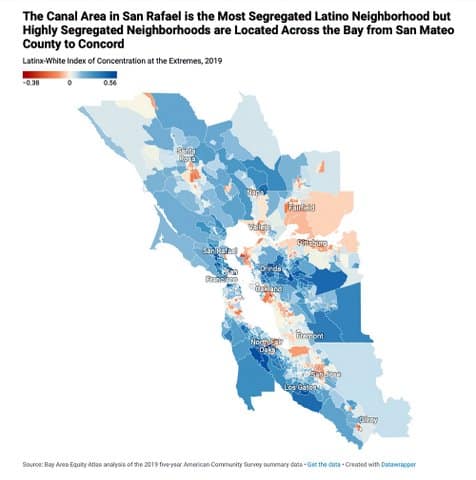 07 Aug

Report Further Quantifies Racial and Economic Segregation in the Bay Area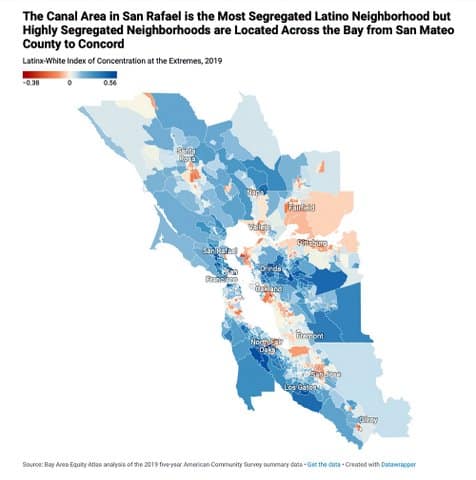 A new report from the Bay Area Equity Atlas maps out segregation by race, wealth and neighborhood. (Bay Area Equity Atlas via Bay City News)
By Bay City News
A new report from the Bay Area Equity Atlas shows that several Bay Area neighborhoods remain highly segregated by race and wealth.
The report is based on an analysis of U.S. census data down to the census tract level that compares population numbers by race and income. The Bay Area Equity Atlas is a partnership between the San Francisco Foundation, PolicyLink and the Equity Research Institute at the University of Southern California.
Five of the Bay Area's 1,572 census tracts are identified in the report as "highly segregated" areas for low-income Latino households.
These neighborhoods were in Marin, Alameda, Contra Costa and San Mateo Counties.
The region's most segregated Latino neighborhood is in San Rafael's Canal Area, according to the report which was posted July 27 on the Bay Area Equity Atlas website at bayareaequityatlas.org.
According to the report, "Over 700 low-income Latinx households live in the Canal Area, compared with roughly 100 low-income white households and just a handful of high-income white households. Yet less than 10 low-income Black households reside in the Canal Area."
The other highly segregated Latino neighborhoods identified in the report are located in East Oakland, South Concord near Four Points, North Fair Oaks in San Mateo County and in Richmond.
"The neighborhoods that rank highest on Black-white segregation also tend to rank relatively high on Latinx-white segregation," according to the report.
A full version of the report can be found here: https://bayareaequityatlas.org/mapping-segregation.
Copyright © 2022 Bay City News, Inc. All rights reserved. Republication, rebroadcast or redistribution without the express written consent of Bay City News, Inc. is prohibited. Bay City News is a 24/7 news service covering the greater Bay Area.